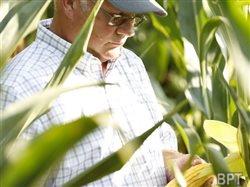 (BPT) – As farmers begin harvest and approach the end of 2013 production, many are assessing the year and looking forward to 2014. For row-crop farmers, the 2013 harvest is expected to be a good one.
However, prices are lower than last year, and some are delaying their decision to go to market in hopes that the price will improve early next year. Low commodity prices may also persuade farmers to consider prepaying for at least some of next season's inputs before the end of the year. Additionally, meat and milk producers are currently looking to cover feed purchases and other input costs for livestock operations.
"A range of factors, including lower commodity prices and higher input costs, are currently impacting the way farmers are approaching 2014," says David Lynn, senior vice president of financial services for Farm Credit Mid-America, an agricultural lending cooperative serving farmers, agribusinesses and rural residents in Indiana, Ohio, Kentucky and Tennessee. "However, farmers have the opportunity to put measures in place to gain operational and financial stability and mitigate risk as they plan for the coming year."
Lynn recommends farmers create a checklist of considerations to help plan for 2014:
1. Set operation goals, identify and analyze options
The key to smart operational planning is to first define business goals. Farmers should ask themselves what they expect to achieve in 2014 and assess financial options based on those goals. Working with a trusted financial partner to research factors such as demand, production and labor requirements, operating/input costs and potential returns can help provide direction.
2. Consider the components of a plan
An operation's plan should include a statement of goals, market assessment and marketing strategy, production plan, labor and management plan and a careful financial plan, including profitability, cash flow projections, cash flow needed and debt levels. Part of an operational plan may include arranging for an operating loan to allow flexibility to finance seed, crop protection products, fertilizer, utilities, repairs, wages or other supplies.
3. Monitor progress and evaluation
In season, maintain good record keeping of day-to-day operations to help inform decisions. Compare progress to goals and modify operation plans as needed while analyzing farm progress.
Currently, Farm Credit is offering fixed rates as low as 2.99 percent on operating loans which gives farmers the flexibility to use an operating line of credit to prepay for 2014 expenses based on a farmer's individual tax situation.
"Farm Credit works with farmers and their businesses when it's most convenient for them and has tailored this loan offering to ensure our approach fits with operations and schedules," says Lynn. "With fluctuating commodity prices and unpredictable weather conditions, an operating line of credit is one of many tools farmers can use to protect themselves against market volatility."
For more information, contact your local Farm Credit office or visit e-farmcredit.com, or call 1-855-778-5768.