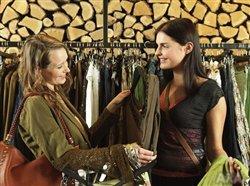 It's hard to imagine a community that thrives without the help of local businesses. One of the best ways to show that you value a community with unique local businesses is to shop at those establishments.
The holiday shopping season is the perfect time to explore what the local businesses in your neighborhood have to offer. Exploring local shops is also one of the best ways to find unique gifts for your friends and family that simply can't be found elsewhere.
Many shoppers revel in the discounts that larger retailers offer leading up to Black Friday, and holiday shopping is a Thanksgiving weekend tradition. Now small businesses are banding together – with the help of some bigger businesses – in an effort to get people to shop small and local during the same weekend. Small Business Saturday, the day after Black Friday, gives shoppers a chance to support businesses in their neighborhoods.
Recognizing the importance of small businesses to local economies, Staples is helping to promote Small Business Saturday in stores as well as in its advertising materials leading up to November 24. "Our customers are the small, locally owned businesses that are heart and soul of communities," says Staples senior vice president of retail marketing, Alison Corcoran. "Staples is proud to support our small business customers and our communities by promoting Small Business Saturday and encouraging all our customers to shop small the Saturday after Thanksgiving."
If you're still trying to find that perfect gift, here are a few ideas for presents with a little extra local flavor:
* Ornaments, crafts and other handmade gifts. You're bound to find something unique at a store that features original work by local crafters.
* Food gifts. Give a taste of home with a gift card to one of your favorite restaurants. And bringing a fresh-baked pie or other desserts from a local bakery certainly wouldn't hurt your popularity.
* Clothing. Looking for a unique piece of clothing that's sure to impress your recipient? Try a local vintage store or a boutique clothing store rather for something with a little more personality.