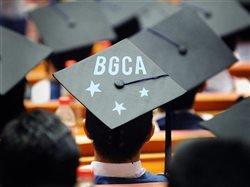 (BPT) – It's graduation season, and across the country many families will revel in their graduate's accomplishments. Nationally, there's reason to celebrate, too; 81 percent of American high school seniors are expected to graduate this year, the highest rate ever, according to the U.S. Department of Education (DOE). But there's sobering news as well. According to a StageofLife.com teen survey, nearly half of all high schoolers know someone who's not graduating.
With nearly 20 percent of teens expected not to graduate this year, educators and administrators are not the only ones responsible for closing this graduation gap. For example, youth advocates like Boys & Girls Clubs of America (BGCA) are collaborating with corporate initiatives, such as the Taco Bell Foundation(TM), to provide teens a critical pathway towards high school graduation and beyond that will inspire them to reach their full potential and achieve their educational and career goals.
"We know that failing to graduate high school has a severe long-term impact on a young person's ability to secure employment and affects virtually every aspect of his/her life," says Dr. Damon Williams, chief educational and youth development officer at BGCA. "Our Club's year-round programs at 4,100-plus locations across the country help ensure teens have the inspiration, tools and resources needed to stay on track to graduate high school on-time."
The national high school dropout rate affects not only the one million teens who fail to graduate and their families, but also our nation's economic standing as a whole. The American economy will lose nearly $159 billion in lost taxes and higher government expenditures over the students' lifetimes, according to Williams.
Teens fail to graduate for a number of reasons, including failing coursework, falling into the wrong crowd and traumatic home or school events causing chronic absenteeism, according to America's Promise Alliance. Yet when teens get the support they need, they are more likely to remain in or return to school; 41 percent of teens surveyed by the Alliance said encouragement from someone else inspired them to stay in or return to school.
"As a company that gives many young Americans their very first job, we're invested in supporting teens and young adults," says Brian Niccol, chief executive officer at Taco Bell Corp. "We're passionate about doing our part to instill in youth confidence to tackle the next big thing, to succeed, to be the best expression of themselves, to lead, to use their voice to go after a cause, and to have an impact in their communities-and this begins by supporting teens to ensure they graduate high school."
For nearly two decades, Boys & Girls Clubs of America has stood shoulder-to-shoulder with the non-profit Taco Bell Foundation to help teens steer their path and equip them with the resources needed to succeed in high school. In 2014, Taco Bell Foundation expanded its partnership with Boys & Girls Clubs with a goal of providing a $30 million grant over five years to bring its Graduate for Mas program to Clubs across the country.
With the support of partners like the Taco Bell Foundation, Boys & Girls Clubs' programs help 1.4 million teens stay on track to graduate from high school, and 70 percent of Club seniors to be college-bound by 2018. Keeping just 10 Club members in school until graduation would add $2 million to the American economy over those members' lifetimes, the organization estimates.
To learn more about Boys & Girls Clubs of America and the organization's academic success programs, visit www.greatfutures.org. To learn more about the Taco Bell Foundation's Graduate for Mas program, visit the www.graduateformas.com.