Personal style redefines tradition for engaged couples choosing tableware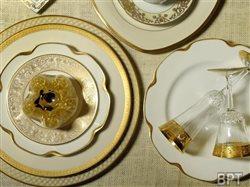 (BPT) – Something old, something new, something borrowed, something blue. The well-known saying may seem cliche, but the adage defines tabletop trends for spring wedding registries. Engaged couples are steering away from the conventional choices made by their parents' generation. Experts say they are instead opting for personal style over tradition. They're blending patterns, shapes and colors mixing old and new.
"Today's couples are mixing a lot of different design elements on their table that traditionally wouldn't work together," says visual merchandiser John Griffith. "They're pairing florals with patterns featuring wide bands or stripes; it's a mishmash look that, quite honestly, just works."
Griffith leads wedding tabletop design seminars at Replacements, Ltd., known as the world's largest retailer of old and new china, crystal, silver and collectibles. He observes that vintage continues to be one of the hottest trends, whether that means incorporating a family pattern or finding one reflecting the couple's sense of style and combining it with something new. Popular picks include those evoking the classic elegance of older fine English and French china, such as delicate lace patterns along the lines of English high teas and formal dining influenced by both the younger members of the British royal family and TV series Downton Abbey.
"Whiteware is a perennial favorite, but choosing a white pattern with more flair gives your table an identity that is yours," says Replacements' designer Julie Robbins. "I am seeing more embellished white patterns, both embossed and decorated with white decals. White also blends effortlessly with many heirloom patterns, and this gives the table a sense of your family's roots."
Designers are seeing many wedding couples start with white and other neutral shades, then adding splashes of trending colors including Scuba Blue, Strawberry, Tangerine and Marsala, Pantone's color of the year. Metallics, especially golds, add new dimension to the table.
"We saw a renewed interest in gold flatware and gold trim last year, but this year gold has taken off on a much larger scale," Robbins adds. "Service plates and dinner plates with wide gold rims or heavy encrusting can take a sleek, simple pattern to an amazing level of decadence. Gold brings a rich, warm look to any table, and we're even seeing it in casual dining setting."
Flatware manufacturers such as Oneida and Reed & Barton offer a range of gold electroplate patterns. One throwback to tradition this season marks the return to sterling; with the price of silver dropping, Replacements is seeing an uptick in registries for sterling flatware patterns.
One challenge couples often encounter with heirloom pieces lies in the fact they may only inherit a few pieces of family china or perhaps the name of the pattern has been lost or forgotten. Griffith suggests taking advantage of Replacements' free pattern identification service. He notes the company also offers personalized guidance with design questions.
"Our design team works one-on-one with wedding couples looking for guidance translating their personal style to their table," he says. "It's easy to reach out to us with your design dilemmas by either emailing us through our website, replacements.com or posting questions to our Facebook page."