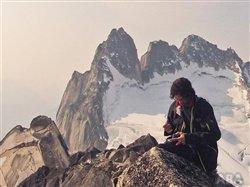 A 1,200-foot mountain, a video camera and a blood glucose monitor – these three things may seem unrelated to most people, but to rock-climber Steve Richert it is just another day at the office.
Richert, who is also a guide, is on a year-long journey, facing extreme weather conditions, encountering wild animals and tackling the country's most spectacular mountain ranges. Richert is climbing in locations across the country for 365 consecutive days, all while managing a serious chronic disease: type 1 diabetes. This November, in honor of National Diabetes Awareness Month, Richert wants to spread his message of hope and inspiration.
As a child, Richert had a passion for climbing, and since his diagnosis, he has not allowed his type 1 diabetes to stop him from doing the one thing he says he was born to do. Richert created the nonprofit organization LivingVertical to educate and inspire those with the disease. This year the organization launched Project 365 as a formal challenge for Richert to climb for 365 days and share his experience with others through his blog and the footage he is capturing along the way.
"Managing diabetes is a daily challenge that requires focus, discipline and the right diabetes management tools, like my ACCU-CHEK (R) Nano meter," Richert says. "Diabetes doesn't have to control your life and I haven't let it control mine. I want to inspire people with diabetes to feel empowered and confident about living with and managing their condition."
Diabetes affects 25.8 million children and adults in the United States, approximately one in 12 people. The disease requires individuals to monitor their diet, health and blood sugar regularly to help reduce the risk of diabetes-related complications such as heart disease, stroke, kidney failure, nerve damage and blindness. Richert recognizes the importance of regular blood glucose monitoring and the right tools to allow him to continue to do the things he loves most.
"I rely on Roche's ACCU-CHEK Nano meter because it is small, simple-to-use, and I'm confident with the accuracy of the readings it provides me," says Richert. "Also, the display screen's visibility in the dark is a great feature because I'm often testing my blood sugar at night."
The ACCU-CHEK Nano meter is available in pharmacies and retail stores nationwide, as well as online anywhere ACCU-CHEK products are sold. The meter offers enhanced features, including its ease-of-use, its fast readings, pre- and post-meal markers and a small, portable size. The meter offers advanced accuracy with the ACCU-CHEK SmartView test strips – as tested against a 23 percent tighter specification, based on current International Organization for Standardization (ISO) specifications of 15197:2003. Moreover, the meter offers patients the flexibility to test at any time – day or night – because of its backlit display.
Roche, the makers of ACCU-CHEK products are supporting Richert on his mission and helping to spread his message. Visit www.Stevesmountain.com to see how you can get involved, share your story and show your support by simply "liking" Steve's video on the site.