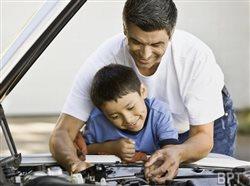 (BPT) – There is much to love about the nuances of the changing seasons – from spending sunny days on the beach to hiking through autumn-kissed parks and skiing down snow-covered mountains. Throughout the year, just as you would protect yourself from seasonal elements like sun, rain and cold by applying sunscreen and dressing appropriately, it's important to protect your vehicle from the great outdoors. Your car needs to be prepared for the varying weather ahead – just like people do. Here are a few easy DIY projects to keep your car looking new and running for seasons to come.
Fix-ups for fall
The crisp change in the air signals the exciting start of fall. However, before the cold-weather season kicks off, make sure to show your vehicle some love and touch up scratches that may have appeared during the road trips of summer months. By affordably fixing your car now, you can save yourself from a major, and costly, headache later.
Repairing nicks, scratches and chips on your car can be simple. Try a product like Dupli-Color's innovative Scratch Fix All-in-1. Specifically designed to provide an easy-to-use and exact-match color, touch-up paint solution, the product contains a prep tool and fast-drying clear finish to seal and protect repairs. Scratch-Fix-All-in-1 is available in a variety of colors, tested and approved by vehicle manufacturers to ensure a perfect match.
Worry-free winter
Before the flurries start to fly, it's important to pay close attention to vehicle maintenance. First, check all vehicle fluids to make sure they are at the appropriate levels. Things like oil, transmission fluid and brake fluid are especially important as they can cause engine damage and even prevent your car from starting on chilly mornings if they're too low.
Also, check the air pressure in your tires and inflate them if necessary. You can reference your owner's manual or sidewall of the tire for information about optimum air pressure. To ensure your vehicle will be safe in rainy, snowy and icy conditions, have your tires balanced and rotated before the snow starts. If you live in a particularly snow-prone or rural area, you might also consider buying snow tires and/or chains.
See spring clearly
Driving with worn or broken windshield wipers is dangerous, and recent statistics show the average driver only changes his wiper blades every three years. However, according to AAA, you should replace them every six to 12 months – about the same time you would purchase spark plugs, filters or other auto maintenance products. Often, car owners will try to stretch the limit by waiting to replace these items until absolutely necessary, but remember regular maintenance is more cost effective than accident repair.
Headlight clarity is also important. Clouded lenses can reduce the effectiveness of your headlights up to 80 percent and pose serious safety concerns, according to Consumer Reports. Like replacing windshield wipers, spending a few dollars and an hour on restoring cloudy headlights will not only enhance the appearance of your vehicle, but also keep you safe. Headlight restoration kits can be purchased affordably and they will enhance headlight clarity while also protecting lenses from damaging UV rays.
Fight the fade from summer sun
Automotive plastic and vinyl parts can fade over time and make cars look old and worn before you know it. Bring new life to faded areas like bumpers, trim, dashboards or seats with the new Plastic & Vinyl Restore Coating from Dupli-Color – an aerosol spray that bonds to substrates leaving behind a smooth, like-new finish with just three coats.
Additionally, there are steps you can take to prevent interior damage to your car. For example, use a sun shade to keep your dashboard – one of the largest plastic surfaces in your car – from getting too much light. This will keep any plastic or vinyl, as well as carpets and other surfaces, from becoming discolored and faded.
Don't forget to check your owner's manual throughout the year and look for any recommended maintenance based on your vehicles mileage. And remember, when seasons change, your automobile changes too. By keeping up with your vehicle's regular care, you will not only have a car or truck that looks good, but you'll save yourself from larger repairs down the road.