Simple summertime DIY ideas 'built' just for kids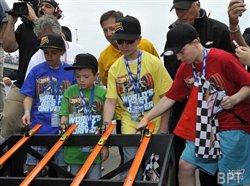 Summertime is here, which means warm weather and longer days. For parents, it also means finding ways to keep kids entertained and busy during the out-of-school months.
Rest assured – there are plenty of easy, fun, do-it-yourself activities for kids that can be created by using simple odds and ends from around the house. Summer play time doesn't have to cost a fortune – just give your kids a few ideas and let them dive in.
* Declare the kings and queens of the fort. Fort-building is fun and easy for kids of all ages and lets their imaginations loose. Using household items like cardboard boxes, pillows, sheets, blankets and chairs, your children can create their very own custom forts. Parents will be amazed at the creativity their children show when designing their one-of-a-kind fortress. After the fort is complete, it also becomes their special space to play, read, role-play, sleepover and more.
* Use the sunny outdoors to design an obstacle course. Creating an obstacle course can be a highly entertaining physical adventure. Use your backyard or take a trip to the local park. Start the course off with a bike ride up and down hills and around your block, then head over to a nearby jungle gym to maneuver around playground obstacles. Finally, send the children through a water adventure using sprinklers and baby pools on the way to the finish line.
* Re-think your kids' favorite toys. Look at some of your children's favorite toys to encourage do-it-yourself play. Toys like HOT WHEELS track sets and toy cars invite kids to add, tweak, build and improvise their own racing courses, allowing them to build as big or as small as they want. HOT WHEELS also offers kids ideas and blueprints to create their own courses at BuildYourTrack.com, inspired by the longest toy track in history.
* Make lemonade out of lemons (literally). It wouldn't be the summer season without a classic lemonade stand. Help your kids build a stand out of cardboard boxes or tables and chairs. And then, give them the power to set their price, do the neighborhood "marketing" and enjoy the rewards of small business.