Smart shopping tips for budget-savvy baby boomers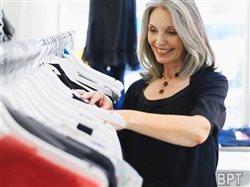 (BPT) – While the economy is moving again, many Americans – baby boomers included – continue to realize the importance of good money management skills. Boomers are focused on making the most of their money by boosting earnings, investing more and shopping smarter.
"Smart shopping isn't about spending less on something, but about making sure you get the best value for the money you spend," says America's top lifestyle expert and author Mar Jennings. "Fortunately, with some savvy shopping tactics, it's possible to stretch your dollars without skimping on your lifestyle."
Jennings offers some sMARt shopping tips for boomers:
* Plan shopping trips before you leave the house. Make lists, map out your route and consolidate errands into one trip. You'll not only save time and gas, you'll cut down on impulse buys that will affect how much you spend overall.
* Keep quality in mind when you're tempted to buy less expensive brands of everyday necessities. For people with bladder control issues, Depend Underwear with new Fit-Flex protection is a smart buy because it offers a discreet fit that helps give you the freedom and confidence you need every day.
* Try samples before investing in a full-sized product. Many manufacturers offer free samples of everyday items – like laundry detergent or personal care products – through their websites. For example, you can request a free sample of Depend Underwear with new Fit-Flex protection at www.Depend.com. Sampling products can help ensure you spend money only on things that you know you'll use and work well for you.
* If you have the storage space, don't be afraid to stock up when something you use often is on sale. Buying something you know you will use when the price is right ensures you won't end up paying more when you run out of it.
* Coupon, coupon, coupon! Digital coupons have made it easier than ever to save. Consumers have embraced high-tech mobile coupons as a "green" and convenient alternative to traditional paper coupons. Look for a free app, like Retail Me Not, that allows you to select your favorite stores and use online or in-store coupons. You can even opt in to receive emails with additional discount offers.
* When you're buying a big-ticket item, ask for a discount, even if none is advertised. More retailers these days are open to negotiation, and often the difference between paying full price and getting a discount is simply asking for one.
* Pay cash whenever possible and minimize credit card purchases. It's human nature – and a tried-and-true tactic – that seeing actual dollar bills go out of your wallet underscores the fact that you're spending real money. Paying with a credit or debit card often doesn't have the same psychological effect. Spending cash can make you think twice about impulse purchases.