Spice up your menu with these unique recipes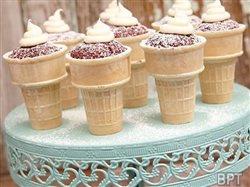 (BPT) – What fun is life without a little adventure? An amazing trip is more appealing than a staycation, a new workout routine beats running the same old mile, and the hot new comedy club is more interesting than watching TV reruns.
The same is true in the kitchen. New recipes are more exciting than the old standbys, especially if those new recipes encourage you to think about food differently. Who says Ramen can't be fancy? Who says desserts can't be spicy and who says a condiment can't be an ingredient?
If you're ready to give your cooking a fresh zap, give these three recipes a try.
Sizzling CHA! Ramen with shrimp
Enjoy a huge bowl of Ramen noodles loaded with shrimp, bell peppers and Ramen broth – flavored with CHA! by Texas Pete – for an out-of-this-world spicy Ramen experience.
Yield: 2 servings
Ingredients:
* Olive oil: 1 Tbsp.
* Shrimp: large, peeled, deveined: 24
* Red bell pepper: cored, seeded, julienned: 1
* Ramen noodles: 2 packages
* CHA! by Texas Pete: 3 Tbsp.
* Water: 2 cups
Preparation:
Place a medium-sized saucepot on the stove and turn to high heat. Once heated, add the olive oil, shrimp and red pepper. Cook for 2 minutes or until the shrimp are half-way cooked, then add the Ramen seasoning to the pan. Cook for 1 minute more then add the 2 cups of water along with the Ramen noodles and put a tight fitting lid on the pan. Cook for 2-3 minutes or until the noodles are tender and the shrimp are fully cooked. Remove from heat and add the CHA! Serve the shrimp and noodles in a large bowl with all of the spicy CHA! broth.
CHA! BBQ glazed grilled salmon
This grilled salmon fillet is lacquered in a simple and delicious glaze made with nothing more than CHA! and barbecue sauce.
Yield: 2 cups of glaze
Portion: Use as marinade for 5 salmon fillets
Ingredients
* CHA!: 1 cup
* Barbecue sauce: 1 cup
* Salmon: fillets for grilling: 5 6-oz. fillets
* Salt and pepper to taste
Preparation:
Combine the CHA! with the barbecue sauce and mix well. Keep refrigerated until ready to use. Pre-heat the grill to high heat. Season the salmon fillets with salt and pepper and place skin side down on a lightly oiled grill. Glaze the salmon during the cooking process with the spicy CHA! barbeque glaze. Cook salmon on both sides to desired temperature. Carefully remove from the grill and serve immediately.
Texas Pete Red Velvet Cones
Yield: 48 cake cones
Ingredients: Cake batter
* All-purpose flower: 5 cups
* Granulated sugar: 3 cups
* Baking soda: 1 Tbsp.
* Salt, fine: 2 tsp.
* Cocoa powder: 2 tsp.
* Vegetable oil: 3 cups
* Buttermilk: 2 cups
* 4 large eggs
* Red food coloring: 3 Tbsp.
* Texas Pete Original Hot Sauce: 2 Tbsp.
* Vanilla extract: 2 tsp
* Small, flat-bottomed ice cream cones: 48
Ingredients: Cream cheese icing
* Cream cheese (softened, whipped): 36 ounces
* Unsalted butter (softened, whipped): 1 stick
* Powdered sugar: 2 cups
* Vanilla extract: 1/2 tsp.
* Texas Pete Hotter Hot Sauce: 2 tsp.
* Piping bag with small decorative tip
* Shaker, powdered sugar, for garnish
Procedure
1. Preheat the oven to 350 F.
2. In a large bowl, sift together the flour, sugar, baking soda, salt and cocoa powder. In another large bowl whisk together the oil, buttermilk, eggs, food coloring, Texas Pete Hot Sauce and vanilla.
3. Using a standing mixer, mix the dry ingredients into the wet ingredients until just combined and a smooth batter is formed.
4. Carefully spoon the batter into the ice cream cones, filling them 2/3 of the way up to give them room to rise in the oven. Arrange the cones on a parchment-lined sheet tray standing up and place them into the oven to bake at 350 degrees for approximately 15-20 minutes, or until they have fully risen. They are ready when a toothpick inserted into the center of the cake comes out clean.
5. Remove the cakes from the oven and let them cool completely.
6. While the cakes are in the oven, prepare the spicy cream cheese frosting.
7. Place the softened cream cheese and the softened butter in a medium-sized mixing bowl and whisk together until smooth. Add the powdered sugar and continue to whisk until the mixture is smooth again. Add the vanilla extract and the Texas Pete Hotter Hot Sauce and whisk one more minute. You may add more powdered sugar or Texas Pete Hotter Hot Sauce until the icing is flavored to your liking.
8. Place the spicy cream cheese frosting into a piping bag with a small decorative tip.
9. Using the tip of the piping bag, carefully puncture a small hole into the center of the top of the red velvet cake and pipe approximately 2-3 tablespoons of the spicy cream cheese into the center of the cake, allowing some of the cream cheese to come out of the top for decoration. Continue until all the red velvet cake cones are filled. Use any extra cream cheese icing to frost the tops of the cones.
10. Sprinkle with powdered sugar and serve.
For more unique summer recipes, visit www.texaspete.com/recipes/.