The holiday season made easy
November 15, 2013 - 3:16 am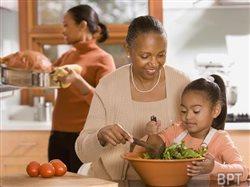 (BPT) – 'Tis the season of wonderful company and delicious food! It's also that time of year to bring friends and family together, but preparing for holiday gatherings along with the hustle and bustle of holiday shopping can often be stressful and time consuming. In fact, Thanksgiving is the most stressful holiday for home cooks as more than one in three Millennials plans to host a gathering at their home and 57 percent have noted feeling pressure when preparing a holiday meal, according to the Allrecipes' 2013 Annual Holiday Survey. Following are a few easy tips to simplify your holiday planning so you can spend more time with loved ones.
Shopping survival
From picking up last minute items on your gift list to gathering groceries for the big dinner, holiday shopping can be hectic. Before you shop 'til you drop, pack a quick and easy snack in an insulated cooler bag to get through the midday craze (and hunger pangs). Bag assorted fresh veggies and pair with a dip like Marzetti Otria Greek Yogurt Veggie Dip. The dips are available in five different flavors from Garden Herb Ranch to Cucumber Dill Feta – a great way to add extra flavor to veggies.
Mingle at the veggie bar
Before guests arrive, create a colorful vegetable bar away from the kitchen for snacking and mingling before the big meal. Arrange the bar with a unique array of pre-cut veggies such as snap peas, asparagus, mushrooms, and peppers. Accompany the veggies with a variety of Marzetti Otria Greek Yogurt Veggie Dip flavors like Spinach Artichoke and Caramelized Onion. These quick and tasty snacks keep guests occupied before the meal and helps keep last-minute stress at a minimum.
Prepare for hungry guests
Ensure your guests are feeling satisfied with every course! Prepare a mixed green salad and top it with Marzetti Refrigerated Salad Dressings such as Chunky Blue Cheese and Classic Ranch, made with premium ingredients to deliver a fresh flavor. Then add a little crunch with New York Brand Croutons for a crispy yet tender taste, full of robust flavors. Both the dressings and croutons are available in several varieties to satisfy any palette. Your guests won't leave hungry!
The season for recipe sharing
Ease the pressure of finding the perfect recipe by asking your friends to share their favorite holiday recipes with you on Pinterest and Facebook. Serving recipes that are recommended by friends takes the worry out of trying a new recipe.
"Friendsgiving" potluck
Not traveling home this year and still want to celebrate the holiday? Invite your friends to join in the celebration by hosting a "Friendsgiving" potluck. Friendsgiving is becoming an annual tradition celebrated either on or around the Thanksgiving holiday among friends, according to the 2013 Evite Holiday Party Trend Report. Ask each friend to bring their favorite holiday dish and swap recipes after the meal is complete. A potluck is a fun way to lighten the load in the kitchen, try new recipes and it makes cleanup much easier.
For more recipe ideas to fit your holiday menu, visit www.marzetti.com.