The ultimate Australia tour: Cities, beaches, mountains and more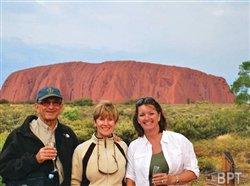 Australia is packed to the brim with unforgettable sights and once-in-a-lifetime experiences, all beckoning adventurous travelers. Of course, with so much to do, the real task is narrowing it all down. That's where a bit of planning (and lots of help from Australia tour planning pros) will make all the difference, ensuring that you get to see the very best of the land down under.
For many travelers, the sheer effort and knowledge required to plan a trip to Australia is overwhelming – so much so that they might put off the adventure. Australia tours, like those offered by Tauck, make the journey less about logistics and more about enjoyment – with expertly designed itineraries in place, all you need to do is sit back and enjoy. Many travelers are also surprised to find that tours can represent a cost savings of up to 40 percent over traveling on your own.
Tours are no longer the cookie-cutter option for travel, either, so adventurous spirits will enjoy them just as much as someone who appreciates a leisurely journey. The people you meet and sights you see in Australia are as unique as you are, but these are some of the key places you'll enjoy during your tour:
1. Victorian Melbourne. As an introduction to Australia, it's hard to top this elegant city. A sightseeing tour of its Victorian-age architecture is an ideal way to get a hands-on feel for the country's history. Some of the key sights include St. Patrick's Cathedral, the Queen Victoria Market and the serene Royal Botanic Gardens. The ANZAC War Memorial sheds light on the sacrifices of Australia and New Zealand Army Corps in World War I.
2. Nature and culture at Uluru and in the desert outback. Uluru, also known as Ayers Rock, is Australia's most iconic natural sight, and a necessary stop for any Australia tour. Watching the colors and shadows shift across it at sunset and sunrise is a mesmerizing experience. Australia's Aboriginal culture is strong in the Outback and the desert landscape around Uluru, so it's also a great place to learn about millennia-old traditions and "dreamtime" legends. Guided tours focused on Aboriginal life show a more mystical side to this stark, impressive landscape.
3. Set sail in Sydney Harbour. If there's one sight that instantly says "Australia," it's the Sydney Opera House. For travelers on Tauck's Australia tour there are two ways to get ideal views of this architectural gem: from the waters of Sydney's famous harbor and on an exclusive tour that lets travelers see all the impressive details. On one of Tauck's Australia travel options, participants can see it both ways, including a relaxing luncheon onboard the cruise as you take in Sydney Harbour Bridge and the cityscape.
4. Rainforests and reefs. In Australia's Far North Queensland, nature is anything but restrained. Here the Great Barrier Reef, so big it's visible from space, stretches out along the coast – providing visitors endless opportunities to see aquatic wildlife and vegetation. And near the town of Port Douglas, you can explore rainforests filled with primordial plants, either on foot or in the comfort of a gondola on the Skyrail Rainforest Cableway.
5. Say hello to neighboring New Zealand. A world-class destination in its own right, New Zealand adds even more excitement to an Australia tour. From the stunning fjords of Milford Sound and rugged coastlines to wine country and geothermal wonders, New Zealand's natural beauty is superlative. Local culture is enriched by Maori traditions, which you can experience at the Te Puia Maori Cultural Center in Rotorua.
Whether you're a nature lover, culture vulture, history buff or simply a traveler looking for the destination of a lifetime, Australia should be on the top of your to-do list. To find out more about all that an Australia tour includes, visit Tauck online.