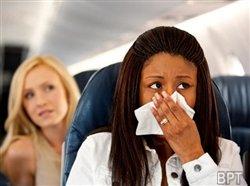 Few things can derail a trip like coming down with a cold or the flu. Yet with the Centers for Disease Control and Prevention reporting 91 different strains of flu virus in circulation during the 2012-2013 flu season, avoiding illness while on the road can be especially challenging.
It's possible to infect others with the flu virus beginning one day before symptoms emerge to up to five to seven days after you become sick, according to the Contac Cold & Flu HQ. The number of Americans traveling increases dramatically during the holiday season, which happens to coincide every year with the height of the flu season. Travelers are exposed to more germs and viruses than folks who stay home, so if you'll be taking a trip this winter, it pays to keep some preventive precautions and treatment options in mind.
The U.S. Department of Health and Human Service's website, flu.gov, advises travelers to:
* Get vaccinated at least two weeks before you travel. The flu vaccine administered in the U.S. will protect you anywhere in the world.
* Wash your hands frequently, using soap and water or an alcohol-based hand cleanser. Think of all the surfaces you touch while traveling – from the steering wheel of your rental car to the door handle of the convenience store where you stop for directions. Now think of all the other people who have touched those surfaces too and left behind their germs.
* Avoid habits that can spread germs, like touching your eyes, nose or mouth, and stay away from people who are already sick. This can be difficult to do while traveling, but there's no shame in reseating yourself away from people who are coughing in a waiting room or asking to be moved on a flight away from a traveler who is coughing or sneezing.
* Maintain healthful habits like getting enough sleep, exercising regularly, staying hydrated and eating well. Travel can be tiring under the best circumstances, so it's important to get enough rest while on the road.
* If you do catch the flu, don't travel. Stay home from work or school for at least 24 hours after your fever breaks.
Getting vaccinated isn't always an option for everyone, so if you do come down with the flu, it's important to take steps to relieve symptoms and help your body's natural defenses fight off the virus.
Flu.gov says antiviral medications may help reduce the length of time you're sick and even make the illness milder, but they are most effective if started in the first two days that you become sick. You'll need to see your doctor for a prescription.
It's also possible to treat the flu at home, using over-the-counter medications. Flu.gov says decongestants can ease stuffy noses, sinus pain, ear and chest congestion, and cough medicine or cough drops can provide temporary relief for coughing and sore throats.
If you do come down with the flu, an over-the-counter medicine like Contac Cold + Flu can help treat your symptoms.
The family of Contac Cold + Flu medicine incorporates several ingredients in a variety of products for multi-symptom relief: acetaminophen to help reduce fever and relieve sore throat and body aches; an antihistamine to help reduce runny nose and sneezing and help make you drowsy; a decongestant to help open blocked airways and relieve a stuffy nose; and a cough suppressant for coughing. You can learn more about the flu and Contac at www.Contac.com.
In addition to medication, some non-medicinal treatments may help you feel better, including:
* Getting plenty of rest.
* Staying hydrated with plenty of clear fluids such as water, broth or sports drinks.
* Sleeping with a humidifier in your bedroom to ease your breathing.
* Gargling with warm salt water to relieve a sore throat.
Keep in mind, that while the flu vaccine can help prevent you from catching the flu, it won't prevent a cold. Frequent hand washing, avoiding others who are ill, and maintaining healthful habits are the best ways to avoid catching a cold during cold and flu season.