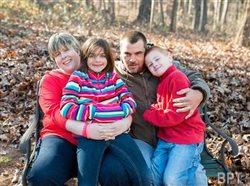 (BPT) – At the age of 33, Delanie Wilson had everything she'd ever hoped for. She married the love of her life, had two wonderful children and adored her job as a history teacher. She had recently lost 78 pounds and was in the best shape of her life. In Delanie's eyes, life couldn't be better. That was until June 2012, when Delanie fell victim to a stroke, which left doctors questioning whether Delanie would ever be able to talk or walk again.
"Because I was so young, I thought I was invincible to something like a stroke," said Delanie. "I was in great physical condition and when I suffered the stroke, my world was turned upside down."
Delanie's road to recovery was challenging and involved months of rehab. With time, Delanie saw improvements in her speech and movement, but began experiencing uncontrollable bouts of crying and laughing. A psychologist in the hospital told Delanie that it was probably just depression and was treated accordingly. These episodes became more intense and disruptive for Delanie once she returned home.
"When I returned home from rehab after being in such a controlled environment, my emotions unraveled," said Delanie. "Any time I was stressed or overwhelmed, I would break out into fits of laughter that I couldn't control or stop. I started to question whether this was really depression."
Delanie lived with these unprompted outbursts for six months. During this time, her family and friends were embarrassed to be with her in public. Delanie stopped going to church and didn't attend a friend's grandmother's funeral in fear she would break out into laughter.
"I missed a lot of social situations and isolated myself at home because I was afraid of what I might do," said Delanie. "I knew something wasn't right so I went to my neurologist and he diagnosed me with PseudoBulbar Affect (PBA). I couldn't believe it; it was such a relief knowing that this was a real condition with a name."
PBA is a neurologic condition characterized by uncontrollable, sudden outbursts of laughing and/or crying that don't match what a person is feeling on the inside. PBA can occur in people with brain injuries or certain neurologic conditions such as stroke or Alzheimer's. In a recent study, approximately 38 percent of stroke patients exhibited symptoms of PBA.
There is not always a clear trigger for a PBA episode, which can last from seconds to minutes and occur several times a day. Sometimes these crying or laughing episodes are so exaggerated and disruptive they may interfere with routine activities or cause people with PBA to avoid social situations altogether.
Nearly two million Americans with certain neurologic conditions or brain injuries are estimated to suffer from PBA, yet there is a lack of awareness and knowledge of the condition. PBA is often mistaken as depression or just a part of the person's primary underlying condition—when in fact, it's a separate, treatable condition.
"There is a need for increased PBA awareness in the stroke community," said Delanie. "I was able to work with my doctor to find a treatment that works for me and I've been able to get my life back in order, but I am still adjusting to this condition. I encourage anyone with similar symptoms to speak to their doctor about PBA."
How to differentiate PBA from depression:
* Depression: Ongoing and continuous state of sadness or hopelessness that can last over weeks or months
* PBA: In patients with certain underlying neurologic conditions or brain injuries PBA episodes are brief, spontaneous eruptions of crying and/or laughing that may not truly reflect what a person is feeling inside.
Visit PBAinfo.org for more information on PBA, how it is different from depression, and to take PBA self-assessment test and follow @PBAinfo on Twitter.