Use your rewards credit card wisely over the holidays to get the most out of your spending
November 23, 2013 - 3:15 am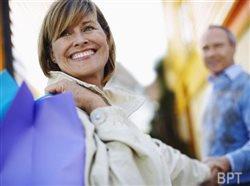 (BPT) – Festive decorations, twinkling lights, seasonal foods and the company of loved ones – everyone has that special something they enjoy most about the holiday season. Avoiding sticker shock when you see your January credit card bill might be one of them. It can be a challenge to keep costs down, however, when you have a lengthy gift list to get through.
Of course, creativity can help shoppers manage their finances responsibly during the holiday season, whether it's by making gifts or finding the best sales. One easy option you may not have thought of is probably already waiting in your wallet – if you use a credit card that offers a rewards program.
Americans spent $579.5 billion on holiday shopping in 2012, according to the National Retail Federation. Many people use credit cards for holiday shopping, both online and in stores. Choosing to use a rewards credit card for holiday purchases can help you leverage the dollars you'll spend on gifts and other purchases. Here are some ways you can put your rewards program to work for you this holiday season:
* Review your rewards agreement.
Understand how you can accrue and redeem rewards. Does your card give you cash back for qualified dollars spent with particular merchants? Or does it award you points for purchases? Are you able to redeem rewards for gift cards or merchandise? Are there fees or charges when redeeming? Knowing this information will help you understand how to get the most out of your rewards program.
* Take advantage of rewards you already have.
While some people are vigilant about monitoring and using their credit card rewards programs, others rarely think about the rewards they've already accumulated. If you fall in the latter group, take a look at your rewards balance. You may discover that you already have enough to redeem and apply toward a statement credit or deposit into a qualified account. Or, you may be able to redeem for merchandise that would make a great gift for someone on your list. Still another option is to use your redeemed rewards toward gift cards for holiday gift-giving.
* Leverage shopping to earn future rewards.
The average consumer will spend $737.95 on holiday shopping, and online shoppers expect to spend an average of $884.55, according to the NRF's Shop.org. If you'll be spending that money regardless, and especially if you'll be buying with a credit card, why not get even more for you money? Use your rewards credit card for holiday purchases and you'll earn rewards throughout the holidays that you can put toward your own uses in the coming year. Many programs offer special deals during the holidays that offer additional rewards for shopping with certain retailers. Typically, those purchases must be made through a special website, like Wells Fargo's www.EarnMoreMall.com feature. And remember, even if you intend to pay off those holiday credit card bills right away in January (good for you!), rewards earned during the holidays don't go away just because you don't carry a balance.
* Defray holiday travel costs.
Many credit card rewards programs offer points and other incentives for hotel stays, airfare and car rentals. Redeeming your rewards for a free hotel stay, for example, could offer flexibility and help you avoid an overcrowded home during the holidays. Be sure to check for blackout dates that may fall around the holidays.
As you shop this holiday season, keep in mind the basics to avoid overspending, including setting and sticking to a budget, keeping a gift list, and shopping for deals, discounts and sales. Add your credit card rewards program into the mix, and it's possible to stretch your dollars even further – and keep the holiday season bright for you and everyone on your gift list.