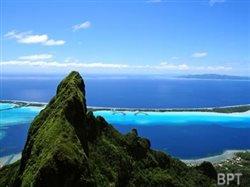 Winter's dark nights are for more than just regular dreaming: They're for conjuring up pleasant images of that satisfying cold-weather escape we all envision. But just where are Americans' winter travel dreams landing these days?
DreamPlanGo, the travelers' website for destination ideas and inspiration, asked a cross-section of followers what wintertime journeys were on their wish lists and in their plans.
Sun or snow?
We're talking about more than just dreaming here: More than 70 percent of survey respondents said they actually were planning to do some kind of winter travel.
As may be expected, two-thirds (66 percent) of those planning such travel said they would head to the beach or other warm-weather destination.
More than 18 percent of traveling respondents said that visiting friends and family was on their winter travel itinerary. For the luckiest travelers, "friends and family" and "warm weather destination" will not be mutually exclusive.
Of course, snow sports are another popular winter pastime, and almost 16 percent of travelers had a skiing, snowboarding or other "white stuff" related trip on their wish list for this winter.
Following the sun
The survey's top dream destinations for finding sunshine, sand and warmth include:
Bora Bora (60 percent of respondents)
Hawaii (57 percent)
The islands of the Caribbean (55 percent)
Costa Rica (30 percent)
Respondents could indicate three trips, hence the 100-plus total. How do those vacations compare to your tropical dreaming?
Other expedition-level adventures that made the top tier in the survey include Fiji, Tahiti and Bali… definitely providing a South Pacific flair to the results.
Those are some big-time, bucket-list type of journeys. For the more annual or bi-annual kinds of escapes on travelers' minds, here are the top destinations:
Mexico (27 percent)
Florida (16.1 percent)
Jamaica (15 percent)
Bahamas (15 percent)
Key West was frequently mentioned, either on its own or in conjunction with a Florida visit, indicating the popularity of this southernmost tip of the continental United States. Jamaica and Bahamas were common specific mentions within the Caribbean category.
But folks are looking for junkets, getaways and escapes too. Whatever you happen to call these shorter trips, here are some of respondents' favorites:
Las Vegas (25 percent)
Florida (12.5 percent)
California (10 percent)
For Las Vegas, it was the shows, night life and maybe a little bit of gambling that provided the most attraction to travelers. For Florida, it was the Orlando area and its theme parks, as well as the chance to lounge on a warm beach on either coast.
Seeking the snow
While warm weather escapes dominated the survey, snow lovers' opinions came through as loud and clear as a blue-skied day on the slopes. Four ski destinations were most-mentioned as dream expeditions:
Swiss Alps (31 percent of snow lovers)
Tahoe (20 percent)
Colorado (17 percent)
Whistler (15 percent)
Other top ski destinations included Jackson Hole (Wyoming), Sun Valley (Idaho), Utah in general (and Deer Valley and Park City in particular), and Montana in general.
While this quarterly survey focused on cold-weather journeys, DreamPlanGo inspires travelers to discover and visit new places every season of the year.