4 wins in a row and looking for more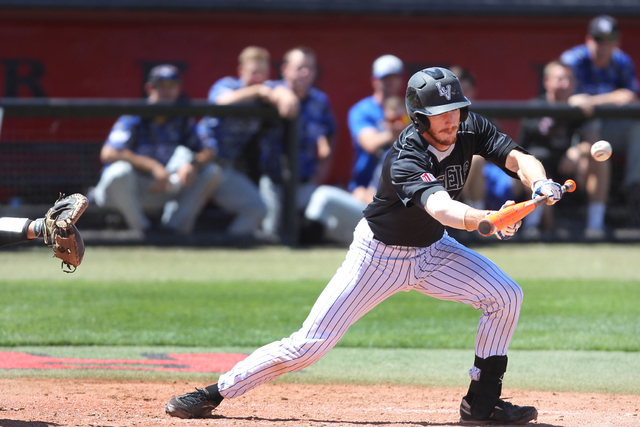 Hey Rebel fans,
We are finally coming together as a team and because of that we have put four straight wins together. We swept Air Force last weekend and had a walk-off win over UC Riverside on Tuesday.
Against the Falcons, we played a lot more team-oriented baseball. We executed the small ball game and moved guys over. Guys were putting the team before their own stats and it paid off as we got three wins.
We really enjoy playing Air Force because our teams are pretty close. Those guys are in unique situation and sometimes you can forget they are still kids like we are. They are 19, 20 and 21 years old and when we get to talk to them it's different, but in a good way. They are going to be off protecting our country and our freedoms in a few years. I know I've mentioned it in my previous blog, but their perspective is refreshing.
We have all the respect in the world for those guys and that's why we shake their hands after every game we play and do other neat stuff like lining up in a staggered line during the national anthem. They are young men that are doing what they love and we appreciate and applaud that.
Looking at the standings, our three wins over the cadets were really important. More than that, the games were fun. All of our guys are starting to have a good time again. We have energy back in our dugout. It's a lot more fun playing as one and with motivation. Our goal is to get out of the play-in game of the Mountain West tournament and we are trying to scrape off as many conference wins as we can to end the year.
On Tuesday we were able to get a walk-off win over UC Riverside. That was really nice, especially since they walked-off over us the week before. One of our freshmen, Austin Anderson, came up with the big hit in the bottom of the ninth inning. That is a tough spot for anyone to be in, let alone a freshman, but he got the job done. Hats off to him.
I was really proud of my little bro, A.J. VanMeetren, as he really got our team going. We were down 2-0 in the bottom of the seventh inning and he hit a three-run bomb to give us a 4-2 lead. He also hit a double in the ninth inning to set up the game-winning hit.
His homer was pretty wild. I think everyone who saw it knew that ball was out immediately. A.J. sure knew it was gone. That was definitely the spark that got us going in the game.
This weekend we are back on the road at San Diego State. We know how good the Aztecs are and they are toward the top of the conference standings. This is going to be tough series for us. It's never easy playing at San Diego, but getting some wins is definitely doable. If we show up and we stay energized and play as a team, there is no reason why we can't win the series.
One other quick note about our next home games: the first pitches for our game against Long Beach State on May 5 and our Friday game against Fresno State on May 8 have been moved to 3:05 p.m. PT. It will be a perfect chance for the fans to come out on a Tuesday afternoon or cut out of work a little early on Friday and enjoy some baseball!
Thanks to you all for reading! Look forward to talking to you next week.
-Erik VanMeetren