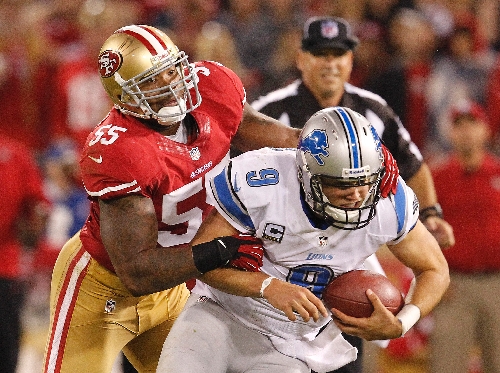 SAN FRANCISCO – Two weeks in, the San Francisco 49ers are playing like one of the NFL's best – and you can shake on that.
San Francisco stymied 2011 NFL Most Valuable Player Aaron Rodgers in Week 1, then record-setting Matthew Stafford in Week 2.
These Niners are doing it on offense, too.
Vernon Davis caught touchdown passes of 21 and 23 yards from Alex Smith, and San Francisco beat the Detroit Lions 27-19 on Sunday night in a September showdown of NFC powers.
"Two playoff teams, back to back, and we came back out here tonight and did it again," running back Frank Gore said. "We came out here and started the game fast, and then we finished it."
This stingy, opportunistic defense denied Stafford another milestone and again is making its mark as one of the league's elite units.
Smith completed 20 of 31 throws for 226 yards and extended his franchise-record streak of passes without an interception to 216. He led the reigning NFC West champion Niners (2-0) to their ninth straight win in the series since the Lions' last victory, on Sept. 25, 1995. Smith took a hard hand to the helmet from John Wendling late and bloodied his nose, then found Davis again.
"He's as tough as a $2 steak," 49ers coach Jim Harbaugh said. "I grew up eating a lot of them. I know what I'm talking about."
The 49ers ran their home winning streak against the Lions to 12 games since Detroit's last victory, at Candlestick Park on Nov. 2, 1975.
And no heated greeting after this one, unlike last year's meeting. Harbaugh and Lions coach Jim Schwartz met each other with a friendly hello and handshake during pregame warm-ups, then an uneventful shake and half-hug when time expired Sunday.
"I thought it went good," Harbaugh said.
Gore carried 17 times for 89 yards and a 1-yard touchdown.
Calvin Johnson caught eight passes for 94 yards, but that was hardly enough as the Lions (1-1) didn't get closer than the 20 until their final drive on a cool, windy night by the bay. San Francisco's secondary kept Megatron from catching a touchdown pass for the second straight matchup, forcing Stafford to rely heavily on the running game.
Another impressive outing by a defense that shut down Rodgers in a 30-22 win over the Packers last week.
"That's our 'D,' " tight end Delanie Walker said. "They're some dogs."
Stafford finished 19 of 32 for 230 yards, with one touchdown and an interception, missing a chance to become the first player in NFL history to throw for 350 yards in five straight games.