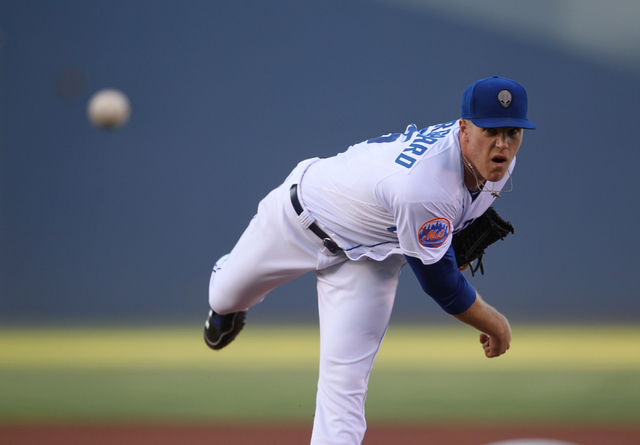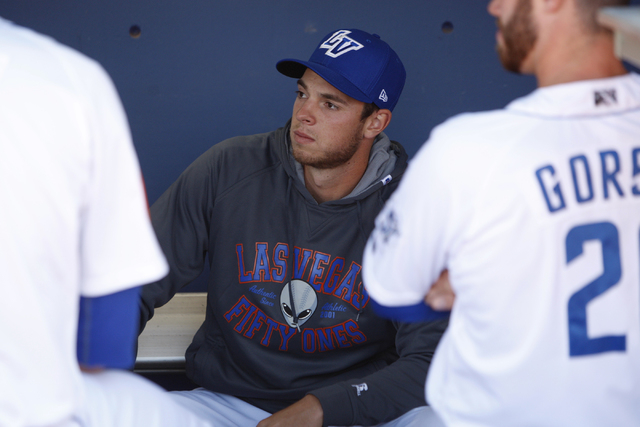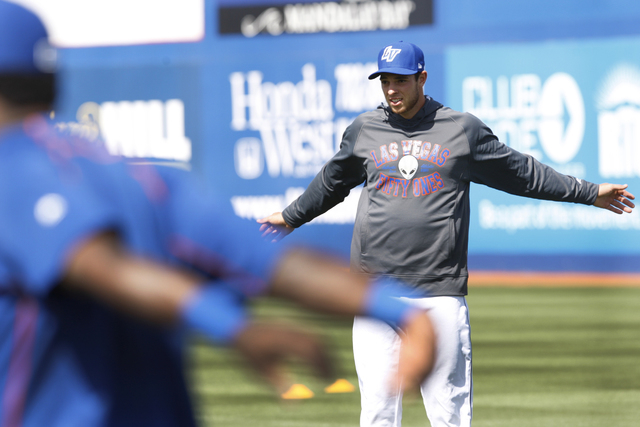 Jacob deGrom started last season with the 51s, was called up by the New York Mets in mid-May and never looked back, winning National League Rookie of the Year honors in the right-handed pitcher's first stint in the big leagues.
Las Vegas flamethrowers Noah Syndergaard and Steven Matz, the Mets' top two prospects, hope to follow deGrom's lead this season and are well armed to do so.
"It could very well happen again. You just never know," said Wally Backman, the reigning Pacific Coast League Manager of the Year who will guide the 51s in their 33rd PCL season opener at 7:05 p.m. today at the Fresno Grizzlies.
"There's a lot of talent there. When you talk about Syndergaard and you talk about Matz, for me they're front-of-the-rotation starters in the big leagues. They're both very, very good."
Syndergaard, a 6-foot-6-inch right-hander, is rated baseball's No. 11 prospect by Baseball America, and Matz, a 6-2 lefty from Long Island, N.Y., is No. 33.
"It's going to be fun to watch both of them push each other a little bit to see who's going to be (in the big leagues) first," Las Vegas pitching coach Frank Viola said. "They both have immense talent."
Expected to follow the same path to the majors last season as Mets power pitchers Matt Harvey and Zack Wheeler before him, Syndergaard instead stayed put in Las Vegas. He led the PCL in strikeouts, with 145 in 133 innings, but with a 4.60 ERA, he didn't live up to his expectations.
"I don't think I did, no. But I feel it was a good learning experience for me," the 22-year-old said Tuesday during the team's annual media day at Cashman Field. "When you're in the big leagues, you're not going to have a great game every time you're out there. You just have to learn how to handle the adversity."
Syndergaard said he was distracted last season by speculation about when he'd be called up.
"That's something I paid way too much attention to last year," he said. "I was just wanting things to happen more than actually going out there and making things happen.
"I feel like a completely different pitcher than I was last year, just the amount of confidence I have out there and mentality."
Matz is a completely different pitcher than he was three years ago, when he questioned whether he'd ever return from the Tommy John surgery he had in 2010 that sidelined the 2009 second-round draft pick for three seasons.
"There was a point where I wasn't really sure where my career was going to go, because I was having such a tough time coming back from the Tommy John," said Matz, 23. "A couple years ago, if you had told me I'd be here, I don't know if I would've believed you. So it's great to be here."
Matz — who, like Syndergaard, can crank up his fastball to the high 90s — had the second-best ERA (2.24) and second-most strikeouts (131 in 140 2/3 innings) among all Mets minor leaguers last season.
Former Cy Young Award winner Viola, another lefty from Long Island, said Matz has made huge strides since 2013, when the two worked together at Single-A Savannah.
"If you knew him when I knew him, coming back from Tommy John, having ups and downs, not knowing if he'd ever pitch again, doubts and questions all over the place, to see where he's gone over the last three years as a pitcher and as a person, you root for him," Viola said. "He's a kid who's got that 'it' factor."
So much so that Mets pitching coach Dan Warthen has compared Matz to Clayton Kershaw and Viola has compared him to Madison Bumgarner for his big-game performances in the minors.
Matz pitched 7 1/3 no-hit innings for Double-A Binghamton in its Eastern League title-clinching game in September and also won the 2013 South Atlantic League championship game for Savannah.
"He's proven the bigger the game, at least on the minor league level, the better he is," Viola said. "When you have that type of not only competitive nature, but that 'it' factor I'm talking about, it's nice to watch."
Matz is slated to start tonight's season opener for the 51s, whose home opener is April 17 vs. Fresno at Cashman Field. Rounding out the rotation are Syndergaard, Matt Bowman, the Mets' No. 18 prospect, Tyler Pill and Darin Gorski.
"We're solid in the pitching department," said Backman, who has guided Las Vegas to two consecutive 81-win seasons for the first time in franchise history. "We've got a great starting rotation, we've got better defense this year and more team speed."
The 51s return catcher Kevin Plawecki, the Mets' No. 5 prospect whom Backman said is capable of being a 25-home run hitter in the big leagues; shortstop Matt Reynolds, New York's No. 12 prospect who batted .343 and had 20 steals last season for Las Vegas and Binghamton; and super utilityman Eric Campbell, the 51s' 2013 Most Valuable Player who spent most of last season with the Mets and was the last player cut by New York in spring training this year.
The 51s also will feature speedy second baseman Dilson Herrera, the Mets' No. 4 prospect who last season had 16 homers, 82 RBIs and 23 steals for the Mets, Binghamton and Single-A St. Lucie.
"The kid's going to be a big league All-Star some day," said Backman, who has led Las Vegas to two straight division titles. "I liked the guys I had last year, but I think we have a lot more athleticism on this club. I'm looking forward to playing after Sept. 7 again."
Contact reporter Todd Dewey at tdewey@reviewjournal.com or 702-383-0354. Follow him on Twitter: @tdewey33.