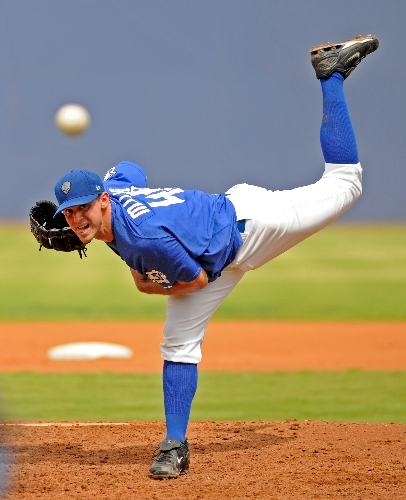 When former Baltimore Orioles pitcher Adam Loewen embarked on his quest to make it back to the majors as a position player in 2009, he hadn't picked up a bat in six years and had to relearn virtually every aspect of the game.
"Everything felt foreign," he said.
But after making steady progress the past three seasons, the 51s outfielder finally has realized his goal.
Loewen, 27, will be one of six Las Vegas players promoted today to Toronto, along with first baseman David Cooper and pitchers Brad Mills, Kyle Drabek, Daniel Farquhar and Chad Beck.
"When I look back on it all, I remember thinking how far away it seemed when I started off, and even last year. It's a very satisfying feeling, to say the least," Loewen said with a big smile. "I feel very blessed. It's all about taking advantage of opportunities now."
Loewen, a left-hander who stopped pitching after suffering recurring stress fractures in his throwing elbow, went 0-for-3 in Monday's season-ending 10-2 win over Salt Lake at Cashman Field. The former No. 4 overall draft pick hit .306 with 17 home runs this year, was second in the Pacific Coast League in doubles (46) and second on the team in RBIs (85), and had 11 outfield assists.
Despite finishing with a 71-73 record — the 11th straight losing season by the Blue Jays' Triple-A affiliate — the 51s excelled in developing players, sending 20 to Toronto.
"Winning is second to development, but winning is also part of development," Las Vegas manager Marty Brown said. "Unfortunately we couldn't take advantage of a really good May (22-8), which got us right back into things."
After a season-high 10-game losing streak dropped them to 9-14, the 51s went 22-5 to improve to a season-best 12 games over .500 at 31-19 on May 28, when they were a half-game out of first place in the Pacific Southern Division.
Las Vegas trailed Sacramento by four games entering a four-game series at home against the River Cats before July's All-Star break, but the 51s were swept and never threatened again.
Las Vegas led the PCL in hitting, with a franchise-record .307 average, for the third time in four years but finished near the bottom of the league in ERA (5.76).
"It was a joy to be here with our offense," Brown said. "It's a shame that we didn't have the pitching at times to really give ourselves a chance, or it could've been a way different race."
An unusually high number of transactions — 183 to be exact — also hurt the 51s' continuity.
"We had so many changes throughout the year," Loewen said. "I think that's why we were so streaky."
Despite the myriad moves, Loewen said the clubhouse chemistry stayed great throughout, something he credited to the leadership of veteran infielder Chris Woodward.
"Whoever came in and out was welcomed into the group, and Woody kind of headed that up," he said. "That just made it so much more enjoyable. Wins and losses kind of don't factor into how much we enjoyed the season."
Cooper, who went 1-for-3 on Monday, led the PCL in batting (.364), doubles (51) and hits (170), and led the team in RBIs (96) in his first year in Triple A.
The 24-year-old is the fourth Las Vegas player to win a PCL batting title, joining John Kruk (.351, 1985), James Loney (.380, 2006) and Terry Tiffee (.378, 2008).
"What impressed me so much with him was there wasn't a valley or anything. Maybe an 0-for-4, but that was about as low as he got," 51s hitting coach Chad Mottola said. "It was impressive to sit back and watch. He stayed hot and consistent throughout the whole season, and that's rare in this game."
While Cooper is a pure hitter who didn't need Mottola's help much this year, several players did benefit from his tutelage, including Loewen and Blue Jays rookies Brett Lawrie and Eric Thames.
"There is some satisfaction in guys going up there and performing well. There's times that we live through them," said Mottola, who had a 16-year playing career. "I get more excited with the guys that go up there and have success than I probably did myself."
The left-handed Mills (11-9) led the team in victories, earning his 11th on Monday, when he allowed two runs on six hits in 6 2/3 innings. He finished with a 4.00 ERA, good for sixth-best in the PCL.
"We've proven you can develop and win," said Brown, who would like to return next season. "Now we're headed, with (Toronto general manager) Alex (Anthopoulos), in the right direction, to give all our affiliates a chance to experience the playoffs and maybe a championship."
Contact reporter Todd Dewey at tdewey@reviewjournal.com or 702-383-0354.
LAS VEGAS — 10
SALT LAKE –2
KEY: Brad Mills allowed two runs in 6 2/3 innings, Ryan Shealy homered, and Darin Mastroianni had four hits to fuel the 51s' 13-hit attack in their season finale.