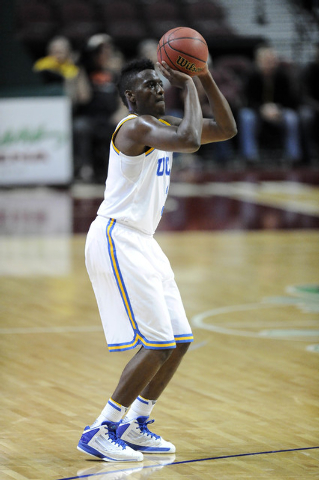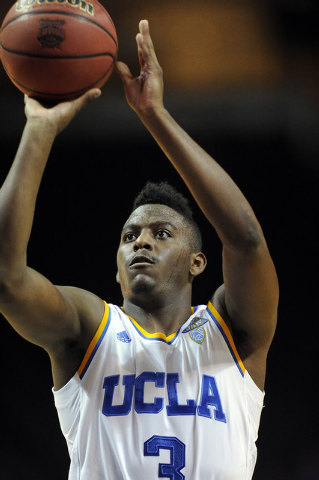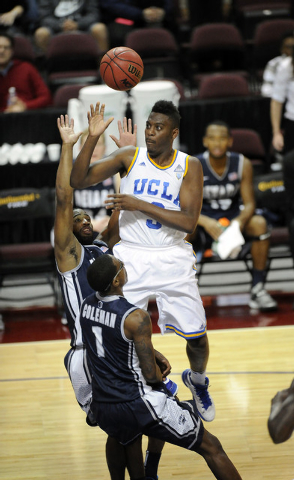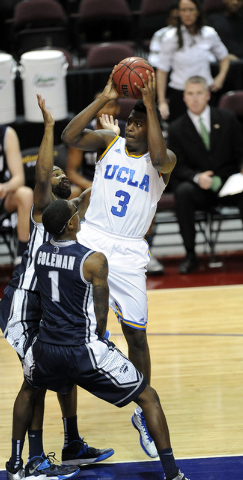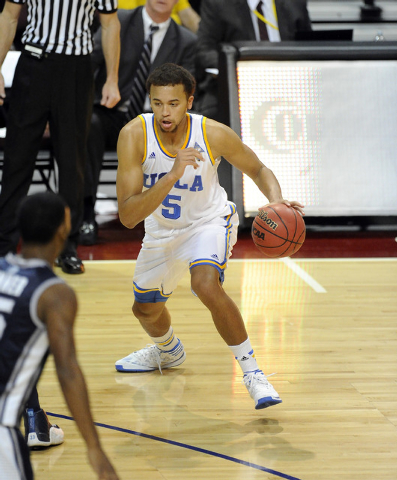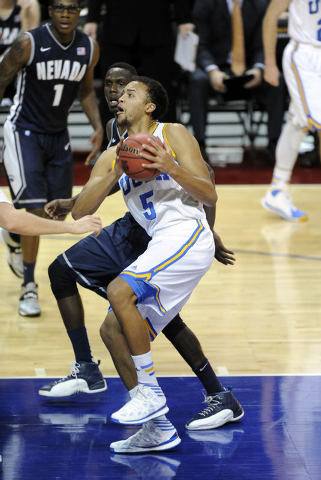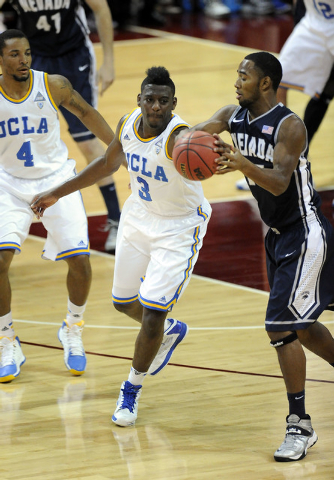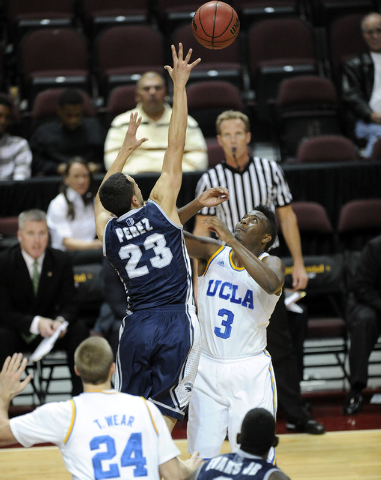 The last time Jordan Adams was in Las Vegas, he left town broke.
A broken right foot, to be exact.
Adams suffered the injury in the Pacific-12 Tournament semifinals as UCLA defeated Arizona at the MGM Grand Garden on March 15. But Adams' season was finished and, a week later, so were the Bruins, who lost to Minnesota in their first NCAA Tournament game.
But things heal over time and Adams was back in town Thursday, leading the 19th-ranked Bruins to an easy 105-84 win over UNR in the third round of the Las Vegas Invitational at Orleans Arena.
"I'm doing great," said Adams, who finished with 21 points, including a perfect 10-for-10 from the free-throw line, and had six steals. "I didn't do anything for four months. I just let my foot heal and I think the time off from basketball did me some good. My body's strong and I don't even think about my foot."
The Bruins (6-0) were impressive in every facet, dropping the Wolf Pack to 3-4 (UNR plays Missouri at 5:30 p.m. today). They shot 61 percent from the floor, had 21 assists and were 93 percent from the free-throw line, hitting 25 of 27.
"That's something we take pride in," said sophomore swingman Kyle Anderson, who had 17 points and 10 rebounds. "Those are free points and we need to take advantage of them."
Life is much different in Westwood these days. When Adams went out, the Bruins were a high-strung group. Their coach, Ben Howland, was rumored to be on his way out. Their star player, Shabazz Muhammad, also was rumored to be leaving for the NBA. Basketball wasn't as much fun as it should have been.
Sure enough, following their early exit from the NCAA Tournament, Howland was fired. Muhammad, the former Bishop Gordon High standout, turned pro and was a first-round draft pick. Steve Alford was lured from New Mexico to coach the team, and with his arrival came fresh ideas and a renewed emphasis on enjoying the game.
"He's an unbelievable player's coach," Adams said of Alford, who spent six successful seasons at New Mexico before moving to UCLA. "He brought in a great system and we're all embracing it. He's played at this level and was very successful so he has everyone's respect."
Anderson said Alford is easy to play for and the climate at Pauley Pavilion is much different than under Howland.
"I'm enjoying this role much more," he said. "Coach Alford's system is very open and he allows you to play."
Alford said he just wanted the returning players to enjoy the game and he didn't have much trouble getting them to buy in.
"We've spent the last six months building a trust of each other," Alford said of his bonding with the six returning scholarship players he inherited. "You have to have great guys who know how to compete and we've got that here."
Alford's cherry red blazer that he would break out on special occasions when he coached New Mexico has been retired. Instead, he is part of a special legacy created by the late John Wooden and is the caretaker of one of college basketball's most storied programs.
"To be honest, it's still a little surreal," Alford said. "It's a very humbling experience to be part of this."
UCLA, which faces Northwestern at 8:30 p.m. today, made sure UNR's Deonte Burton didn't pull off any miracles. The Bruins kept a close eye on Burton, the Wolf Pack's leading scorer who was averaging 24.5 points coming into Thursday's game. He finished with 20 points but was never a serious factor in a game the Bruins were never threatened.
Contact reporter Steve Carp at scarp@reviewjournal.com or 702-387-2913. Follow him on Twitter @stevecarprj.