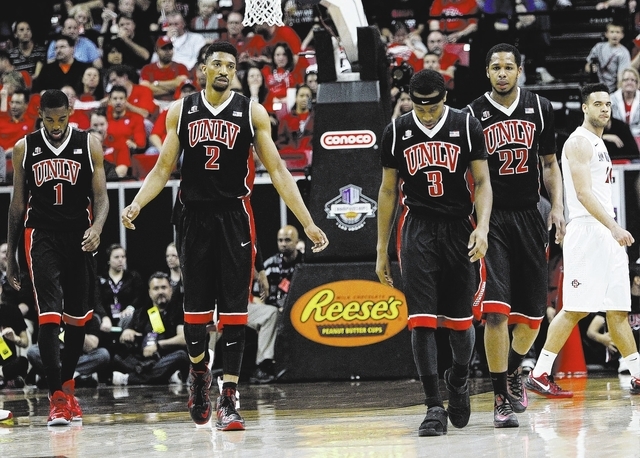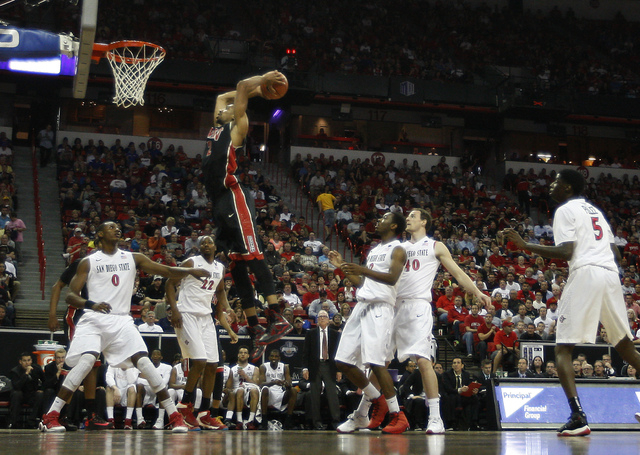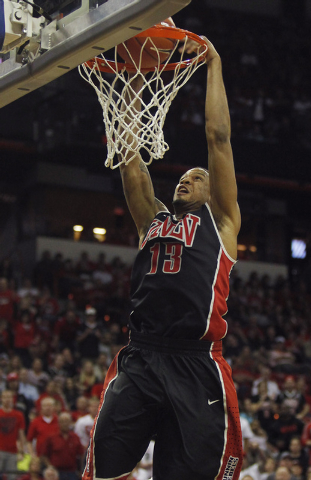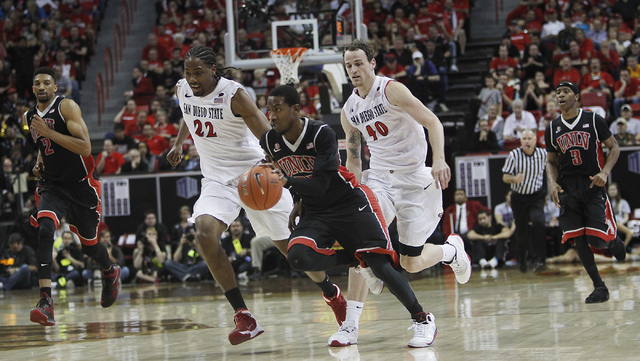 A hip injury threatened to sideline junior forward Khem Birch with UNLV's season on the line. Birch courageously played through pain and laid it all on the line.
But the Rebels went out with a whimper anyway, getting knocked out of the Mountain West tournament Friday night while resembling a dispirited and dysfunctional mess in the process.
"I was just disappointed with a lot of the adversity we went through," coach Dave Rice said in a quiet hallway.
In the locker room, junior guard Bryce Dejean-Jones unleashed another emotional eruption, according to witnesses who heard his tirade, after what could have been the final game of his college career.
Dwayne Polee II scored 18 points and Xavier Thames had 17 as top-seeded San Diego State pulled away after halftime for a 59-51 victory over fourth-seeded UNLV in a one-sided semifinal at the Thomas &Mack Center.
"We want to come in here and win three games," Thames said. "We got the first two."
The Aztecs (29-3) advanced to face second-seeded New Mexico, which eliminated Boise State in the second semifinal, for the championship at 3 p.m. today.
The Rebels (20-13) were left to assess a failed season, doomed to miss the NCAA Tournament for the first time since 2009.
"There may be a postseason opportunity for us," Rice said. "It's something we haven't even started to think about yet because our whole focus was on trying to win this tournament."
UNLV has not won the conference tournament in its home arena since 2008, and it might not even land in the National Invitation Tournament. If not, this likely was the conclusion of Rice's third season.
He promised "to spend every waking moment" between now and next season searching for ways to improve the program to avoid another embarrassing ending.
Deville Smith's 17 points led the Rebels, and Dejean-Jones finished with 10 points. But Birch represented the real leader while recording six points, 15 rebounds and five blocks in 39 minutes.
The previous night, in a victory over Wyoming, Birch hobbled because of a sore left hip flexor. He came back looking almost as strong as ever.
"As he limped out of the locker room (Thursday), and he walked down the hall, I wasn't sure he was going to be able to play," Rice said. "It was a pretty amazing thing that he was able to play at the level he played at today."
Nothing else about UNLV's performance was amazing. Nothing else about the entire season was amazing.
"We're just going to figure out the guys who truly want to be here and give us the best chance to win moving forward," Rice said. "We are going to learn from things that took place and be much better next year."
All that started well Friday did not end well for the Rebels, who scored the game's first seven points. San Diego State coach Steve Fisher used a timeout, and his team answered the wake-up call.
The Aztecs, who led 29-24 at the half, took a 33-31 advantage and blew open the game with a 12-0 run that included 3-pointers by Polee and Matt Shrigley.
"We knew they were going to fight hard and come back," said Thames, who shot 6-for-10 from the field and 5-for-5 on free throws.
The run came too late. UNLV trailed by 15 points with eight minutes remaining and cut its deficit to 56-51 on Dejean-Jones' second 3-pointer with 50 seconds to go. Polee made two free throws, Dejean-Jones lost control of his dribble, and that turnover was a metaphor for the past five months.
San Diego State won all three meetings between the teams this season.
"To beat them twice in their building, we're proud of that fact," Fisher said. "We came here to compete like crazy."
The Rebels were put out of their misery by a superior team, one with winning instincts and one guided by a veteran point guard in Thames, the Player of the Year in the conference.
Junior forward Roscoe Smith said he had yet to think about whether he would return next season. What is certain is that another offseason of radical change is on the way for UNLV.
"We had a lot of expectations. We got a lot of talent," Smith said. "It's a tough one."
Contact reporter Matt Youmans at myoumans@reviewjournal.com or 702-387-2907. Follow him on Twitter: @mattyoumans247.