Adelson School, Agassi Prep to meet for Class 2A boys title
February 24, 2017 - 11:04 pm
Updated February 25, 2017 - 12:04 am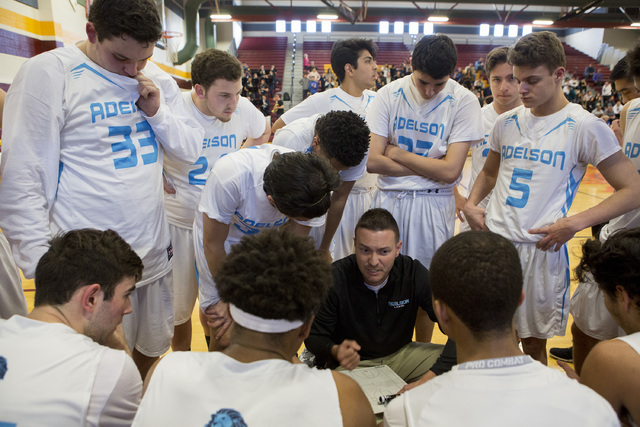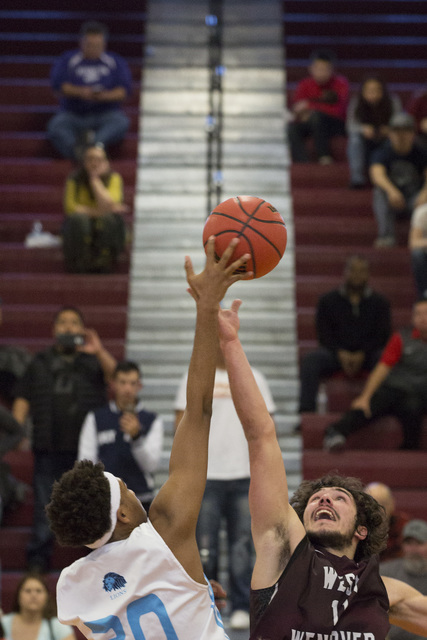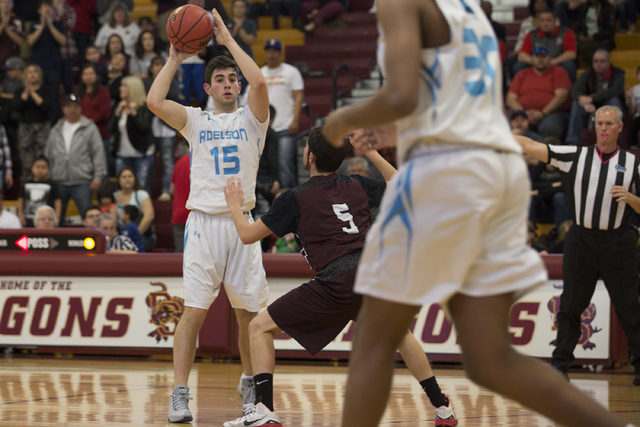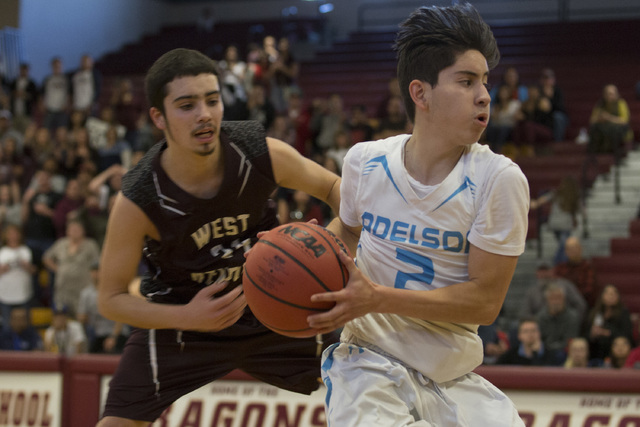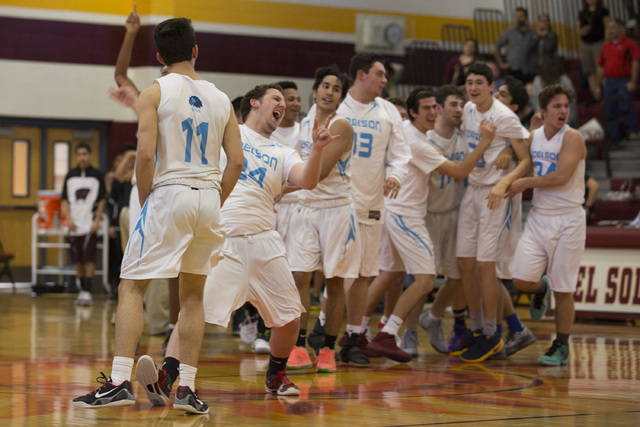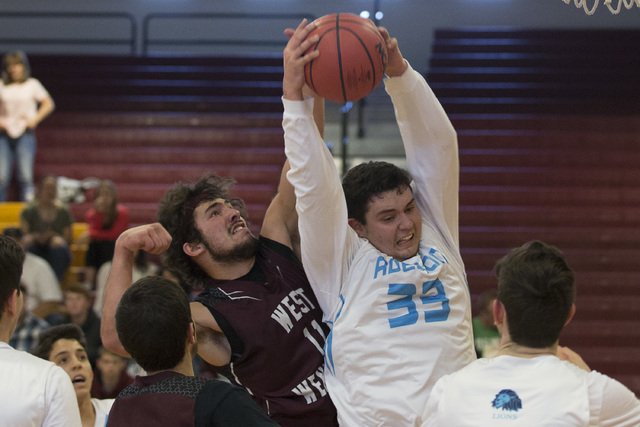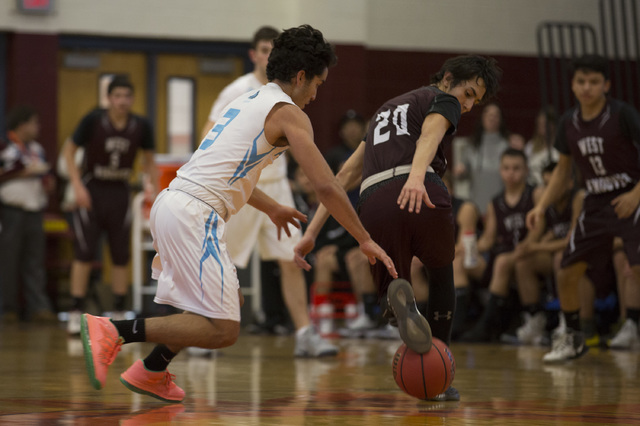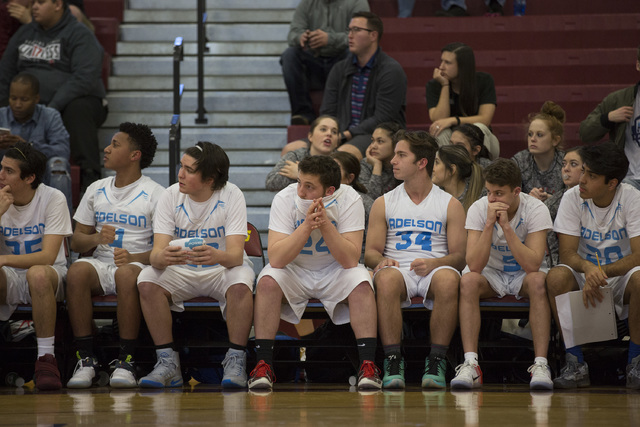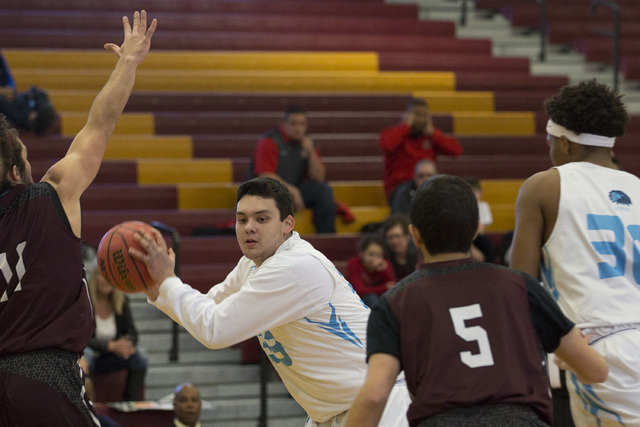 Jake Buchman is the leading scorer in Adelson School boys basketball history. Ben Elharrar is 5 feet 7 inches tall. Both facts are important to the end of Friday's Class 2A boys state basketball semifinal.
Elharrar, the undersized junior, collected the two most important rebounds of the season, and Buchman, the decorated senior, nailed the game-winning 3-pointer in overtime that lifted the Lions to a 57-56 win over West Wendover at Del Sol High School.
"As soon as he released it, I saw it was going in," Elharrar said. "That's what he does, he comes in clutch for us."
Adelson School (21-4) will play Agassi Prep (21-5) in the state title game at 4:30 p.m. Saturday at Cox Pavilion, the first championship game in Lions history.
The final play didn't develop the way the Lions had planned.
With the team trailing 56-54, the game-winning 3-pointer was designed to go to Jacob Elharrar, but when he missed, Adelson School needed to improvise.
Ben Elharrar rushed in from the far corner and collected the missed shot. After a scramble that looked as if it would end with him stepping out of bounds or getting fouled, he floated an underhanded lob to Buchman in the corner.
With 7.5 seconds left, Buchman drove a dagger through the hearts of the Wolverines (19-9).
"I think he's been waiting for this moment for four years now," Adelson School coach Kurt McGinnis said. "In any game when we're in a funk or not hitting shots or someone is cold, he just puts us on his back and says, 'Follow me, guys, I'll get us home.'"
Agassi Prep 71, Pershing County 39 — Najeeb Muhammad and Allen Merritt led the Stars with 18 points apiece.
The Stars stormed to a 17-6 lead after the first quarter, then proceeded to roll over the Mustangs (27-3) in the second half, outscoring them 37-16.
The win sets up the third state title game in four years for the Stars, who won it all in 2014 and 2015. It also sets up the fourth game of the season against Adelson School.
The squads split the regular-season matchups, and the Lions took the Southern League tournament title last weekend in a game that came down to the final shot. The total margin of victory in the three games was seven points.
"You couldn't have drawn it up any better," Agassi Prep coach Trevor Diggs said. "That's who we want to play.
"Our job is one game. We have to be better than them. That's all."
GIRLS
Agassi Prep 61, White Pine 46 — The Stars defense forced 28 turnovers and held the Bobcats to 35 percent shooting in the Class 2A girls state semifinals.
Agassi Prep (21-3) will meet Needles (24-5) in the state final at 2:40 p.m. Saturday at Cox Pavilion. The Stars won two of the team's three regular-season meetings.
After both teams got off to a rough start Friday, Agassi Prep turned up the full-court pressure to take control. The offense soon followed, as the team built a 12-0 lead and forced White Pine (21-8) into calling its first timeout.
The Stars led 16-4 after the first quarter.
"It was probably nerves, but once we got up by 12, we got relaxed," Agassi Prep coach Wendell West said. "We didn't put our feet on the gas like we should have. We're going to go back to the drawing board and set it up for (Saturday). Got to get ready for a big one."
Needles 58, Pershing County 34 — Jayne Antone and Paige Murch scored 12 points apiece to lead a balanced attack for Needles.
Antone also had 11 rebounds for Needles, which led 30-9 at halftime after limiting Pershing County to three first-half field goals. The Needles defense held Pershing County to 14-for-64 (21.9 percent) shooting from the field.
Brenna Chavez added nine points, nine rebounds and five assists for Needles, which led by as many as 25 points.
Houston scored 13 points to lead Pershing County (24-7).