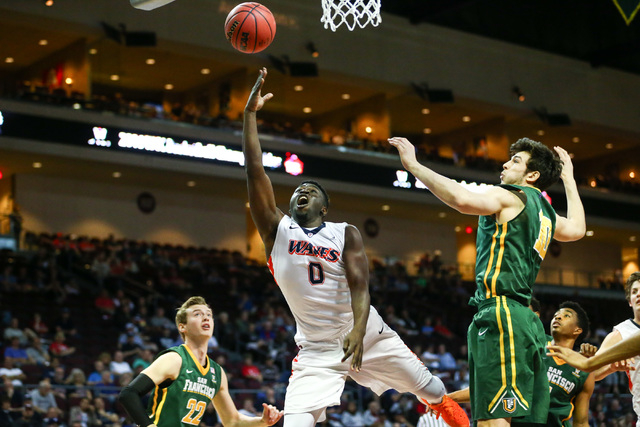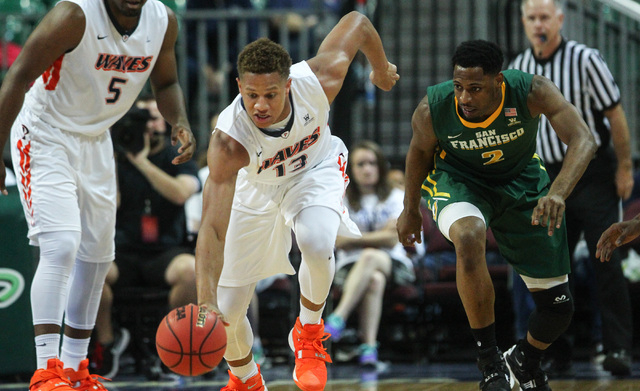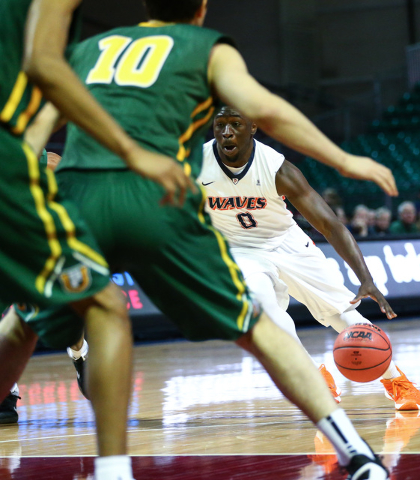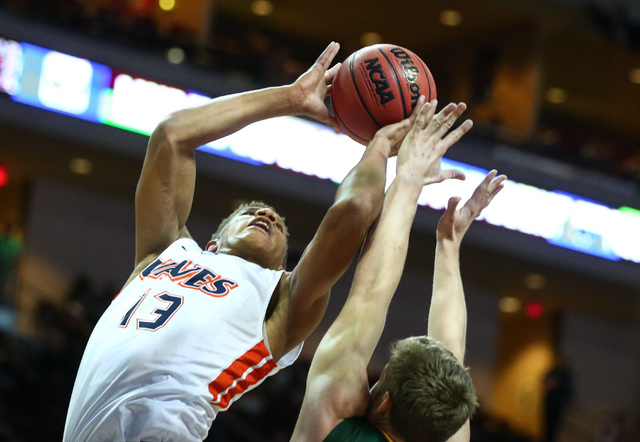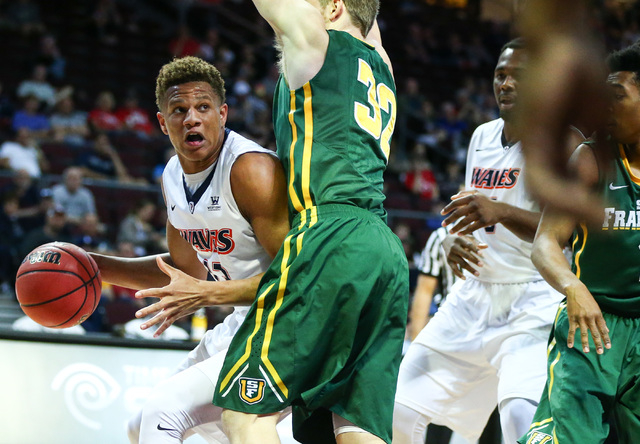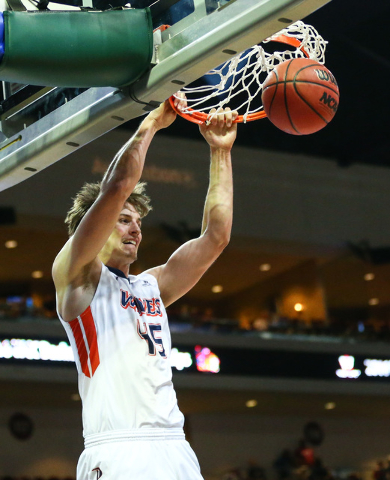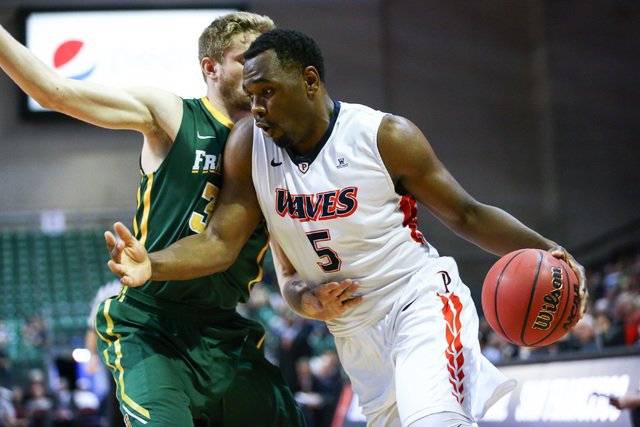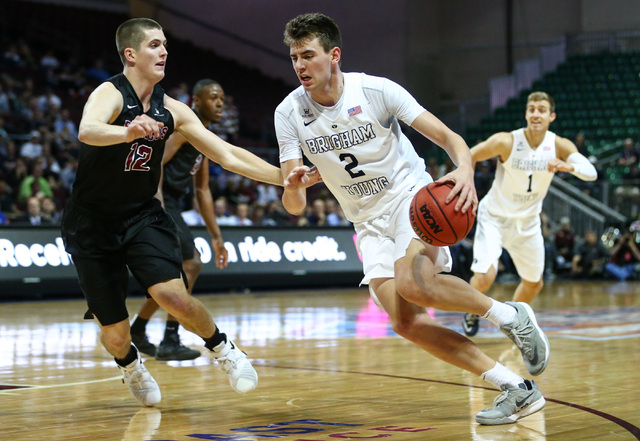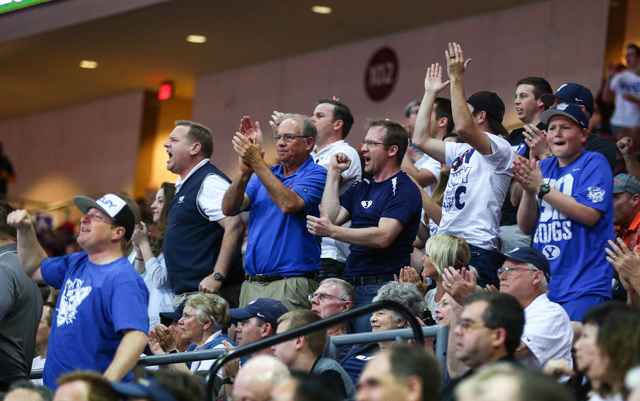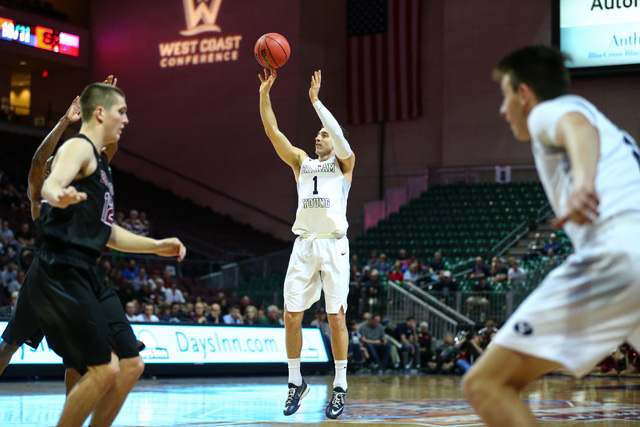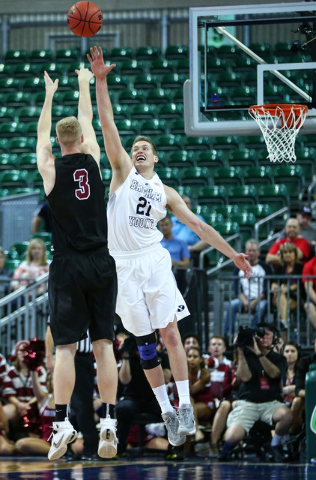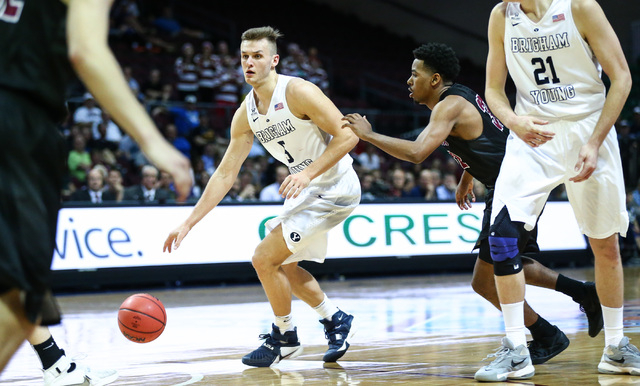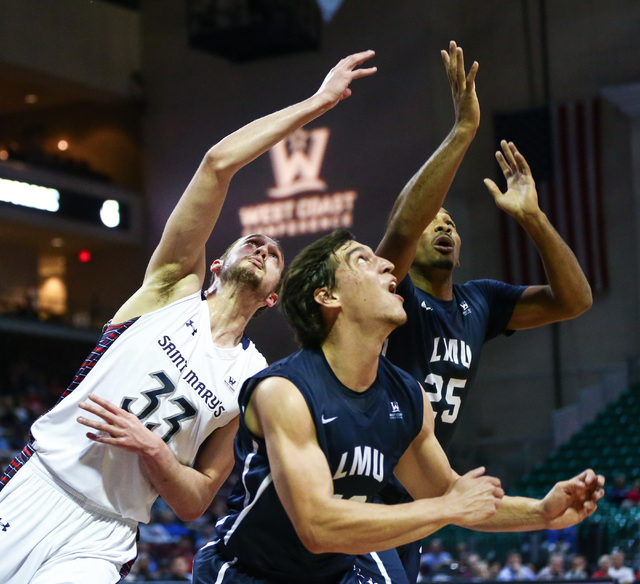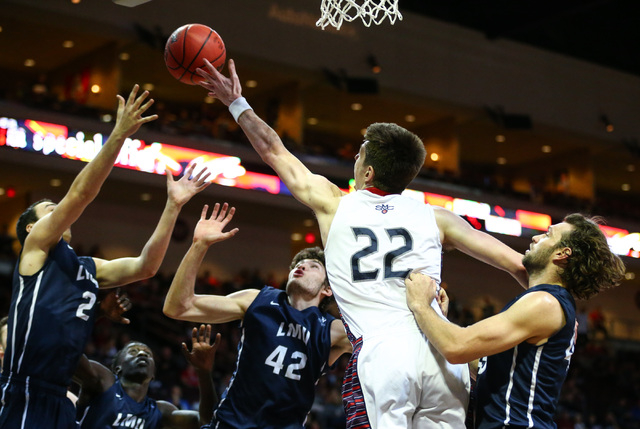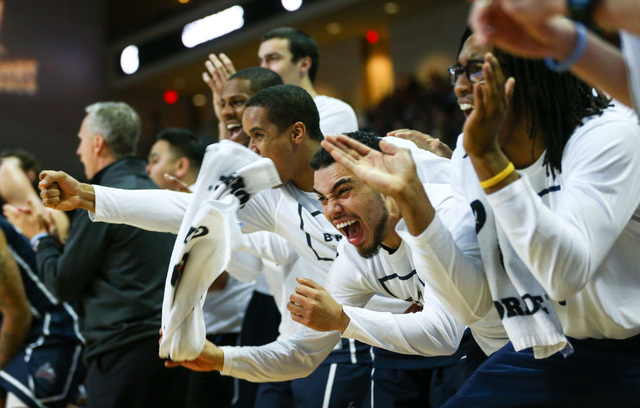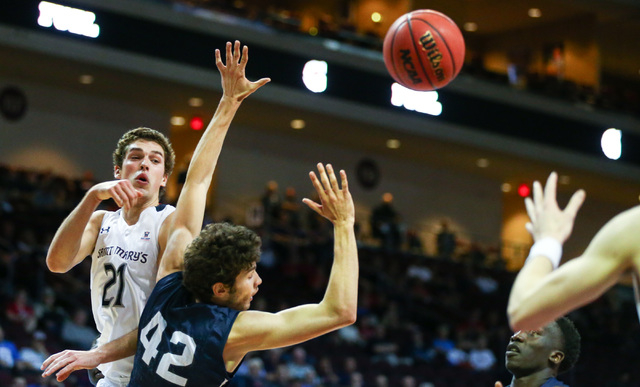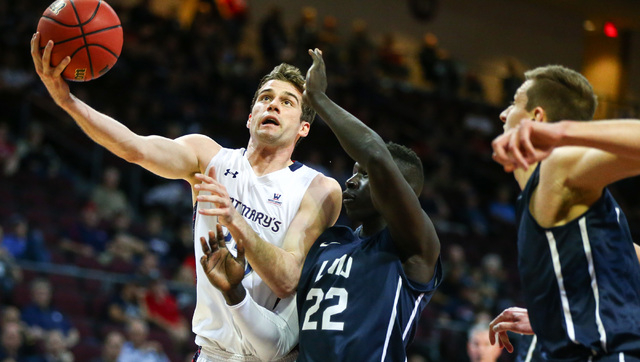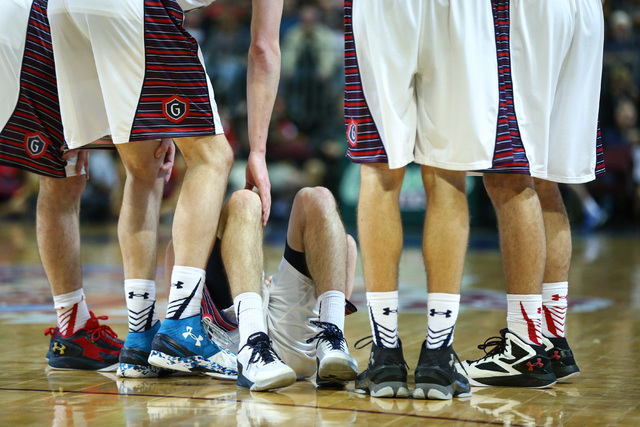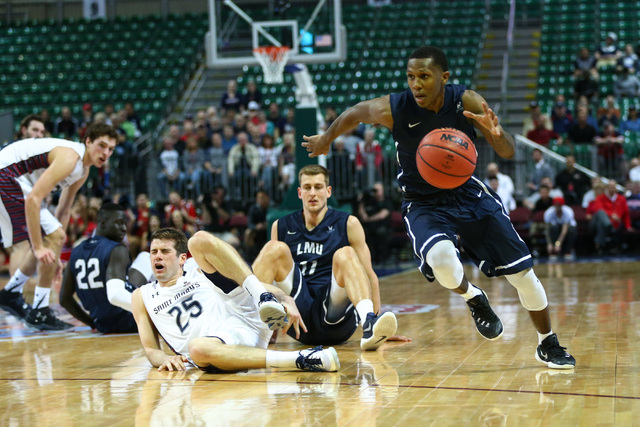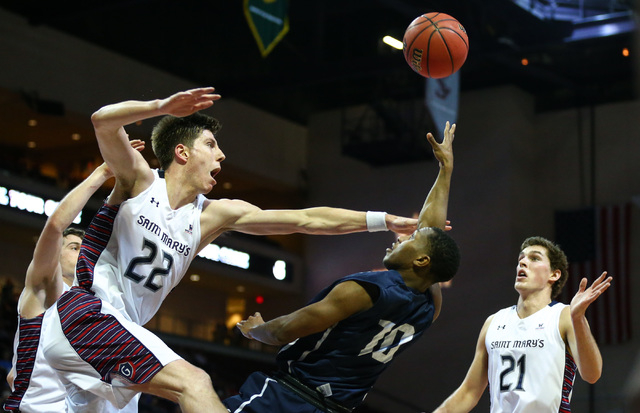 It's never easy for one player to beat five. But Jared Brownridge almost pulled it off.
The Santa Clara guard scored 30 points Saturday in the quarterfinals of the men's West Coast Conference basketball tournament against Brigham Young. But the Cougars shut down Brownridge's teammates and put five players in double figures en route to a 72-60 victory at Orleans Arena.
BYU (23-9) will face the winner of the Gonzaga-Portland game in the semifinals at 8:30 p.m. Monday.
The Broncos trailed by 17 points with seven minutes remaining in the first half when Brownridge got hot. He attacked from all over the court, and BYU coach Dave Rose was forced to put his best player — Kyle Collinsworth — on Brownridge.
Collinsworth was somewhat successful, as Brownridge needed 29 shots plus a 9-for-11 performance from the free-throw line to score his 30.
"We tried to make him a volume shooter and make him hit tough shots," said Collinsworth, who had 13 points, nine rebounds, six assists and six turnovers in 38 minutes. "I don't feel good that he got 30, but we got the win, and that's all that matters. He could've gotten 60, but as long as we win, I'm happy."
One of Brownridge's two misses at the line proved critical. BYU led 53-51 when Brownridge was fouled and went to the line with 6:56 remaining. But he missed the front end of a one-and-one, and BYU went on a 10-3 spurt to lead 63-54 with 3:05 to play.
"Those could have changed the face of the game," Santa Clara coach Kerry Keating said. "We'll never know. But we were right there with a chance to tie."
Brownridge said he tried to put the miss behind him. He made a 3-pointer the next time down the floor to cut the BYU lead to 55-54, but the Cougars scored the next eight points.
"It was short-term memory," he said. "I didn't worry about it. I came back and hit a 3."
Brownridge said the fact BYU had to put its best player on him spoke of his abilities.
"It was a great challenge," he said. "Collinsworth is bigger than me. But when they put their best player on me, it's showing me respect."
Santa Clara finished 11-20 in a season that saw several players miss numerous games with injuries.
"At this time of the year, it's a make-or-miss deal," Keating said. "We made enough makes to be in it but not enough to win it."
Saint Mary's 60, Loyola Marymount 48 —Dane Pineau scored 16 points, and Joe Rahon had 10 points and 10 rebounds as the top-seeded Gaels (26-4) shook off a sluggish start to pull away late.
The No. 8 Lions (14-17) led 35-29 with about 17 minutes remaining. But Saint Mary's limited Loyola to eight points in the final 11 minutes to advance to Monday's 6 p.m. semifinal against Pepperdine.
Pepperdine 90, San Francisco 86 — The fourth-seeded Waves rode a 19-3 run in a 4:54 span midway through the second half to wipe out a 53-47 deficit and eventually defeat the Dons.
Jeremy Major scored 28 points for Pepperdine (18-12), and Stacy Davis had 18 points and 12 rebounds. Devin Watson tied his career high with 33 points for San Francisco (15-15).
Gonzaga 92, Portland 67 — Eric McClellan scored 25 points and Domantas Sabonis 24 to lead the second-seeded Bulldogs (24-7) into Monday's semifinal against BYU.
Gonzaga, which led 46-32 at halftime and by as many as 25 late in the game, shot 51 percent from the floor and committed just five turnovers. The Pilots finished 12-20.
Contact reporter Steve Carp at scarp@reviewjournal.com or 702-387-2913. Follow him on Twitter: @stevecarprj
WCC tournament schedule
At Orleans Arena
Saturday
Men's quarterfinals
BYU 72, Santa Clara 60
Pepperdine 90, San Francisco 86
Saint Mary's 60, Loyola Marymount 48
Gonzaga 92, Portland 67
Monday
Noon: Women's semifinal, BYU vs. Santa Clara
2 p.m.: Women's semifinal, Saint Mary's vs. San Francisco
6 p.m.: Men's semifinal, Saint Mary's vs. Pepperdine
8:30 p.m.: Men's semifinal, BYU vs. Gonzaga
Tuesday
1 p.m.: Women's final
6 p.m.: Men's final