Clark basketball player lands scholarship through nonprofit
Updated December 6, 2018 - 7:04 pm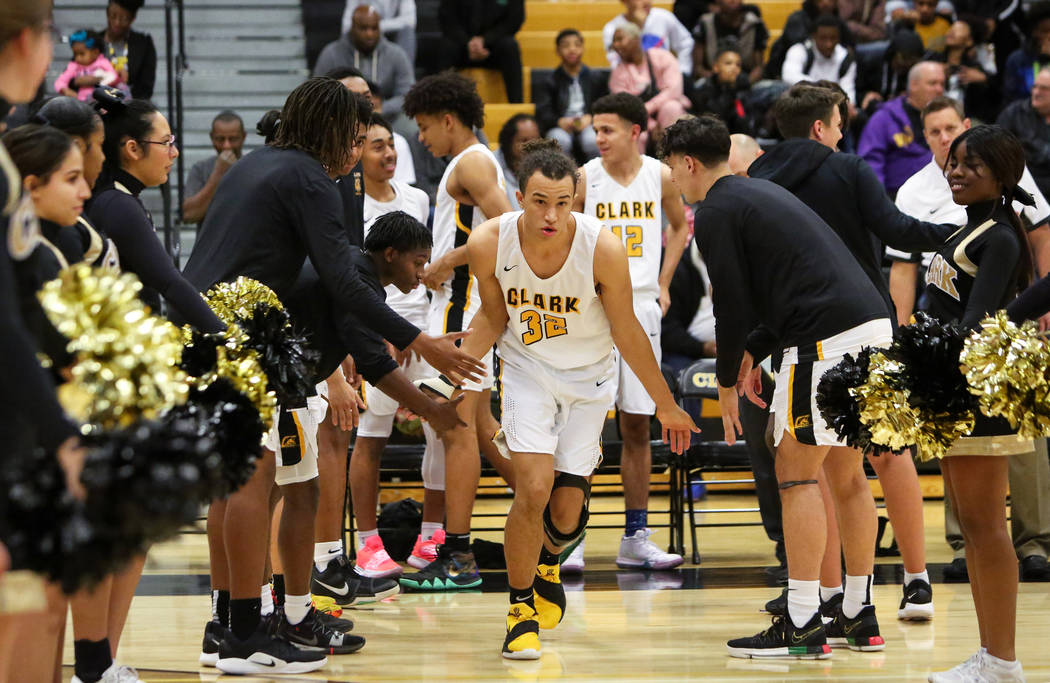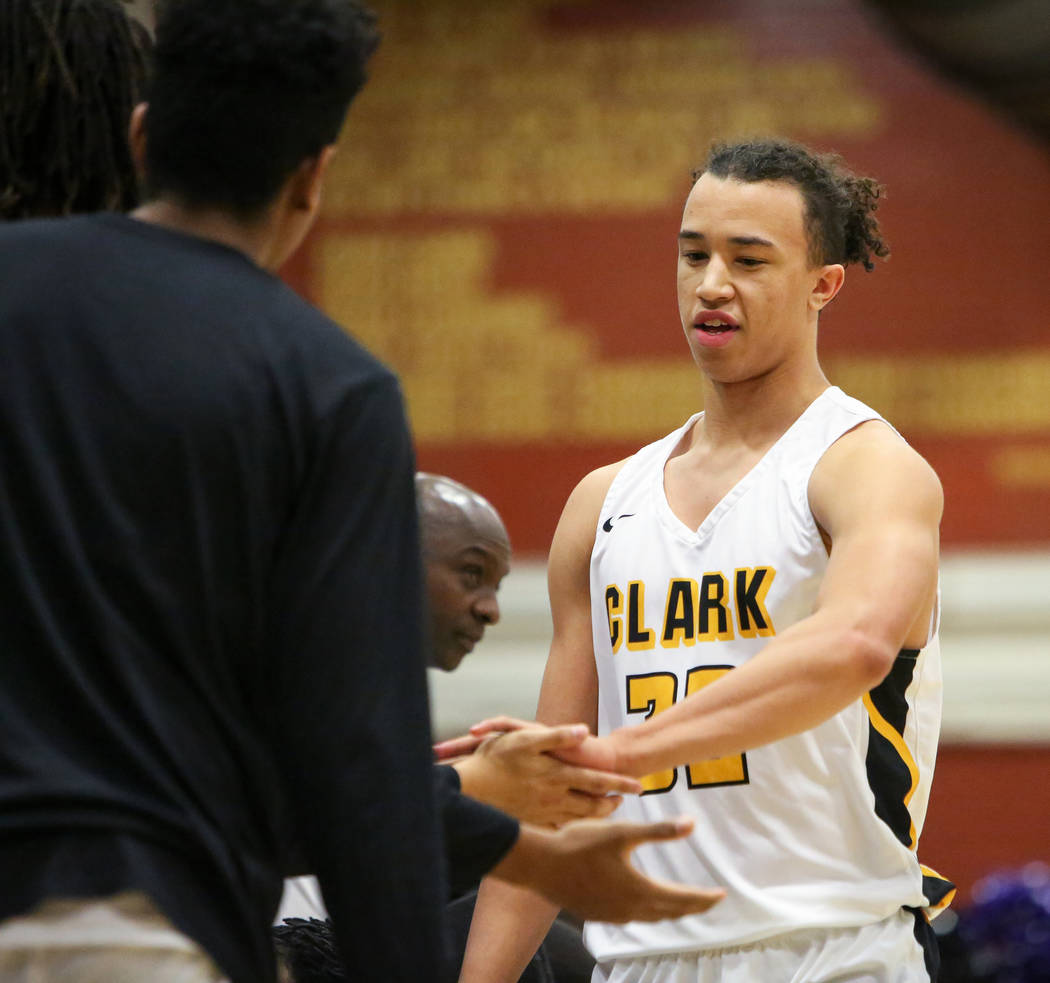 Clark senior forward Ian Alexander had a pep in his step during basketball practice Monday. And not the kind of pep he worked to regain after tearing his left ACL and meniscus in February.
He has that pep again, too, after six-plus months of rigorous rehabilitation.
But this particular pep was fueled by something else — and accompanied by a collection of congratulations.
Alexander was awarded a full academic scholarship Monday to Northwestern University through participation in QuestBridge — a nonprofit organization based in Palo Alto, California, that "connects the nation's brightest low-income students to America's best universities and opportunities."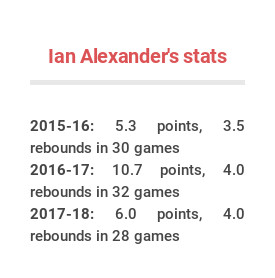 Alexander, a straight-A student, discovered the program while lying in bed and perusing emails as he recovered from knee surgery. Almost 17,000 students across the country applied for placement at the 40 prestigious academic institutions that partner with QuestBridge.
Alexander is one of 1,044 in the senior class selected to receive a full scholarship.
He plans to study bio-medical engineering.
"It all happened because I tore my ACL," the 6-foot-5-inch forward says. "It changed my life."
A student first
Alexander credits his parents for instilling an academic focus that drives him to this day. But his mother, Sara, says her son is equally — if not more — responsible.
It was Ian who insisted that he participate in the math and science magnet program at Hyde Park Middle School. It was Ian who would go to school early and stay late to maximize his learning potential.
"We didn't know what to do with Ian because he was always the kid that pushed himself harder than I ever did," Sara Alexander said. "We certainly wanted him to do well academically, but he led and we followed."
His growth as a student coincided with his growth as a basketball player, and Alexander, as an athletic and versatile wing, decided to attend Clark for its rigorous science and technology magnet programs.
Basketball was secondary.
"He started (30) games for us as a freshman (in 2015-16). A lot of it was because of his IQ," Chargers coach Chad Beeten said. "The academic programs he's in at this school are just ridiculously difficult and challenging. His success is pretty amazing. He's extremely analytical, and it really shows on the court."
Alexander thrived on the court and in the classroom, earning college credit via advanced placement classes and college recruiting attention from Ivy League stalwart Princeton, which he visited unofficially as a sophomore.
"As soon as I stepped on the campus, I knew that was something that I wanted for myself — high academics, the whole atmosphere of it all," Alexander said. "From that point on, I kind of researched schools and figured out what I wanted to do."
A blessing in disguise
Alexander knew that something had snapped in his left knee after jumping and landing awkwardly during the Sunset Region championship game against Bishop Gorman in February.
An MRI confirmed that Alexander had torn the ACL and meniscus in his left knee. He had surgery three weeks after the injury and was confined to his bed for hours on end, often strapped to a continuous passive motion device during the first phase of his rehabilitation.
"It was so painful, but it was something that I had to do," he said. "I had to do it for eight hours a day, just sit in bed, having my knee bent by this machine. Being an athlete, I'm always used to being able to do something. It was like, 'Now my leg doesn't work.' "
Though distraught and discouraged, Alexander didn't dwell on the rehab, or on the reality that he would have to sit out his final season of club basketball, typically the most crucial for a prospective recruit.
He instead focused on scholastic achievement, learned of QuestBridge while researching postsecondary opportunities and applied for the foundation's college prep scholars program that prepares juniors for college admission.
Upon acceptance, Alexander secured selection from mid-June to mid-July to the University of Pennsylvania's Wharton Sports Business Initiative. He lived on campus, took classes and continued his rehab in preparation for his senior season.
"I took something that was a negative and turned it into a positive. If I'm playing AAU, I don't get to do that," Alexander said. "I got to meet these people from the sports business world, a side of sports that otherwise I wouldn't have been able to see."
Alexander returned to Las Vegas in late July and was cleared for noncontact basketball drills in August. He joined the Chargers for game action during their preseason fall league in September and October and returned to the starting lineup Saturday in a victory over Santa Margarita (California), scoring four points.
"He's extremely energized," Beeten said. "He's not back 100 percent to what he is, but he's getting there slowly and surely. He's starting for us and producing for us."
Academics still take precedent over athletics, and Alexander spent the fall finalizing his application for QuestBridge's National College Match program, from which he ultimately earned his scholarship.
He was selected as a finalist and chose the nine colleges he would most like to attend, ranking Northwestern third after Columbia and Vanderbilt. Finalists discovered their fate Monday, and when Alexander received an email from QuestBridge, he rushed to the school office, where his mother and school administrators had congregated.
"To see the joy come across his face, it was quite a moment," Clark principal Jill Pendleton said. "There's 3,300 students in the school looking up to Ian. That's the standard for every student at Clark High School."
Contact reporter Sam Gordon at sgordon@reviewjournal.com. Follow @BySamGordon on Twitter.