From student manager to assistant coach, former UNLV student finds basketball joy
January 25, 2016 - 11:53 am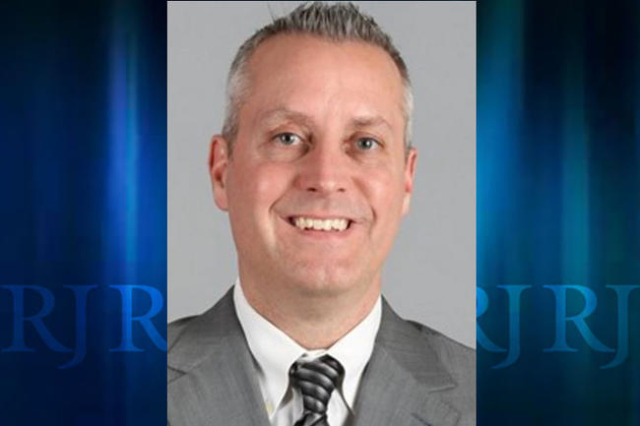 PITTSBURGH — The floor of the gym was filled. Shots were being fired up, one-liners being fired at each other.
Call it basketball's guys night out.
In the middle of all this was Bill Wuczynski, Boston College's assistant coach who arranges these optional trips to the gym the night before a game. On this particularly chilly evening with the temperature dipping into the teens outside the Petersen Events Center, all the Eagles are involved — players, managers, coaches — their Atlantic Coast Conference game against Pittsburgh a mere few hours away at 2 p.m. Saturday.
"This is where I'm happiest — in the gym with the guys," Wuczynski said. "I'm a basketball junkie and if you're a gym rat, this is where you want to be."
His name should sound familiar to UNLV basketball fans. Wuczynski was a student at UNLV, worked his way up from student manager under Bill Bayno to assistant coach under Max Good, when Good took over for Bayno after he was fired midway through the 2000-01 season following the NCAA finding violations against the program over the recruitment of Lamar Odom.
Now 44, Wuczynski, a 1996 UNLV graduate, has hitched his future to Jim Christian, B.C.'s head basketball coach. They worked together at Texas Christian after former Rebels assistant Glynn Cyprien called Christian and recommended he take a long look at the guy everyone calls "Billy Wu."
"This is a business that is built on contacts and knocking down doors," he said. "I remember when Slice (Barry Rohrssen) left, ironically, for Pitt and Coach Bayno called me into his office. I wanted the job, which was administrative assistant, very badly. But I was just a team manager. I was shy and I was afraid to speak up.
"Coach Bayno said if you don't break down doors, if you're not using relationships, you'll never make it in this business. Then he said, 'So, do you want the job?' "
His coaching career was underway.
Christian, who had made a name for himself by turning around Kent State's program, said he and Wuczynski connected right away and he knew he had a hard-working guy who loved the game and valued loyalty to his boss.
"He's been great," said Christian, who took Wuczynski with him to Ohio after leaving TCU in 2012, then on to Boston College in 2014. "He works hard. He loves and respects the game and he's great with our guys. You couldn't ask for a better assistant. His time is coming where he'll be a head coach. I truly believe that."
Wuczynski said: "If Cyp doesn't call Jim, I'm not here (at B.C.). It's as simple as that."
And while Wuczynski would love to run his own program someday, he also sees what happens when you don't win. He's very close with Dave Rice, the former Rebels coach, as well as Good, who is still on the staff.
"It hurts," he said, talking of Rice's firing earlier this month. "I'm having a tough time dealing with it all. Coach Rice and I are very close. Same with Coach Good. To see what happened is very troubling.
"I know there's pressure to win (at UNLV). But to not let (Rice) finish the season? I don't understand it."
Boston College also is having a tough season, but in a different manner than UNLV. Christian is in his second year. The team had seven players on scholarship when he took over. There's a lot of youth throughout the roster and only two seniors. And the ACC is as tough as it has ever been.
Wuczyinski sees it every night. He looks down the other end of the court and he sees Mike Krzyzewski or Roy Williams or Rick Pitino or Jim Boeheim, guys he grew up idolizing and now trying to come up with a game plan to beat them.
"It's a bit surreal at first," he said. "But your job is to get your guys ready so that's what I try to focus on. We're trying to win a basketball game."
That extra shooting at Petersen Events Center didn't pay off as Pittsburgh pulled away in the second half to defeat Boston College, 84-61. The struggles have continued as B.C. remains winless and in last place in the ACC at 0-6 (7-12 overall) heading into today's home game against Florida State. The Eagles have been outscored by an average of 21.8 points in conference play.
"It's a total rebuild," Wuczynski said of the hard times the program is going through. "But nobody's giving up. We've got a great group of guys. They're easy to coach and everyone works hard. We'll get it turned around."
Wuczynski said he aspired to be a high school coach when he came to UNLV in 1994. But it was Brad Rothermel, the former UNLV athletic director who was teaching a course in coaching psychology that Wuczynski took which gave him reason to have loftier ambitions.
"Dr. Rothermel changed my life," he said. "He steered me in the right direction. I was a kid from Chicago who loved basketball and he was also from Illinois. He saw something in me and encouraged me to get involved with the basketball team."
Rothermel called Tim Grgurich, who at the time was UNLV's head coach, to see if he had a spot for Wuczynski as a student manager. Grgurich didn't but Wuczynski started hanging around anyway. And when Bayno was hired next season, Rothermel reached out to him on Wuczynzski's behalf and Bayno brought him on board.
Even though Grgurich didn't have a spot for Wuczynski, they developed a relationship and have been friends for years. Prior to this season, Wuczynski spent a day in Milwaukee, where Grgurich is helping Bucks head coach Jason Kidd, to observe practice.
"I learned so much," he said. "How to deal with people. How Jason teaches the game. It was an amazing experience. I don't get that chance if I don't know (Grgurich)."
Relationships. They're everything. Particularly in the insular world of Division I college basketball where everyone knows each other and where knocking on or knocking down doors is a prerequisite to getting or keeping a job.
"It's been an amazing journey so far," Wuczynski said. "The process has been incredible.
"To say a kid who came out to UNLV from Chicago not knowing anybody but who was passionate about basketball could someday be an assistant coach in the ACC? I'm truly blessed to be where I am and it all goes back to Dr. Rothermel taking an interest in me and getting me involved with (UNLV) basketball. Without him, I doubt any of this would have happened."
Contact reporter Steve Carp at scarp@reviewjournal.com or 702-387-2913. Follow him on Twitter: @stevecarprj