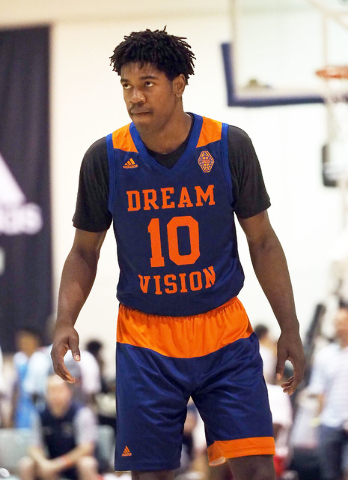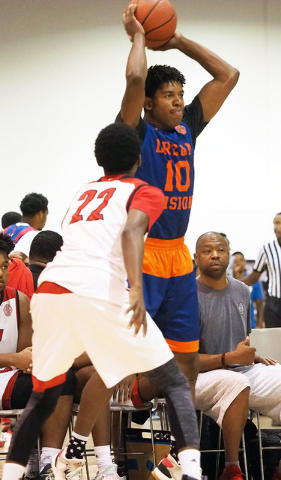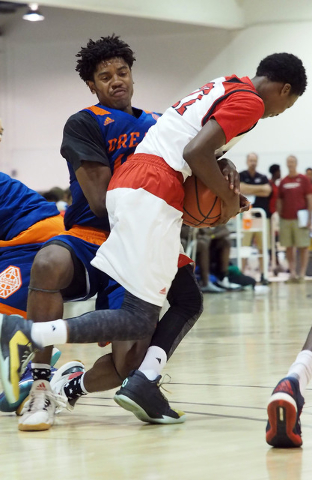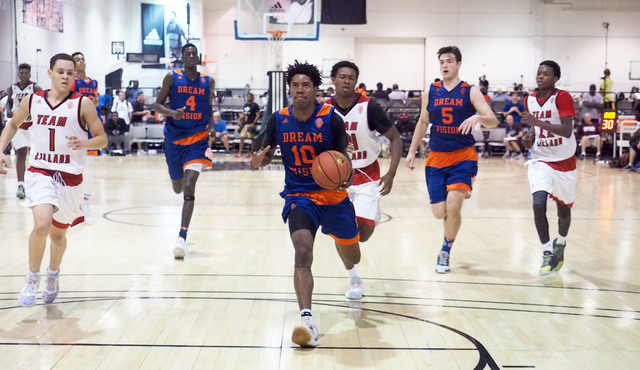 Christian Popoola Jr. sounded like he would still gladly take a call from a UNLV basketball coach, that he might even end the recruiting process and commit to his hometown team.
But his phone hasn't been ringing, at least not with calls from UNLV.
"We'll see if they come back around or not," Popoola said.
Brigham Young has been calling Popoola, a 6-foot 4-inch guard from Bishop Gorman High School, more intensely than other teams. But Utah, Southern California and Loyola Marymount have also shown interest, and Popoola will soon have to decide which schools to visit and ultimately which one to attend.
ESPN.com rates him as a three-star player and the fourth best in the state.
"As strong as can be, so on the defensive end, he's as good as it gets," Gorman coach Grant Rice said. "He's physical on offense. Just really becoming that true leader. He helped lead us to a state championship last year, and we're excited to have him for his senior year."
This is a big week for Popoola, who is playing for the AAU team Dream Vision in the adidas Summer Championships at Cashman Center.
"This is the finale of my recruiting process, so I just want to enjoy it," Popoola said. "I want to go out there and play real hard and see what I can do, and then after that I will weigh my options and sit down and figure out what I want to do."
He is playing for the San Juan Capistrano, California, AAU team rather than one of the Las Vegas clubs because his mother lives in Los Angeles and he has friends on the Dream Vision.
"It was basically like I chose a local team, except I didn't," Popoola said.
Popoola began to look like a good bet to head to UNLV when then-coach Dave Rice offered him a scholarship in the spring of 2012. The Rebels are more than just the local school, it's also where Popoola's dad, Christian Sr., played from 1999 to 2001.
But Rice was fired on Jan. 10, and when a coaching change occurs, scholarship offers seldom mean much because the new staff will do its own evaluations and make its own decisions.
Popoola apparently doesn't fit under first-year UNLV coach Marvin Menzies and his staff's new philosophy. They are not allowed under NCAA rules to comment on recruits who have not signed.
But Popoola would love to hear from Menzies or one of his assistants.
"Oh, definitely I would have to take a hard look into that," Popoola said. "Of course, my dad went there, and I'm a hometown kid. I like Vegas."
Maybe a call will come, though it doesn't appear likely at this point.
But there are interested schools, and good ones, too.
Popoola said he could begin taking visits in November, and the plan for now is to make a final decision in the spring.
"It could be earlier," he said. "It all depends on my situation after the summer ends. I might just make an early decision. I want to go where I feel like it's home. If I find that place early, then I find that place early. I don't want to lose any opportunities that are floating out there."
Contact Mark Anderson at manderson@reviewjournal.com or 702-387-2914. Follow on Twitter: @markanderson65
Complete coverage of high school sports