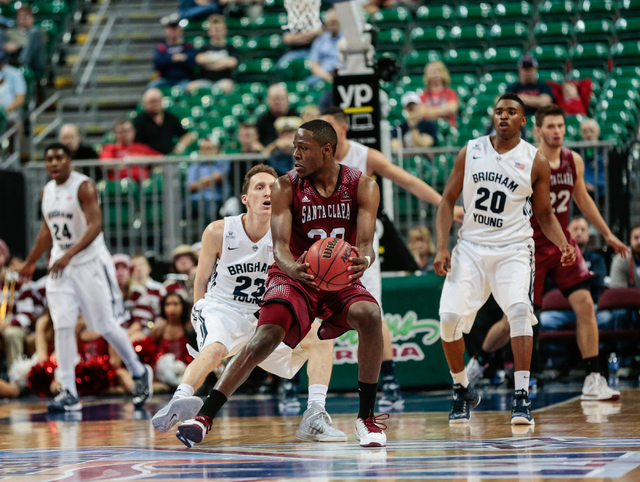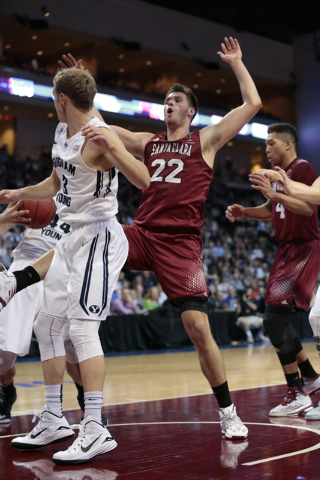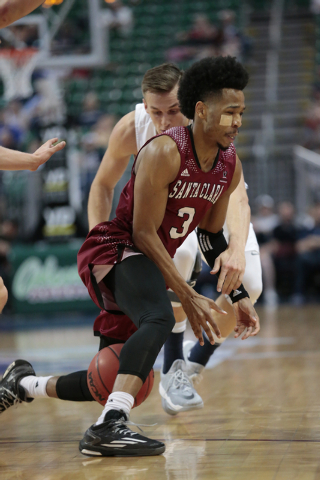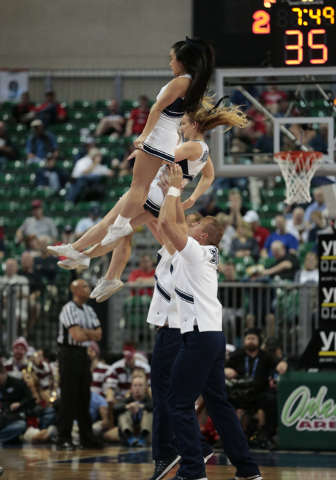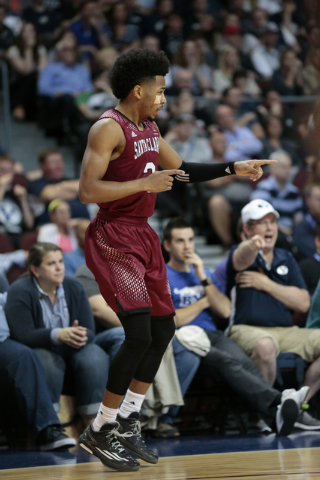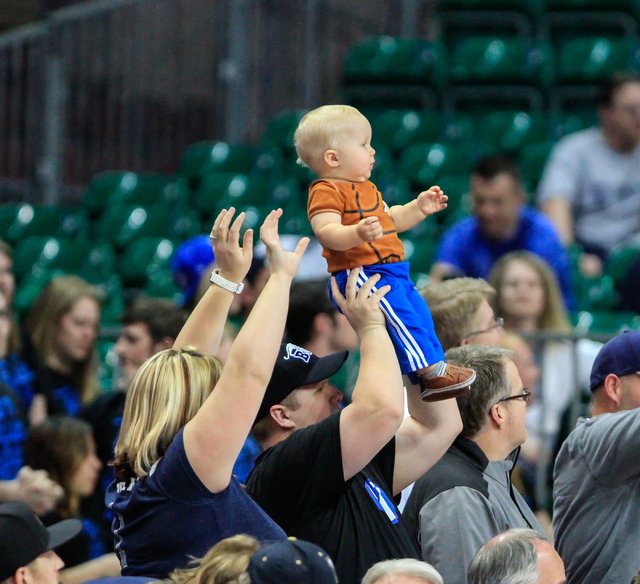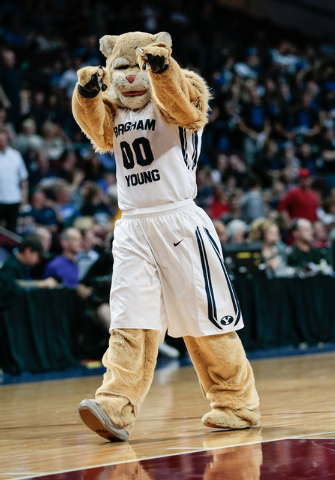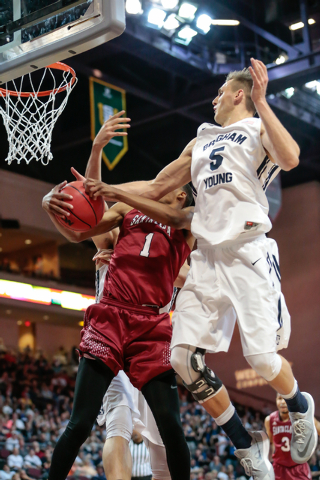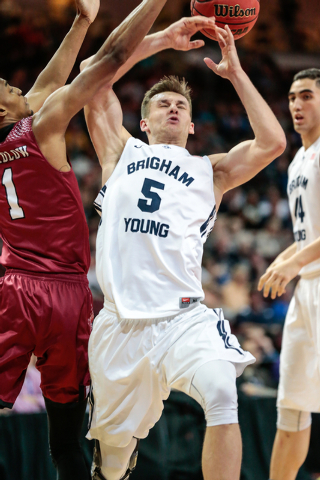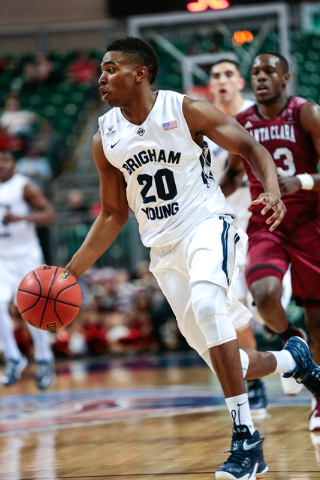 With a West Coast Conference basket­ball tournament quarterfinal game and potentially Brigham Young's NCAA Tournament hopes on the line, senior guard Tyler Haws dribbled right off a screen and hit a jumper from just beyond the free-throw line with such ease it almost appeared rehearsed.
Cougars coach Dave Rose confirmed the suspicion.
"That was the play we wanted, and it's one we've run before," Rose said. "He used the screen, and when he gets in that area, I've seen him make that shot a million times in workouts and in practice and times where we were running that set. He's really comfortable with it, and he got enough space to be able to get that up.
"It looked good from the moment it left his hands."
The ball swished with 2.5 seconds remaining to lift the Cougars to a 78-76 win over Santa Clara at Orleans Arena on Saturday night, sending BYU (24-8) into a semifinal against Portland (17-14) at 8:30 p.m. today on ESPN2 (Cox 31).
Seventh-ranked, top-seeded Gonzaga (30-2) plays Pepperdine (18-12) in the first semifinal at 6 p.m. on ESPN (Cox 30).
The Cougars advanced thanks largely because of the heroics of Haws, the school's career scoring leader, who poured in 30 points against the Broncos.
None bigger than the final two.
"We didn't want the game to come down to that, but it's always fun to hit a shot like that and make a play for your team," Haws said. "There was just a side ball screen. I could either turn it down and go baseline or come to the middle. I chose to come to the middle and just found a seam and had some room for a pull-up jumper.
"It's a cool thing, but at this point of the year you really just want to get the win and just keep moving. I'm so happy that we got the win and can play again on Monday."
BYU is included in most current NCAA Tournament bracket projections, but not by much. A quarterfinal loss to a team with a losing record could have been devastating to the Cougars' hopes of playing in the tournament.
It wasn't long ago BYU appeared to be a long shot to even have a chance. The Cougars were 17-8 and 7-5 in league play after a loss Feb. 5 at Pepperdine. That's when they decided to adopt a post­season mentality, knowing any more losses would be crippling to the résumé.
"I made a comment to some people about a month ago that our tournament had already started," Haws said. "That's kind of our mindset right now. We're just focused on winning that next game and just leaving it all out on the floor."
Junior point guard Kyle Collinsworth said part of that focus is understanding the importance of each day.
"We've just had the mindset every game to just go one game, one practice at a time, and that's why we've been success­ful," he said. "We're not skipping ahead. We're just focused on that game, and that's why we've been able to win a lot of games in a row."
Seven to be exact, including one at Gonzaga in the regular-season finale.
Still, a loss to Santa Clara might have put BYU on the outside looking in for the NCAA Tournament. But Haws is clear that the win didn't guarantee anything.
"Our thought process is we still have a lot to prove, and every game we're fighting for our lives," he said.
The Cougars can eliminate any debate by winning the conference tournament and securing an automatic bid. That would mean beating the Pilots, then probably having to defeat Gonzaga for the second time in 10 days in Tuesday's 6 p.m. championship game.
BYU insists it isn't looking past Portland, despite a season sweep of the series.
"We look forward to (today). The challenge we have is right there in front of us. We played Portland last Thursday, and it went down to the wire," Rose said of an 82-69 road victory Feb. 26. "That's a tough (matchup). They're big, and they're skilled, and they were really efficient (in a 69-52 upset of Saint Mary's on Saturday). They shot the ball well, and they spread it around. They were playing so well (early in the season) and then they came in here on a bit of a skid, so that's a huge win for them."
Should BYU get past the Pilots, a third game with Gonzaga could be on the horizon.
But Pepperdine hopes to spoil that scenario. The Waves played the Bulldogs to single-digit losses in both regular-season meetings, including a 78-76 home defeat Jan. 15.
Pepperdine advanced in what at times was an ugly quarterfinal against San Diego on Saturday. The Waves are right where they wanted to be coming to Las Vegas.
"We told our guys it doesn't matter how it looks, we had a goal and a mindset for the week," coach Marty Wilson said. "We talked about the bottom line, and our bottom line was to be playing on Monday."
Mission accomplished.
The women' semifinals also are today at Orleans Arena, with Gonzaga playing BYU at noon and San Diego meeting San Francisco at 2:30 p.m.
Contact reporter Adam Hill at ahill@reviewjournal.com or 702-224-5509. Follow him on Twitter: @adamhilllvrj.