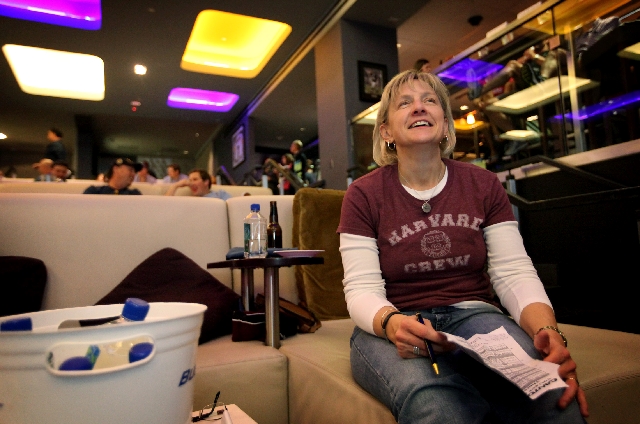 Inside the March Madness Man Cave known as Lagasse's Stadium sports bar on the Strip sits Jen Wilfong, a 48-year-old Indiana Hoosier hoops woman who honed her laser-perfect outside shot on five basketball rims mounted by her daddy on the family farm in Indiana.
Testosterone is flowing more than Bloody Marys at 10:15 a.m. Friday when a bank of TV screens shows four NCAA tournament games at once and guys are hootin' and hollerin' with every dunk and blocked shot.
But Wilfong — the 1982 Indiana female high school player of the year — is the queen of this annual basketball-watching mecca amid all the male-dom. Her pedigree is untouchable.
"We loved two things on our farm — basketball and horses," she says while sitting on the first row of the tiered stadium seating and watching Duke defeat Albany State.
If Central Casting was hunting for an actress to play the quintessential female basketball fan from America's heartland, the 5-foot, 7-inch blonde with the quick smile and bubbly demeanor would be your leading lady.
"She lives, breathes and dies college basketball," says her pal, Lee Corbett, a pharmaceutical company trainer from Newton, Penn. "If she had a second job, this would be it."
Wilfong, a Merrill Lynch executive coach and former Caterpillar Inc. marketing executive from the Indianapolis area, also dresses college basketball.
On Thursday morning, the basketball dynamo who lives in Carmel, a mere six miles from the Butler University campus, wore her V-necked Butler 2010 Final Four shirt. Then Thursday evening, she donned her Harvard shirt because the perky Indiana farm girl happens to be a Harvard Business School grad. (She made $200 on Harvard upsetting third-seeded New Mexico.)
And Friday, Wilfong wore her Indiana University shirt. The 1986 Indiana grad won a full scholarship to play on the university's women's basketball team and was on the squad that won the Big Ten championship 30 years ago. Her basketball pals include New Mexico coach Steve Alford, who starred as a player at Indiana.
"I felt bad for Steve," she says of New Mexico losing to underdog Harvard.
Most of all, Wilfong knows her basketball. Men in the megasports bar with the $300 all-day seats come to her for gambling advice.
And before Wilfong left Indiana this week to celebrate March Madness with her buddies, she says a neighbor named Matt stopped by her house and gave her $500 to bet for him: "He said, "Here you go. Just do what you do.' "
The only two other women in the stadium seating area are her two gal pals — Wendy Rogers, a former Division III basketball star from East Connecticut State, and Shelli McClellan, a former TV news anchor. They, along with three men, reserved six premium stadium seating spots back in November.
"Jen is the smartest, best basketball fan here," says McClellan, who traveled from the Peoria, Ill., area with her husband. "If you're a woman, you have to really love basketball because it's ADD Central here. You have to be comfortable with all the betting and alcohol atmosphere."
Wilfong is more than comfortable. She thrives on the room's hoops ethos. She routinely places $100 to $500 wagers and bets as much as $1,000.
Wilfong gambles with her head, but bets with her heart when it comes to her beloved Indiana Hoosiers, McClellan says. It cost Wilfong last year when the Hoosiers failed to cover the point spread in an NCAA tourney game against Virginia Commonwealth University, McClellan says.
Wilfong begins her roundball heaven mornings with a Bloody Mary, then moves to Coors Lite in the afternoon. Fueling her basketball fix is a steady flow of french fries, chicken wings and burgers.
Plus, she says, there's another attraction to the 14 hours of TV hoops. The joint is filled with guys, she notes slyly: "If you want to connect with men, enjoy hoops. There are men here — and all of them are happy."
Her blood is basketball orange because she played in the small Indiana town of Knightstown, home of the famed basketball court featured in the classic sports movie, "Hoosiers." She shows a photo on her smart phone of the movie's director, David Anspaugh, recently strolling the gym's hallowed wooden floor.
It was the same floor where she was told as a freshman that she would be a starter on her high school's girls basketball team.
"I've lived the dream," Wilfong says. "I played basketball as a Hoosier."
Contact reporter Alan Snel at asnel@reviewjournal.com or 702-387-5273.