Las Vegas point guard Daishen Nix ready to blossom
Updated July 24, 2018 - 6:42 pm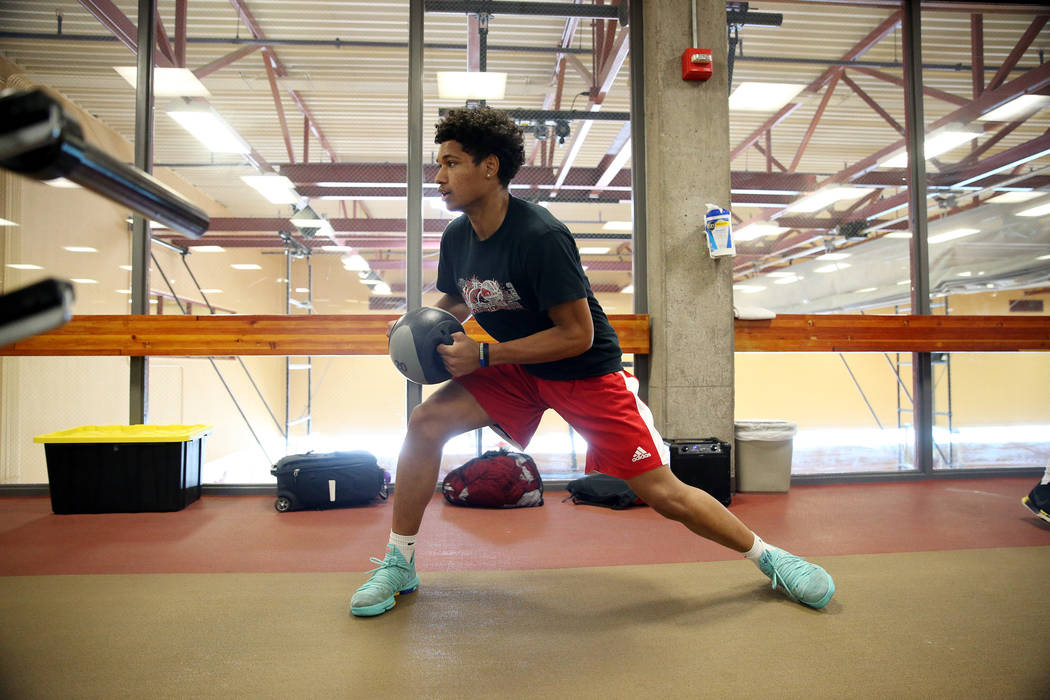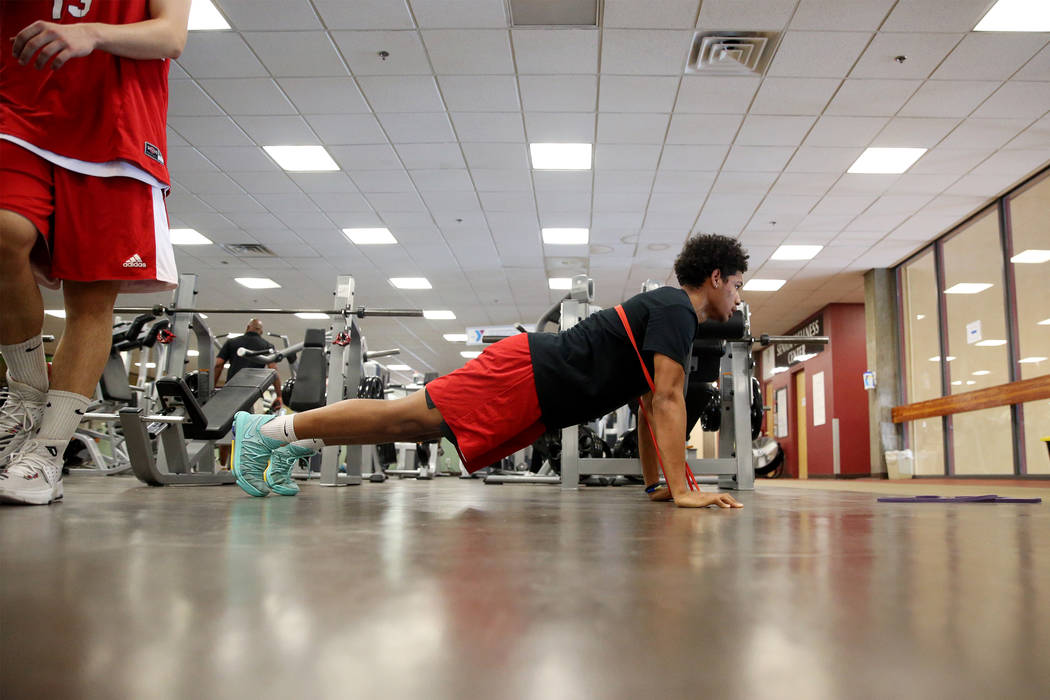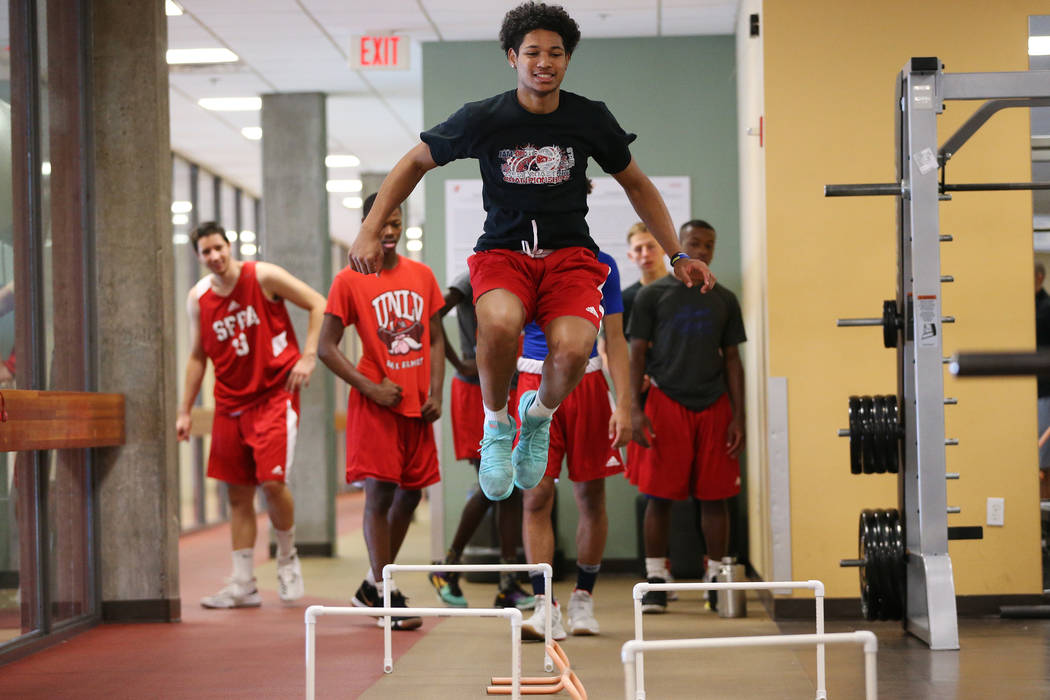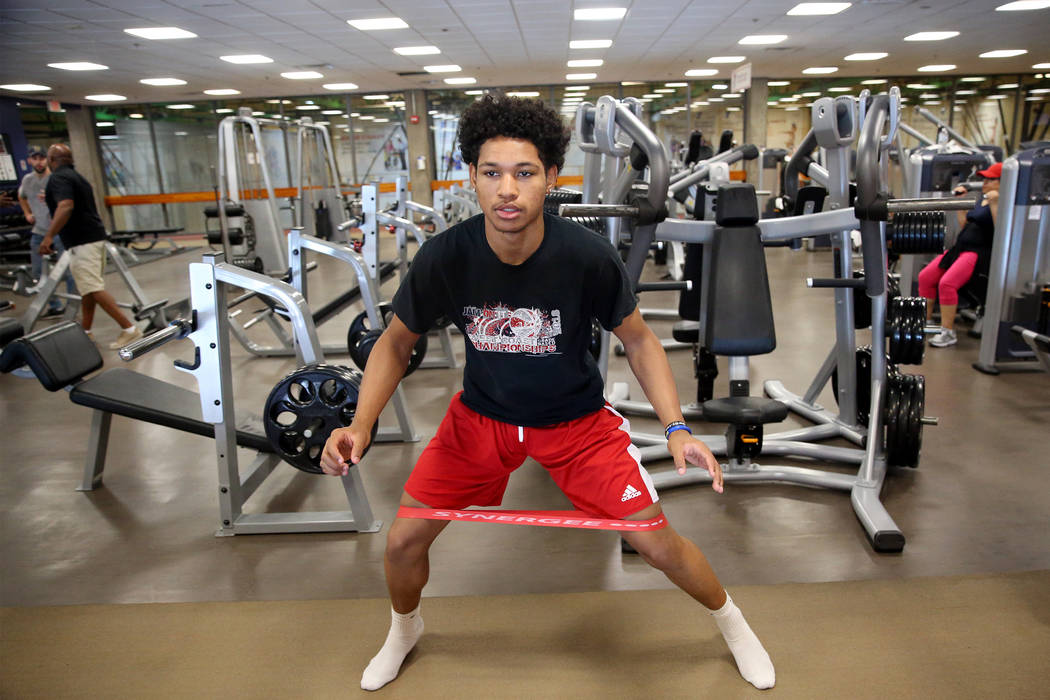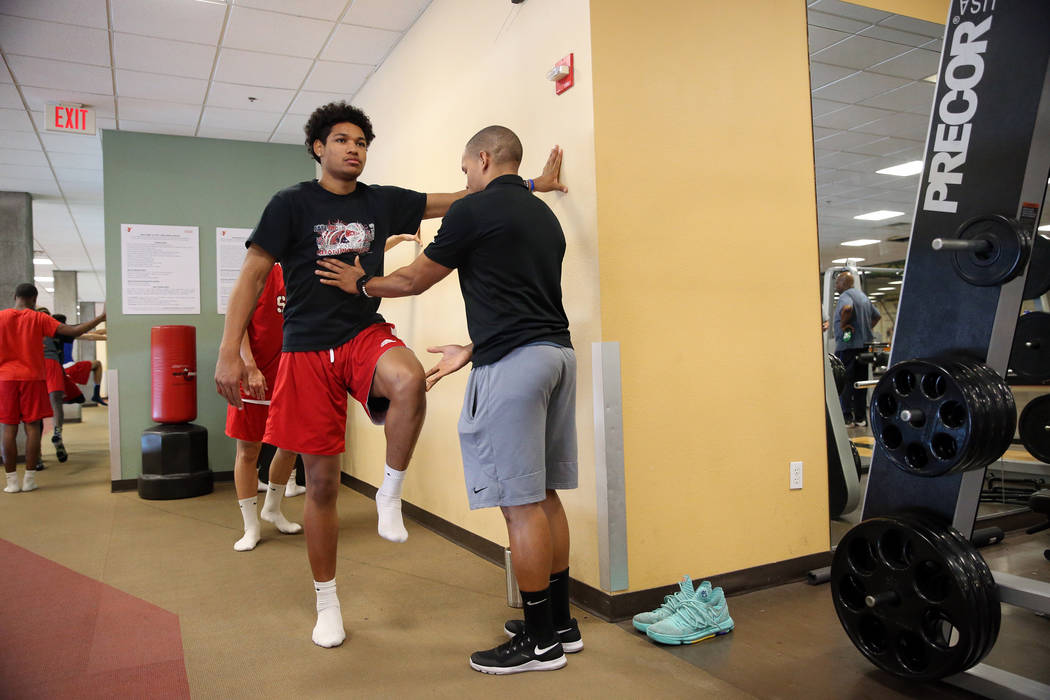 The Las Vegas Valley's best kept secret arrived at Bill and Lillie Heinrich YMCA on Tuesday morning with no intention of bouncing or shooting a basketball.
Instead, Daishen Nix engaged in a meticulous, hour-long stretching routine alongside his Simply Fundamental Basketball Academy teammates, a mere 30 or so hours before the culmination of their AAU season.
He didn't talk much at all, offering only an occasional quip or smile while he focused on his preparation.
But he led and they followed.
As he goes, they go.
Nix is one of the best — and most underrated — point guard prospects in the country, a distinction he's comfortable with for now.
And a distinction he expects to change in the near future.
The 6-foot-5-inch, 210-pound junior left his hometown of Anchorage, Alaska in 2015 to play basketball at Trinity International, a tiny academy nestled in the YMCA that plays on the independent Grind Session circuit comprised of the nation's top prep schools.
He doesn't play in the Nevada Interscholastic Activities Association, and Simply Fundamental competes against an independent AAU schedule devoid of marquee branding and budgets. But its star still wows wherever he plays, and has scholarship offers from the likes of Kansas, Minnesota and UNLV.
Nix is poised to shine again this weekend in the Fab 48 at Bishop Gorman, where he'll square off against some of the nation's best players — including top-ranked senior point guard Cole Anthony.
He's got a lot to prove to everybody.
Except himself.
"I think I'm a sleeper," Nix said with a grin. "I just want to show people that I can play."
Can he ever.
Nix arrived in Las Vegas as a 13-year-old with a precocious feel for the point and a voracious desire to improve. His coach in Alaska recommended he play for Lockridge, a hard-nosed disciplinarian who sought to nurture Nix's gifts through rigorous development.
Nix committed to strength training and sprouted into a sturdy lead guard with an imposing, mature frame. His instinctive approach to the position helped him blossom and hone what Lockridge describes as basketball "genius."
"I show him a lot of Magic Johnson. I show him a lot of guys that understood head, shoulder, ball fakes to get the angles that they want," said Lockridge, who worked under famed Rebels coach Jerry Tarkanian at Fresno State. "Great guards understand space time and movement. How long it takes to open and close. That's the genius of it all."
And he has it.
Nix is an unassuming leader and operates Lockridge's free-flowing offense with poise and precision. He admires Chris Paul, and, like the Rockets superstar, uses his gifts to glorify his teammates, scoring only when its best for the team.
"I know who the top 20 guys are in the country, seen most of them play live, and he's as good as any of them," said Bishop Gorman assistant Rich Thornton, who coached with Vegas Elite against Nix last weekend.
"To me, he's the best player in Las Vegas, regardless of class."
Underrated, indeed.
But not for long.
More preps: Follow Nevada Preps coverage at nevadapreps.com and @NevadaPreps on Twitter.
Contact reporter Sam Gordon at sgordon@reviewjournal.com. Follow @BySamGordon on Twitter.
Wednesday's Local Showcase Games
At Bishop Gorman
— Simply Fundamental 17U (Las Vegas) vs. PSA 17U (New York), 5 p.m.
— Vegas Elite 16U (Las Vegas) vs. New Heights 16U (New York), 6:05 p.m.
At Liberty
— Las Vegas Prospects 17U (Las Vegas) vs. Seattle Rotary (Seattle), 8 p.m.