MGM CEO Jim Murren pursuing NBA team for Las Vegas' T-Mobile Arena
October 26, 2016 - 11:33 pm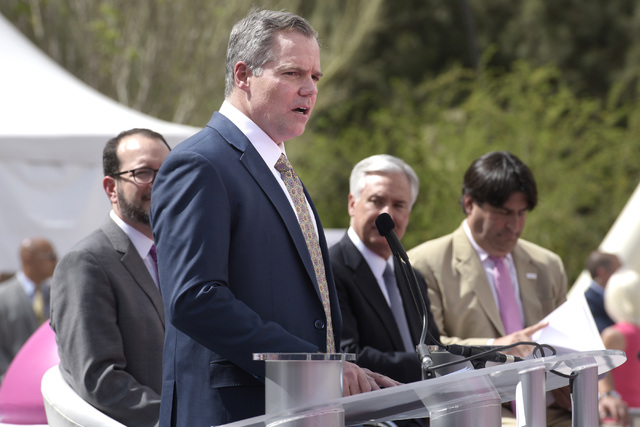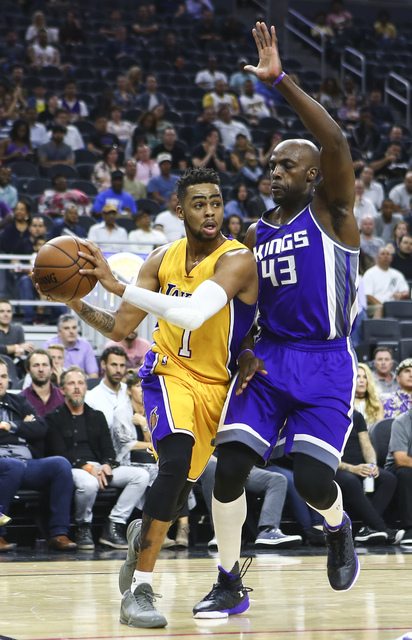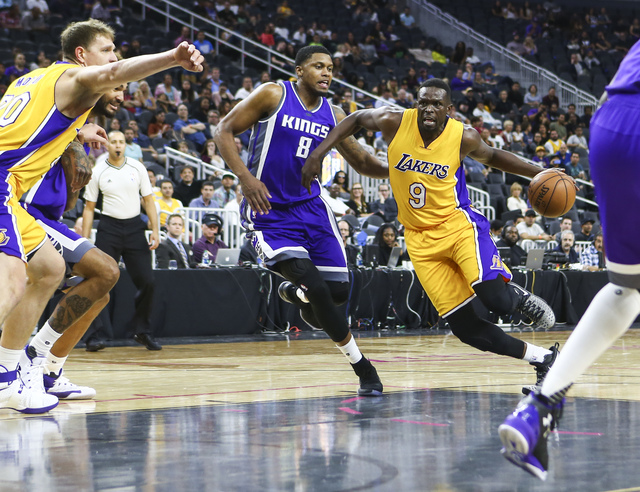 First came the NHL. Next could be the NFL. And down the road, possibly the NBA.
MGM Resorts International CEO Jim Murren said he is actively pursuing an NBA franchise to play at T-Mobile Arena. Murren, who told the Review-Journal last week he thought Las Vegas could be home to an NBA franchise within five years, discussed the matter with KNPR-FM, which reported his quotes Wednesday.
"It wouldn't be an expansion team," Murren said. "It would most likely be relocation of a team."
Murren did not say which team or teams he was pursuing. The Sacramento Kings and the Milwaukee Bucks looked to be in danger of leaving their markets a few years ago, but both franchises have new arenas, with the Kings' facility opening this month. A MGM spokesman said Murren would not be making any additional comment.
"We can confirm the earlier quotes, but we will have no further comment on the subject," the spokesman said.
The NHL will be the first major professional sports league to put a team in Las Vegas when the franchise begins play in October after owner Bill Foley paid a record $500 million expansion fee to join the league as its 31st team.
The Oakland Raiders plan to submit a request to the NFL at the league's owners meeting in January to move to Las Vegas after public funding for a 65,000-seat domed stadium was approved by the Nevada Legislature and signed by Gov. Brian Sandoval.
An NBA team would help fill vacant dates at T-Mobile Arena, which is owned by the MGM and was built privately at a cost of $375 million. It also would increase the value of the arena's luxury suites and club seats.
The NBA, which had its All-Star weekend in Las Vegas in 2007, has a presence in the city with the Thomas & Mack Center and Cox Pavilion hosting the NBA Summer League each year. Also, the Los Angeles Lakers played two preseason games at T-Mobile Arena this month.
NBA spokesman Mike Bass said Wednesday, "There are no NBA teams planning to relocate."
However, at July's Board of Governors Meeting at Encore, commissioner Adam Silver said the NBA enjoys doing business in Las Vegas and would monitor how the NHL would fare. But Silver also said there were no plans for expansion or relocation, so the idea of putting a team in Las Vegas anytime soon was moot.
But expansion could be a possibility once the NBA signs off on a new collective bargaining agreement with its players. The two sides are reportedly close to finalizing a seven-year extension of its current CBA.
In addition, new developments on a new arena in Seattle could change the league's stance on expansion. On Tuesday, billionaire investor Chris Hansen sent a letter to the Seattle mayor's office and King County that he is prepared to privately fund an arena in the city's Sodo District. The arena would be built with the idea of bringing the NBA back to Seattle. The SuperSonics left Seattle in 2008 for Oklahoma City.
According to KNPR-FM program director Dave Becker, the interview with Murren will air at 8:50 a.m. Thursday and from 9 to 10 a.m. Tuesday.
Contact Steve Carp at scarp@reviewjournal.com or 702-387-2913. Follow @stevecarprj on Twitter.
Like Vegas Sports News on Facebook: