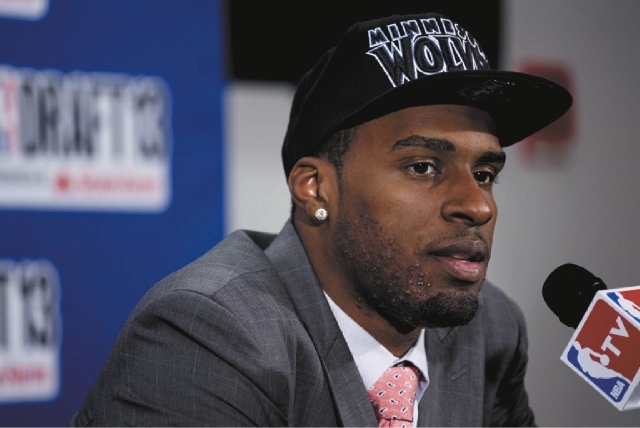 NEW YORK — A year ago, if odds were put on a player from Las Vegas being the No. 1 pick in the NBA Draft, Shabazz Muhammad would have been a heavy favorite.
Muhammad got his moment onstage Thursday, but it came more than an hour after UNLV freshman Anthony Bennett was the first player to strut across it. Bennett was the top pick by the Cleveland Cavaliers.
Muhammad, a freshman from UCLA and a former Bishop Gorman High School star, was the 14th pick by the Utah Jazz. But a deal was in the works, and he was traded to the Minnesota Timberwolves.
Not invited to sit in the Green Room with the top prospects, Muhammad was offered a chance by the NBA to attend the draft at the Barclays Center in Brooklyn. He never considered staying home in Las Vegas as a spectator.
"My reaction was wondering why I didn't get invited. But it wasn't really a big deal to me," he said. "I wanted to come here. I figured I was going to be a lottery pick."
Muhammad hit the lottery, at least the tail end of it. He said "it was a big-time thing" to step onstage with retiring commissioner David Stern.
"I really wanted to make my way down here to shake his hand and stuff like that," Muhammad said. "Mr. Stern's last time here, that's really special."
The Timberwolves traded the rights to their ninth pick, Michigan point guard Trey Burke, to the Jazz for the rights to Muhammad and Louisville center Gorgui Deng, the 21st selection.
Muhammad, a 6-foot-5-inch swingman, was visibly excited to go to Minnesota, mentioning future teammates Kevin Love and Ricky Rubio as players he admires.
"I think it's a really good place for me," he said. "You get drafted, it's your first step. At the end of the day, as I look at it, it's what you do in the league."
Muhammad was targeted as a potential No. 1 pick five years ago, when he was ranked the nation's top high school freshman. He held a lofty status until enduring an erratic season at UCLA, where he led the team in scoring but attracted criticism for selfish play and off-court issues.
There was speculation Muhammad, an elite scorer who averaged 17.9 points for the Bruins, might slip to the No. 20 spot or even lower in the draft.
"Some teams passed on me. That's why you have a chip on your shoulder," Muhammad said. "Life is not fair. Of course, it irritates you when they say you're going to slide in the draft.
"I've got to prove everybody wrong."
Bennett and Muhammad were joined by another player with Las Vegas connections.
Baylor senior point guard Pierre Jackson, from Desert Pines High, was selected in the second round (42nd overall) by Philadelphia and traded to New Orleans.
Contact reporter Matt Youmans at myoumans@reviewjournal.com or 702-387-2907. Follow him on Twitter: @mattyoumans247.