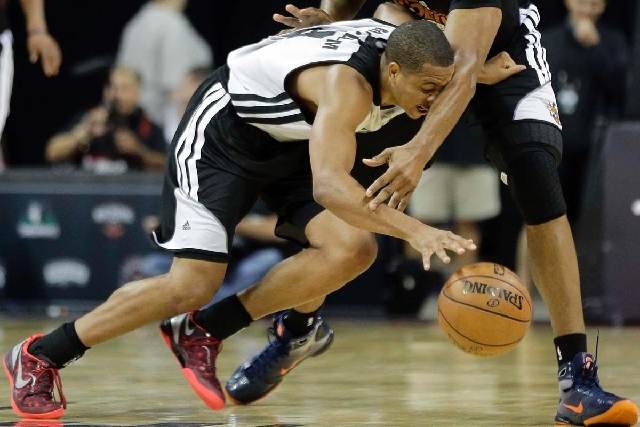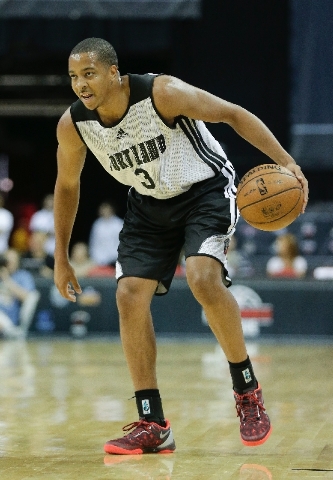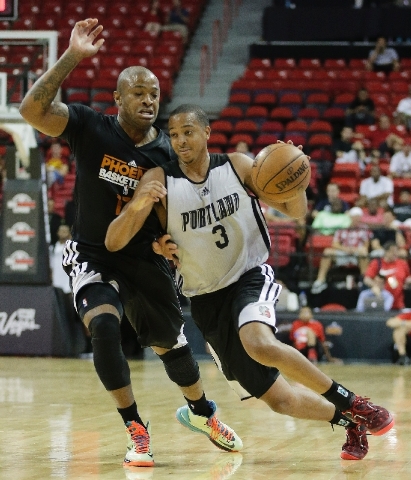 As they have for the past four years, C.J. McCollum and Mike Muscala traded big shots and key plays. It's just that the supporting casts were better this time around.
McCollum's Portland Trail Blazers overcame a 16-point deficit to earn a 70-69 overtime win over Muscala's Atlanta Hawks in the first round of the NBA Summer League championship tournament at the Thomas & Mack Center in a renewal of a Patriot League rivalry Wednesday night.
The duo dominated the conference for the past four years. McCollum won player of the year for Lehigh in their freshman and junior seasons. Muscala, from Bucknell, took the award in their sophomore season and repeated the feat this past season, when McCollum broke his left foot and missed the rest of the year.
"It was good to see him," McCollum said. "I hadn't played against him in a while. It was fun to compete against him and get the win."
Muscala said he tried to help his team with a scouting report before the game.
"It's cool," said the second-round pick of Dallas, who was shipped to the Hawks on draft night. "I was telling my teammates about some of his tendencies and what he likes to do.
"He's a really good scorer. He's got a really good handle and a good shot. He's a nice player."
Despite not playing a game after Jan. 5 because of the injury, McCollum has shown this week why he was worthy of the No. 10 pick the Trail Blazers used to draft him.
He entered Wednesday's action as the summer league's second-leading scorer at 21.3 points per game and then scored 19 points in the overtime win. He was the only true rookie among the top five in scoring.
McCollum credits his success to the effort he's put in preparing for an NBA career despite missing much of his senior season.
"I've worked extremely hard," he said. "I've been out in terms of five-on-five play, but I've been working extremely hard and competing against pros through predraft work and working out against my brother (Errick) who just got back from overseas.
"I'm ready."
Portland hopes that means being able to fill a pivotal role once the games start for real. McCollum is expected to help spell last season's rookie of the year, point guard Damian Lillard, and starting off-guard Wes Matthews. His presence also will enable Lillard to play more shooting guard at times.
"(McCollum is) a smart young man, and he's learning the NBA game already," Portland coach Terry Stotts said on NBA TV. "He's very interested in improving. The No. 1 thing is his versatility.
"Last year, Damian led the league in minutes played, so letting Damian rest a little more and to get him off the ball was a priority for us in the offseason. He has a great offensive skill set. He can shoot; he can drive. I've been very pleased with his ability to run the point."
Lillard, who also came from a smaller school in Weber State, laid out a path for McCollum to follow. Lillard used a 26.5-points-per-game effort last year in the summer league, where he was named co-Most Valuable Player, as a springboard to success in the regular season.
While McCollum is putting up similar scoring numbers, he's far from satisfied with his performance thus far.
He has shot slightly better than 37 percent from the field, with 12 assists and 14 turnovers.
"I'm playing OK. For rookie standards, I guess it's decent," he said. "I've got to shoot the ball a little bit better and take care of the ball more. That's my fourth game since January, so I'm trying to get back into things and find my rhythm and try to choose when to pick my spots.
"My percentages are awful right now. I'm shooting terrible from the field. I'm getting good looks, so that's the most frustrating part. I can get to the rim. It's just about finishing when you get there and knocking down open 3s. Sometimes it happens. Even the best shooters in the world have slumps. Sometimes the ball just doesn't drop."
Muscala had eight points and 12 rebounds for the Hawks.
Contact reporter Adam Hill at ahill@reviewjournal.com or 702-224-5509. Follow him on Twitter: @adamhilllvrj.