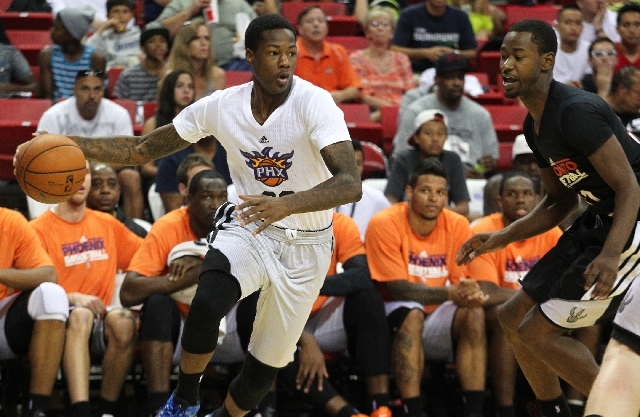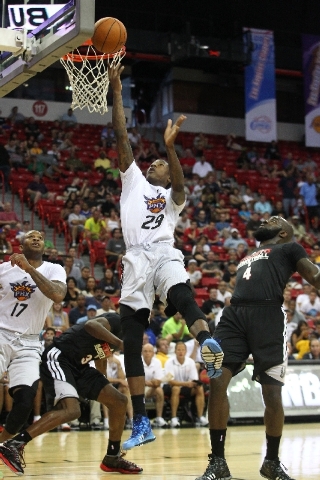 The Phoenix Suns had two first-round picks in last month's NBA Draft. One hasn't set foot on the court, while the other has been one of the most pleasant surprises of the NBA Summer League.
Guard Archie Goodwin, drafted 29th overall, quickly has validated what the Suns thought he could bring to the team. He has played with energy, made plays at the basket and established himself as a player Phoenix fans can look forward to watching over the next few years.
The 6-foot-5-inch Goodwin, who left Kentucky after his freshman season and will turn 19 on Aug. 17, has averaged 13.4 points and 24 minutes in five games, all starts. On Saturday he helped the Suns reach today's tournament semifinals with a 103-98 victory over Toronto at the Thomas & Mack Center.
Phoenix will play Miami in the 3 p.m. semifinal. The Heat beat Cleveland 82-76 on Saturday. In the 5 p.m. semifinal, Charlotte will face Golden State. The Bobcats beat the D-League Select squad, 85-75, while the Warriors defeated the Lakers, 83-77.
"I feel like I've done well," Goodwin said. "Obviously there's room for improvement, but I think I've adjusted very well."
With No. 5 overall draft pick Alex Len unable to play following ankle surgery in May, Suns management has been able to take a long look at Goodwin. General manager Ryan McDonough said he likes what he has seen.
"I think he has shown flashes of what he can do," McDonough said. "He can beat defenses and get to the basket. But he needs to get stronger and work on his shooting.
"He's so young. He was one of the youngest guys drafted, so we're excited about his potential. I was impressed with him before we drafted him and I'm impressed with him since we drafted him."
In his season at Kentucky, Goodwin led the Wildcats with a 14.1-point average and topped the Southeastern Conference in free throws attempted (212).
"I'm in a great situation to learn from our more experienced guys," Goodwin said. "In the short time I've been here, they're helping me, showing me things on the court, helping me adjust because it's a faster, more physical game at this level.
"But my year with Coach Cal (John Calipari) really helped get me ready. It's made the transition much easier."
One thing Goodwin isn't afraid of is drawing contact. He has shown a knack for getting a good whistle from the referees, leading Phoenix with 41 free-throw attempts. But he's made only 63 percent tries from the line.
"I just try to find contact and finish through it," Goodwin said. "I've been trying to use my athleticism — I've got a quick first step — to get by my guy, and then try and finish or get fouled. I think I know when to attack and when to kick it out."
Contact reporter Steve Carp at scarp@reviewjournal.com or 702-387-2913. Follow him on Twitter: @stevecarprj.