Interns help Vegas Summer League hum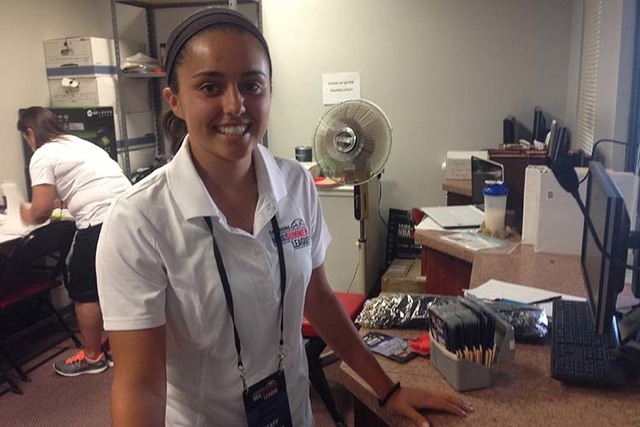 You see them all around the Vegas Summer League — earnest-looking, college-age young adults in black shorts and white shirts posting signs at Thomas &Mack Center, delivering statistics to media, hauling supplies around the concourse, greeting fans off the elevator and processing game film.
They're the 50 interns performing the tasks to keep the 11-day summer league humming at the University of Nevada, Las Vegas' Thomas &Mack and Cox Pavilion. Considered the Sundance of Professional Basketball and in its 10th year in Las Vegas, the Vegas Summer League includes 24 NBA squads playing 67 games from Friday to July 21 and drawing hundreds of pro hoops management types, scouts and agents.
Warren LeGarie, the summer league founder and NBA coach agent, watches his interns on the Thomas &Mack concourse like a proud papa. LeGarie, and fellow summer league organizer Albert Hall, take pride in knowing their interns have used their 11-day summer league stints to help land front office jobs at NBA teams, sports agent offices and the NBA.
The intern alums include Ben Tenzer, who served as the NBA operations coordinator for the Vegas Summer League before landing a job as Denver Nuggets team operations director; Chris Gilbert, Sacramento Kings coordinator of basketball operations; Nicholas U'Ren, Golden State Warriors front office official; Alex Snyder, a marketing manager at Wasserman Media Group; and Michael Tellem, an agent at Wasserman Media Group and son of super-agent Arn Tellem.
"It's like they're your kids," LeGarie said, while greeting workers and interns along the arena concourse Friday. "We try to give them good insights and tell them about the pratfalls. We're like parents to them."
LeGarie and Hall might be like parents but they also pay for their interns' lodging at the Palms and their meals. The duo also pay slightly more than minimum wage to the interns, who work 10-hour shifts.
"We treat them professionally, and, as a result, they act professionally," LeGarie said. "This is a privilege and their internships can be revoked. If you're not a team player, you're not going to be an intern. We can expect a professional return."
Interns come from all over. This year's crew has members from New York to California, from South Africa to Iowa.
Gilbert, 31, sat among other NBA team workers in a Cox Pavilion bleacher watching the New York Knicks play the Dallas Mavericks Friday. He's only a few years removed from serving as an intern for the same event.
Gilbert said the networking opportunities to meet NBA general managers, front office personnel and coaches were invaluable. He recalled talking to NBA GMs when delivering stat sheets to them.
"You make great connections," Gilbert said. "You're meeting people and making relationships. You network and then follow up with people by picking their brains."
Case in point: Gilbert said he got to know former Golden State Warriors Assistant General Manager Pete D'Alessandro as an intern. D'Alessandro eventually became the Kings' GM — and hired Gilbert.
"I was placed in situations (as an intern) to be around these people," Gilbert recalled.
Following Gilbert's footsteps are young interns such as 18-year-old Chance Brooks, a lanky high school senior from Newport Beach, Calif., in his rookie year as a summer league intern.
"I want to learn different things to get my foot in the door," said Brooks, who wants to pursue a business career in professional basketball.
Then, there are the veteran interns, like UNLV senior Alexis Besinaiz, 20, who also is the head manager of the UNLV women's basketball team. In past years as an intern, Besinaiz worked on community relations, but this year she was handing out credentials through a window to player agents and scouts.
She hopes to parlay the internship into a basketball business career.
"I want to stay working in basketball," she said.
Contact reporter Alan Snel at asnel@reviewjournal.com or 702-387-5273. Follow @BicycleManSnel on Twitter.