James' unique rank: veteran NBA rookie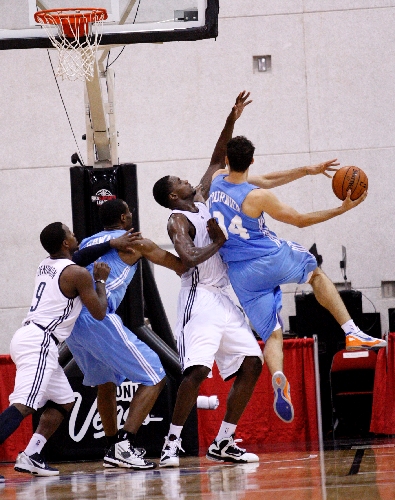 After you've dodged bullets and IEDs (improvised explosive devices) in the Middle East, what's an errant elbow in the low post or missing a 10-foot jump shot?
In Bernard James' world, it's no problem.
The 27-year-old center playing for the Dallas Mavericks in the NBA Summer League has a story even Disney wouldn't dare attempt to conjure.
A high school dropout and self-professed "knucklehead," James joined the Air Force at age 17. He was sent to Southern Iraq, where he guarded detainees. One day, he was within 90 feet of a 40 mm round that killed six of those detainees.
In Qatar, his task was to make sure nobody blew up the airplanes. In Kuwait, he was a customs agent. He did three tours of duty from 2003 to 2008, and reached the rank of staff sergeant.
One day in 2005 during his second tour, James found himself in Las Vegas, of all places, where he competed in an Armed Forces All-Star basketball tournament. Florida State coach Leonard Hamilton made a mental note as the 6-foot-10-inch James put on a big man's clinic: blocking shots everywhere, dunking, rebounding.
After completing his final tour in 2008, James attended junior college for a couple of years, while Hamilton kept his eye on him. In 2010, Hamilton offered James a scholarship and he played two seasons for the Seminoles, averaging 10.8 points, 8.2 rebounds and 2.3 blocked shots in 2011-12.
That led to James being drafted in the second round by Cleveland with the 33rd overall pick in last month's NBA Draft. Chants of "U-S-A! U-S-A!" broke out at the draft site, the Prudential Center in Newark, N.J., and James soon was shaking hands with NBA deputy commissioner Adam Silver. Moments later, he was traded to Dallas in a five-player deal.
Yeah, good luck coming up with a story like that.
"I'm comfortable with people knowing about me," James said Sunday after he had nine points and eight rebounds in the Mavs' 88-77 win over Denver at Cox Pavilion. "I don't think there's a question I haven't already been asked, and if people see me as a role model, that's fine. I think we all have a certain responsibility to the public."
James remembered that Vegas tournament at Nellis Air Force Base. He hadn't played organized basketball until early in his first stint with the Air Force when a supervisor looked at him one day and basically told him he was going to play. And James, whose dad spent 15 years in the Air Force, learned at an early age the meaning of the words "Yes, sir!"
"That was like my first real organized tournament," James said. "I had played on the bases where I was stationed – intramurals, pickup games, things like that. But that's where I first met Coach Hamilton and it got me thinking for the first time about one day playing college basketball. I wasn't thinking about the NBA. That didn't happen until a year ago where I thought maybe I could make it."
Seven years later, James is back in Las Vegas, this time trying to reach basketball's elite level. And despite being a half-decade older than many of his teammates, he had no trouble fitting in Sunday in his Summer League debut.
James will be back on the court against Toronto at 3 p.m. today at Cox Pavilion.
"It's definitely faster than college," he said. "But I thought I competed well, especially for the first time out there. I know there are some things I can do better and I'll look at the tape and work on them. But it was a lot of fun and I really enjoyed it."
Mavericks coach Rick Carlisle said he loves the way James approaches the game and how hard he competes.
"He goes about his business the way he did in running his (Air Force) company," Carlisle said. "He understands how to use his assets and he's a special person. A guy like him comes around once a decade, if you're lucky. The last person I can remember like him was David Robinson."
Though James' story is inspiring, the fact is the Mavericks don't have a lot of openings and they certainly don't have the luxury of waiting for a 27-year-old to reach his ceiling as a basketball player. James knows that.
"I never expected this when I was 17 and trying to find myself," he said. "But everything happens for a reason and God had a plan for me. If he didn't want me here, I probably would have been killed when that shell landed (in Iraq). I've been blessed with this opportunity and I'm just going to work hard and do my best."
But Carlisle won't discount James beating the long odds.
"Would you bet against him, given what he's already done in his life?" Carlisle asked rhetorically. "I wouldn't."
Contact reporter Steve Carp at scarp@reviewjournal.com or 702-387-2913. Follow him on Twitter: @stevecarprj.