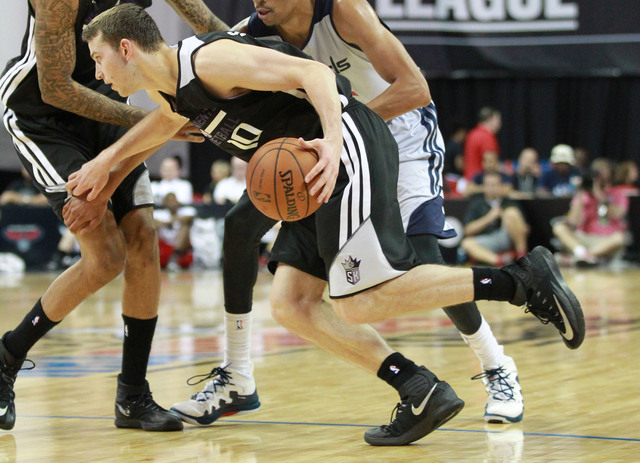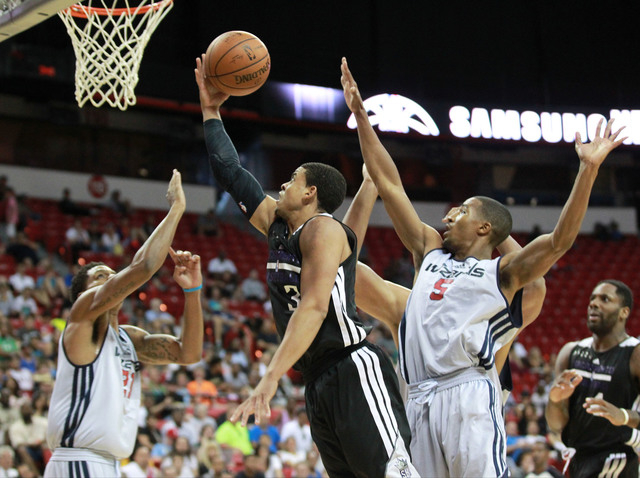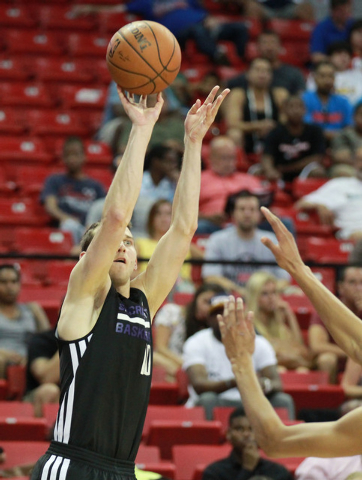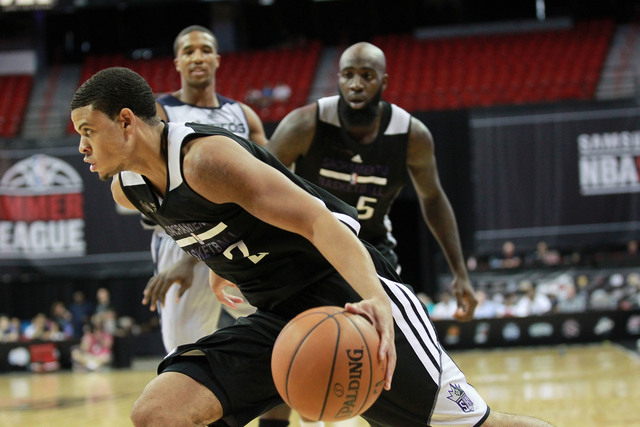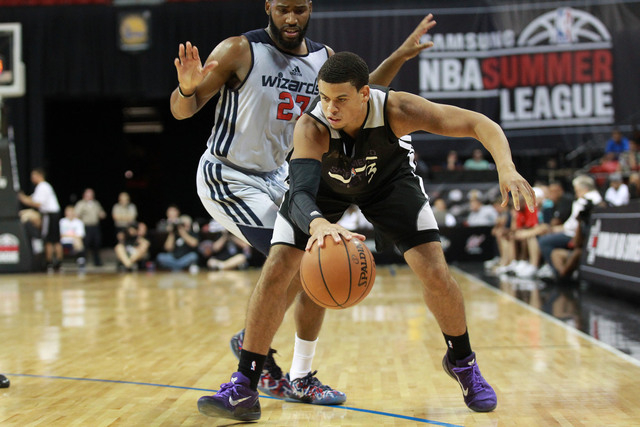 The Sacramento Kings arrived in Las Vegas on July 5 to prepare for the NBA Summer League.
They're still here.
The Kings, along with the Houston Rockets, are the last two teams standing from the 24 that began play July 11. They'll meet at 6 p.m. today at the Thomas &Mack Center with the winner hoisting the summer league championship trophy after Sacramento handled a tired Washington team in Sunday's semifinals 74-62 and Houston rallied from a slow start to catch and pass Charlotte 83-79.
The Kings are a franchise that has been undergoing a metamorphosis since the spring of 2013. There's new ownership in place headed by Vivek Ranadive. Ground is preparing to be broken on a new arena in downtown Sacramento. A fresh philosophy of playing with energy and consistency every night is being implemented and some good young players are on board looking to execute that plan.
Still, it's very much a work in progress and it may be awhile until the dream of competing for an NBA title is realized. The Kings went 28-54 in Michael Malone's first year as coach, and winning is still an acquired skill. Perhaps the success the team has had in the summer league will carry over to training camp and rub off on veterans DeMarcus Cousins, Rudy Gay and Jason Thompson.
"This is big for us," said second-year guard Ray McCallum, who had 11 points and three assists Sunday as Sacramento improved to 5-1 in summer league play. "It's extremely important. The organization hasn't gotten it going the past eight years so being new to the situation with a new organization and a new coach, the plan was to go out and win and get things back on the right track."
McCallum said he noticed the success from the summer league carried over to the regular season for Golden State, last year's champs, as well as Phoenix and Charlotte. All three teams showed improvement this past season and he's hoping the Kings' summer progress will result in a similar amount of improvement when the NBA regular season tips off.
"Having a year's experience really has helped me and Ben (McLemore)," McCallum said. "We came in here knowing what to expect and we weren't overwhelmed like I thought we were last year when we were here."
It's also a different team. Sacramento has more veterans than most of the teams that were in Las Vegas. Having Quincy Acy and MarShon Brooks as well as McCallum and McLemore gave the Kings a maturity advantage. Rookie Nik Stauskas, drafted with the No. 8 overall pick last month, was able to blend in with his new teammates and has played well through the summer league. So has rookie free agent Eric Moreland.
"It's team basketball," said assistant coach Ty Corbin, who is coaching Sacramento in the summer league. "We trust each other. It's great for the guys to have the success they've had this week."
Virtually every day, the Kings are putting five scorers in double figures or close to it. Brooks led the way Sunday with 14 points.
"We have a lot of unselfish guys on this team and we're buying into what the coaches are teaching us," McCallum said. "We've got a good system and we're comfortable with one another. That makes it easier to look for one another, get out in transition and find the open guy. It's a fun way to play."
It was fun Sunday. The Wizards appeared a bit tired after Saturday's 95-94 triple-overtime win over San Antonio and they fell behind by 26 points in the second quarter.
Washington, led by Glen Rice Jr.'s 24 points, rallied late in the third quarter and early in the fourth, cutting the Kings' lead to 58-51. But that was as close as the Wizards would get as Washington, which had former UNLV forward Khem Birch and former UNR guard Deonte Burton on its roster, finished the summer league with a 5-1 record.
The Kings, however, are not done playing. They've been in town so long, they probably feel like Nevada residents. But tonight is their last night and they want to celebrate — on the court.
"We've taken it this far, we want to go out and win it," McCallum said.
Contact reporter Steve Carp at scarp@reviewjournal.com or 702-387-2913. Follow him on Twitter: @stevecarprj.