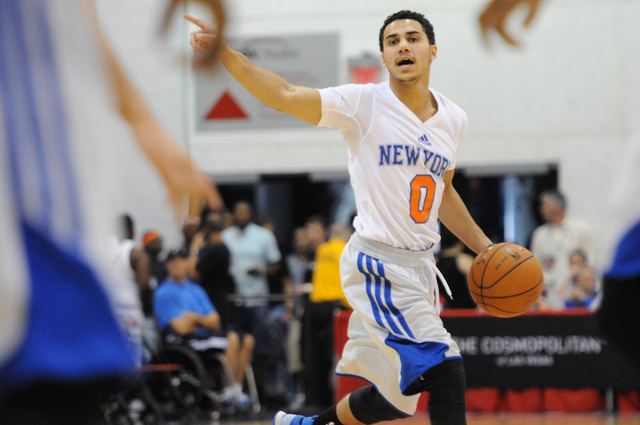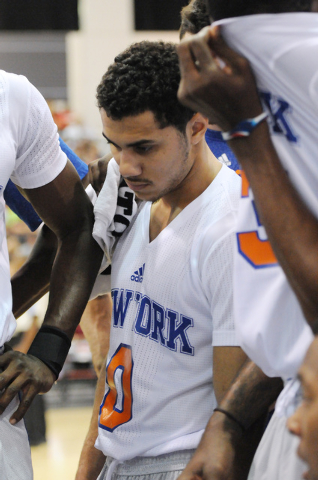 The World Cup ended Sunday, and with it all the pronouncements about soccer being such a cruel game, as if the sport had a monopoly on misery.
Anyone who follows the NBA knows basketball can be just as cruel, if not more so. You can get hurt a few days after you get drafted, miss most of your rookie season, then get traded away, leaving you empty, frustrated and looking at an uncertain future.
In other words, you could be Shane Larkin.
The former University of Miami star guard was taken No. 18 overall in the 2013 NBA Draft by Atlanta and immediately traded to Dallas. He had parlayed a strong sophomore season with the Hurricanes where he was the Atlantic Coast Conference's Player of the Year into first-round draft status and he was looking forward to building on that success at the NBA's Vegas Summer League. But the day before the Mavericks were scheduled to depart for the VSL, Larkin broke his right ankle. He would be out of action for nearly five months. Upon his return he was thrown into the deep end by the Mavs and wound up averaging just 10 minutes and 2.8 points.
But last month, Larkin found himself leaving Dallas as he was dealt to the New York Knicks as part of a five-player trade. For him, it marked a fresh start and he's in Las Vegas this week trying to take advantage of the opportunity after rumors were bubbling that the Knicks were going to move him, rumors that turned out to be false.
"It was a tough year, definitely," Larkin said. "Coming into last summer, I had a lot of momentum. I went from not being on anyone's draft radar screen to getting picked in the first round. I was adjusting very well and then the tragedy of breaking my ankle and being out, it set me back and put me behind the 8-ball again.
"But I'm real excited about this opportunity. I'm playing for a coach in Derek Fisher who was a great point guard in this league for many years and I know I'll learn a lot from him."
Larkin said last year, while frustrating, wasn't a total waste.
"I've seen how people work and how they prepare and what the NBA game is about," Larkin said. "The speed of the game. The physicality. I've been able to already adjust to that. So I feel I'm a little further ahead."
Larkin seems to have a good grasp of the triangle offense the Knicks are running. Heading into today's 1 p.m. contest with Charlotte at Cox Pavilion, Larkin has averaged 8.5 points, 3.5 assists and 2.5 turnovers for the Knicks, who are 2-0 in VSL play.
"When it's run right, it's a hard offense to stop," Larkin said of the triangle, of which only the most basic elements have been installed by Fisher for the Knicks' summer league stint. "But there's always an option and I like that. There's still a lot to learn. But so far, I'm pretty comfortable with it."
Fisher said Larkin has proved to be quick learner during the short time the 5-foot-11 guard has been with the Knicks.
"Shane's a solid person and he's willing to listen and be coached," Fisher said. "Hopefully, we can teach him a few things here in Vegas and get him some experience.
"It's unfortunate what happened to him last year. But in some ways, it's a blessing in disguise. He probably has an open mind toward things and he's more of an open book in terms of learning."
The son of Baseball Hall of Fame shortstop Barry Larkin, he was reminded by his dad when the trade took place to look at it from the positive side.
"My dad played his entire career in one place — Cincinnati — but he saw hundreds of guys get traded," Larkin said. "He explained to me that professional sports is a business and the NBA is about business. When my agent told me I was traded to the Knicks, my whole world flipped upside down. I went from a place where I was comfortable in Dallas and where I knew the system and the coaches to having to learn new coaches, a new system and a new city.
"It was difficult at first. But for me, I see this as a great chance to start fresh. I also want to show everyone that my being picked 18th last year wasn't a mistake."
Contact reporter Steve Carp at scarp@reviewjournal.com or 702-387-2913. Follow him on Twitter: @stevecarprj.