Lonnie Walker IV's unique style an easy fit with Spurs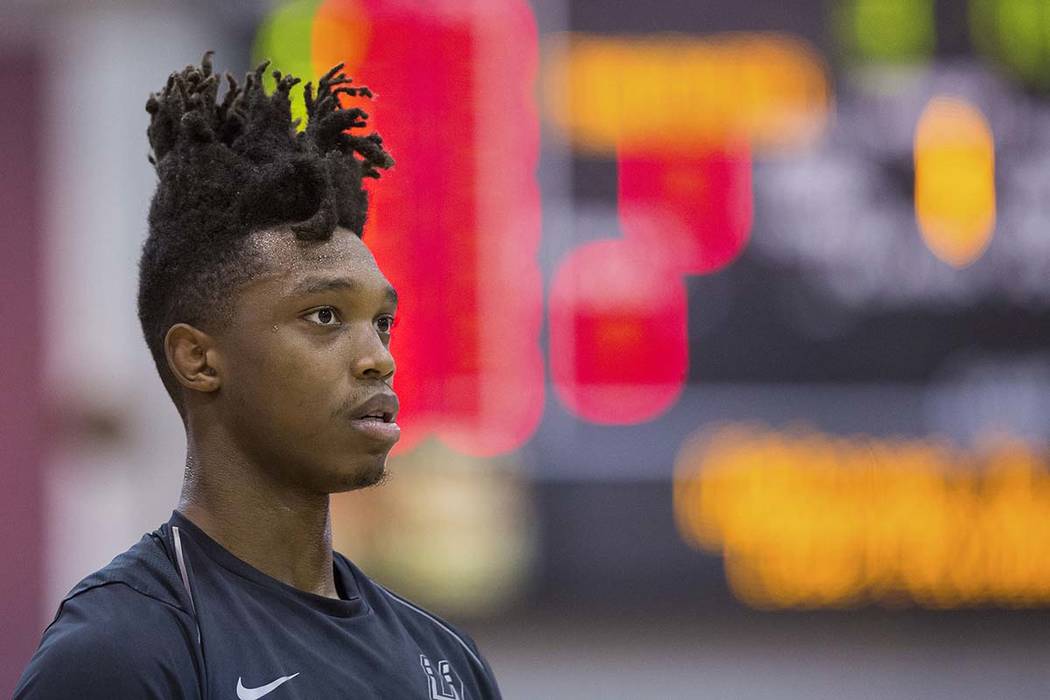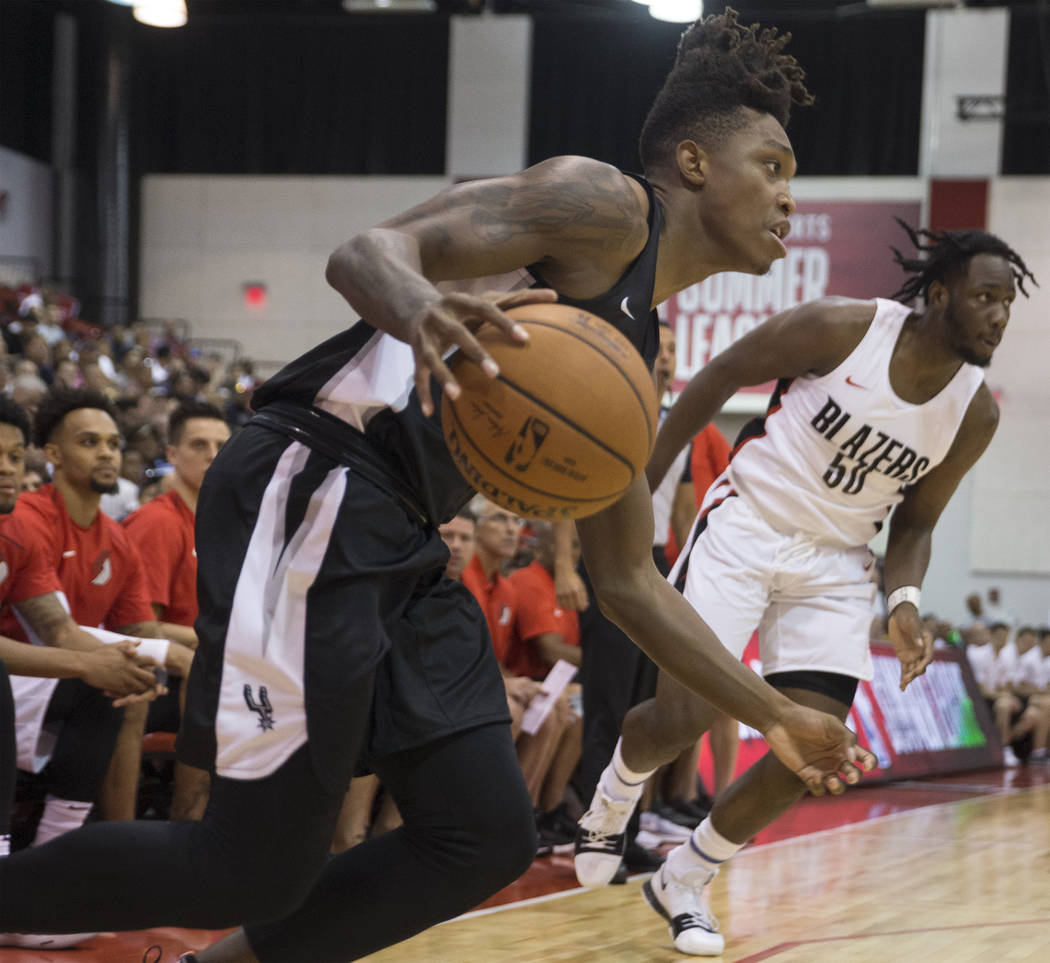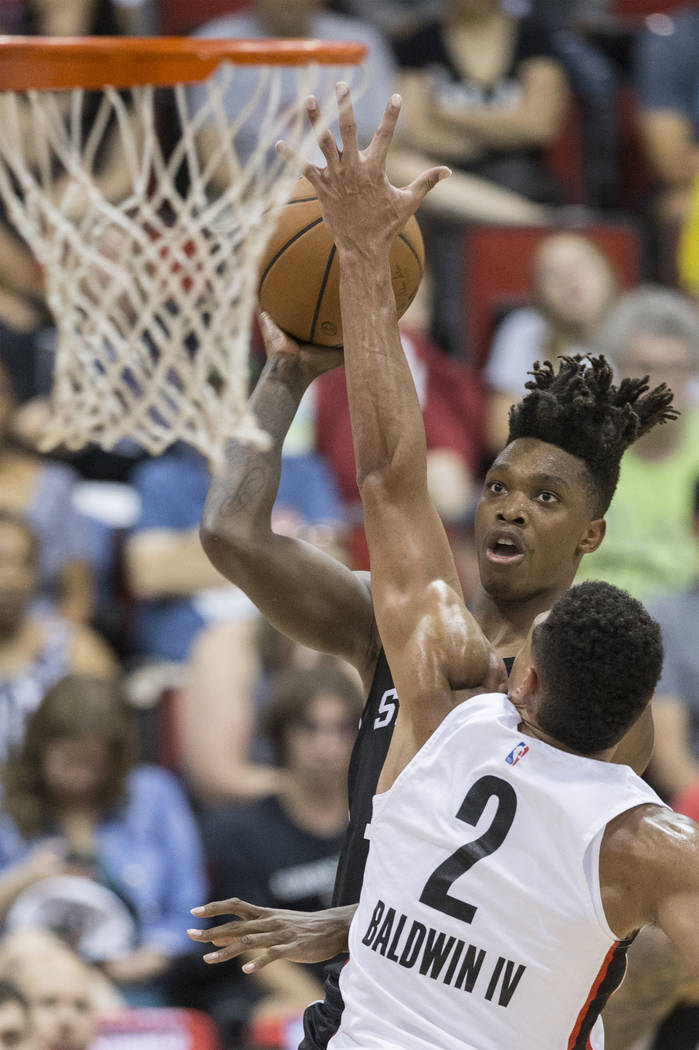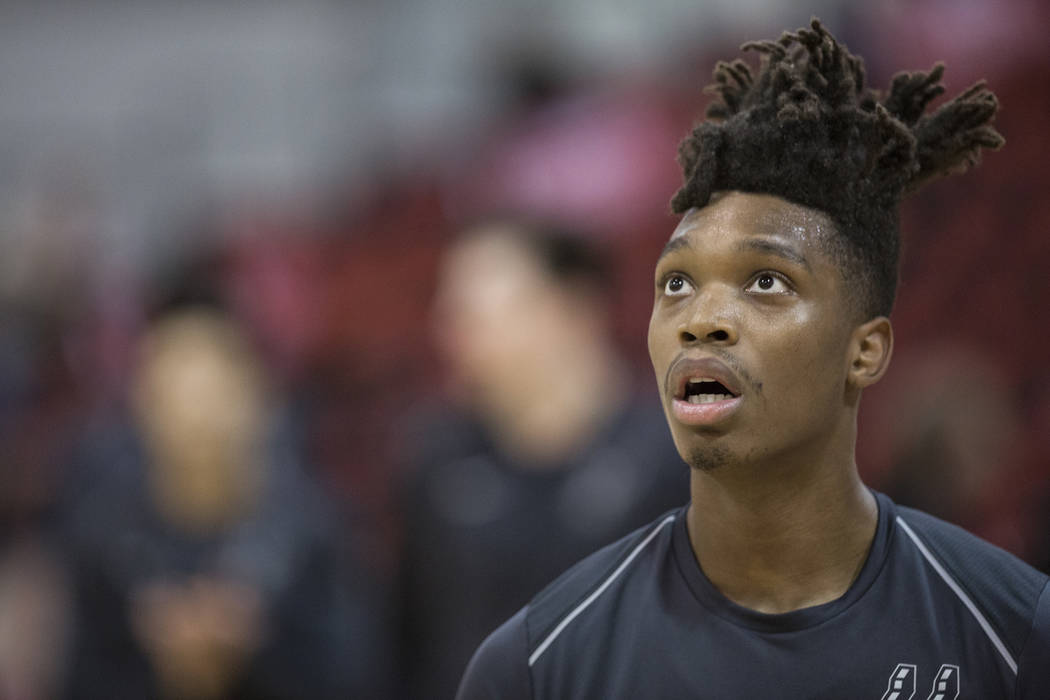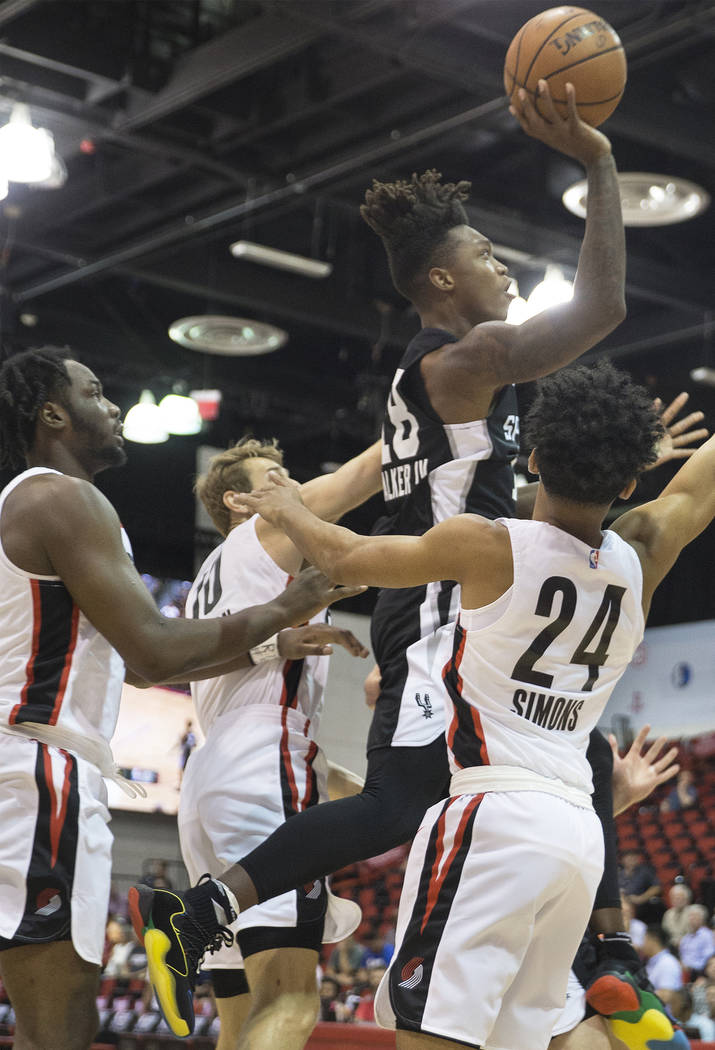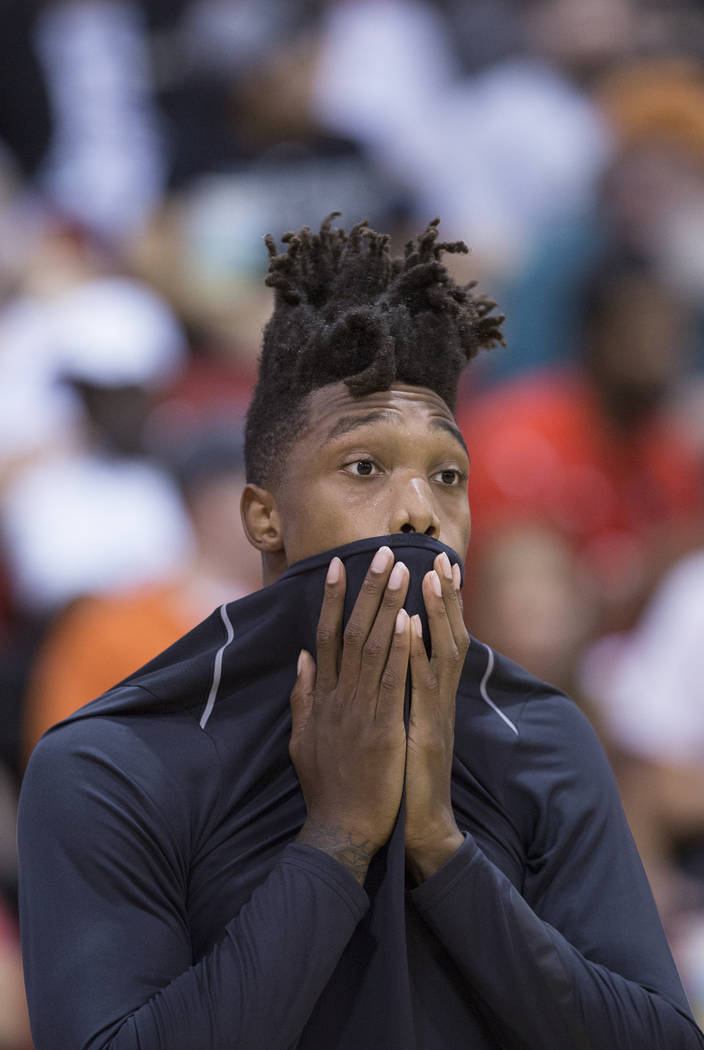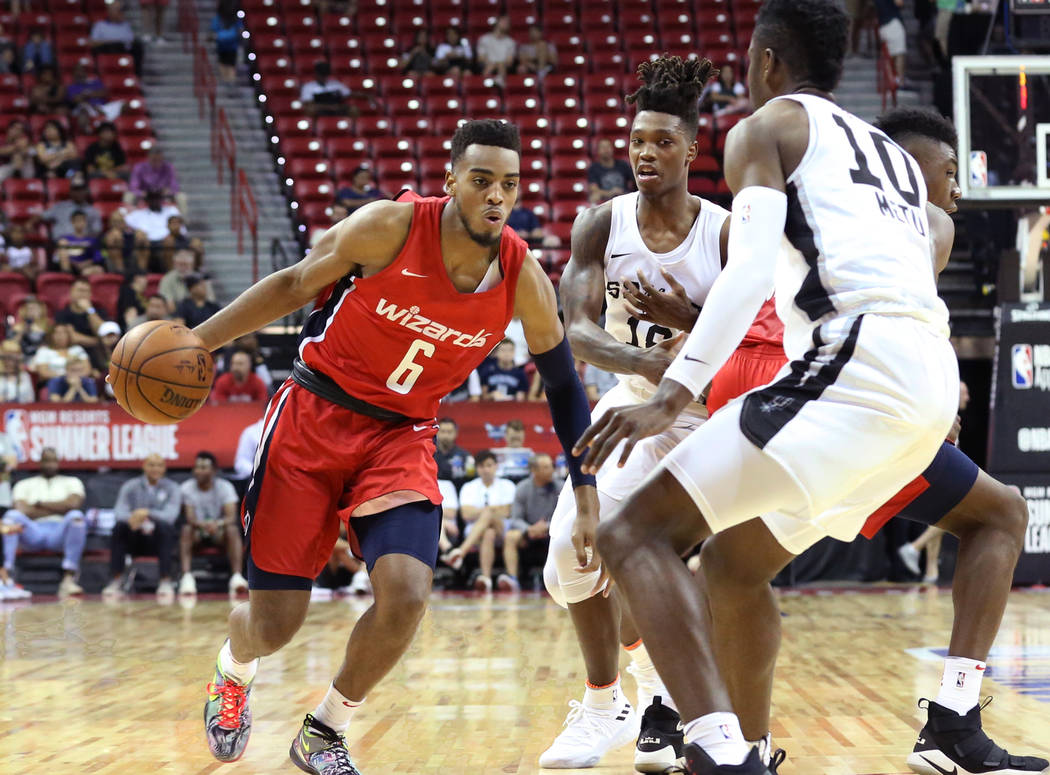 Lonnie Walker IV moved his hands in a wavelike motion to stay in sync with the beat.
Walker, the San Antonio Spurs' 2018 first-round pick, was vibing to the song "Too Much Sauce" in the center of the Cox Pavilion floor during a second-quarter break Tuesday in an NBA Summer League game against the Portland Trail Blazers.
Most basketball players tune out the in-game DJ, but Walker isn't like most players. That's obvious.
Walker's unique hairstyle is one of many examples, and the most glaring, that he doesn't stick to the norm.
The best way to explain Walker's hairdo is to think of a pineapple on top of a head. His hair is twisted in an upward style and tilts a bit to the left at the end.
It's hard to make sense of how Walker keeps his hair neatly in place when he's bobbing his head to music or making defenders look foolish on the hardwood.
Minutes after his personal jam session, Walker soared to the Cox Pavilion rafters and came back down for a monster put-back dunk to ignite the crowd. Hair still neatly in place.
Walker's hair drew plenty of attention on NBA Draft night in June, when his Spurs cap rested awkwardly on his head. After his humorous snapshot with NBA commissioner Adam Silver, the attention shifted to Walker's game.
Who's this shooting guard out of the University of Miami?
Many basketball fans probably wondered.
He must be good.
Many basketball fans probably assumed that because the Spurs often get it right.
Walker has shown flashes at Summer League as to why the Spurs selected him 18th overall.
One anonymous NBA executive recently told Yahoo Sports that Walker has been the best player in the Las Vegas Summer League and has the potential to be a star.
Walker has proved he can score and arguably has the best dribbling handles among the rookies. But the 19-year-old from Reading, Pennsylvania, understands he'll endure growing pains.
"It's a learning curve," Walker said after the Blazers held him scoreless in the second half. He scored 12 points in the opening half. "I got to stay more aggressive. Stay more consistent but it's all about my defense more than my offense.
"As long as I'm giving 110 percent on the defensive court. That's what makes you a Spur."
Walker often sticks to his own agenda, but he knows the "Spurs way" works and is looking forward to learning from Spurs coach Gregg Popovich, who has guided the franchise to five NBA titles.
"It's kind of ironic that I ended up going to the Spurs based on just off-court activities," said Walker, who, like Popovich, isn't afraid to express his political views.
The Spurs have been a first-rate organization the past two decades, but the team is coming off a rare chaotic season and there appears to be more turmoil on the way thanks to a standoff with star player Kawhi Leonard, who wants out of San Antonio.
It's unknown if Walker will play alongside Leonard, but Walker is in the Spurs' future as they head into a new era.
Walker said he has spoken often to Spurs rising point guard Dejounte Murray this summer. A one-two of Walker and Murray in the backcourt could lead the Spurs back to excellence.
"We have a good vibe," Walker said of Murray. "That's a good thing about the Spurs. Everybody's character is the type of people who want to mesh well together. It's not hard to fit in."
More NBA Summer League: Follow all of our NBA Summer League coverage online at reviewjournal.com/summerleague and @RJ_Sports on Twitter.
Contact Gilbert Manzano at gmanzano@reviewjournal.com. Follow @GManzano24 on Twitter.