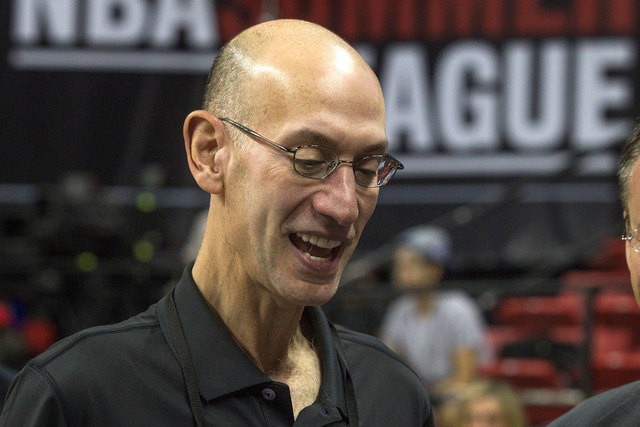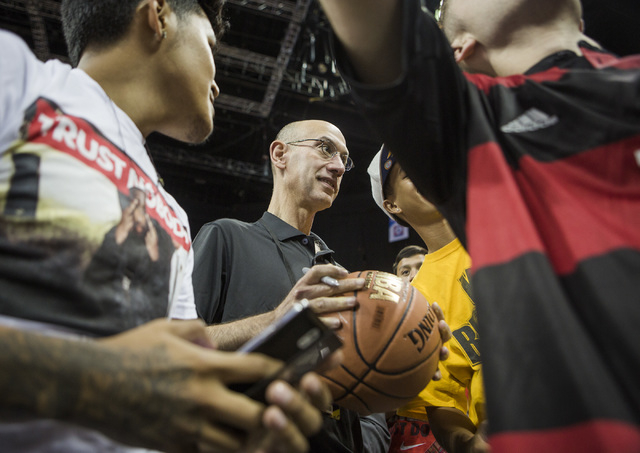 He would never refer to himself as a visionary, because that's just not the way NBA commissioner Adam Silver rolls. But back in the fall of 2006 when he was still the league's deputy commissioner, Silver saw something about Las Vegas that led him to believe the community would support the NBA, particularly in the summertime.
The Vegas Summer League had been on its own for three years when founder Warren LeGarie and the NBA decided to form a partnership beginning with the 2007 season. Silver was the driving force behind the league's commitment, and his faith has been rewarded.
Not only has the summer league grown to 24 teams, has all its games on national television through NBA TV and is followed worldwide by millions on the Internet, the on-site attendance continues to set records each season.
Last year, a record 62,128 fans visited the Thomas &Mack Center and Cox Pavilion for the 11 sessions. In the first three days, this year's VSL had attracted 21,248 fans and likely will set an attendance record when the league wraps up play next Monday night.
"I'm not surprised at all," Silver said Monday at the Thomas &Mack after arriving for the NBA Board of Governors meetings at Wynn Las Vegas. "We've had great leadership from Warren and his staff, and then-Mayor Oscar Goodman was very persuasive. He was certain the city would support basketball in the summer.
"And our owners were also very supportive of it. (Phoenix Suns owner) Robert Sarver was one of the owners advocating doing business here."
The fact the NBA is coming off a compelling postseason run, a draft that had several marquee names and the buzz of free agency orbiting around LeBron James' decision to return to Cleveland have been contributing factors in the increased interest in this year's summer league.
"Absolutely," Silver said. "There's no doubt that a lot of the interest in Las Vegas is based on people who can't get enough of the NBA."
Silver said he is aware of the MGM-AEG arena project behind New York-New York and Monte Carlo. He met with MGM officials late Monday afternoon, and he said the arena, which is scheduled to open in the spring of 2016 and seat 19,000 for basketball, opens the door for numerous opportunities.
"We've had a longtime partnership with AEG," Silver said. "They built the Staples Center, and we've participated in games around the world in their facilities. I met with Mr. (Phillip) Anschutz recently, and we talked about partnering on some projects for the new arena in Las Vegas."
But whether that will lead to Las Vegas getting its own NBA franchise, Silver would not say.
"Right now, Las Vegas is getting the benefit of 24 teams," he said, referring to the summer league. "But as far as expansion goes, we don't have any current plans to expand at this time. We're very focused on our existing franchises.
"Having said that, we're always looking at other opportunities to do things with the city of Las Vegas. Other cities have inquired about having summer leagues, but we're very happy with the summer league being in Las Vegas."
While the city waits for possible expansion, there are two potential opportunities for the NBA and Las Vegas to work together. One would be bringing the All-Star Game back to town after the Thomas &Mack hosted it in 2007. The other would be to have an "NBA Vegas" weekend during the regular season modeled after the league's successful "NBA Global Games" venture where teams play two games in a neutral site and have the games count in the standings.
When David Stern was commissioner, he said the league would not bring the All-Star Game back to Las Vegas unless it had a modern facility. The MGM-AEG arena would resolve that issue.
"Once there's a new state-of-the-art arena in Las Vegas that's open, it opens up all sorts of possibilities," Silver said. "We have no prohibition about bringing All-Star Weekend back to Las Vegas. From our standpoint, it was a tremendous experience and the city has embraced us with open arms. So we're looking at doing all kinds of different events here."
And as Silver sat on Gucci Row to watch San Antonio and New Orleans play, LeGarie stood behind the basket and praised Silver for his efforts over the years in making the Vegas Summer League a success.
"We have someone who understands the work and effort put into this," LeGarie said. "More important, there's the collaboration. Adam believed Vegas was more than just the Strip, that there was a legitimacy to the city. He won David over that the game would be better and the players would be better having the summer league in Vegas. None of this likely happens without Adam's support."
Silver said he has a soft spot in his heart, not just for Las Vegas, but the entire state.
"I have a sister in Reno, so I have an affinity for Nevada," he said.
Contact reporter Steve Carp at scarp@reviewjournal.com or 702-387-2913. Follow him on Twitter: @stevecarprj.