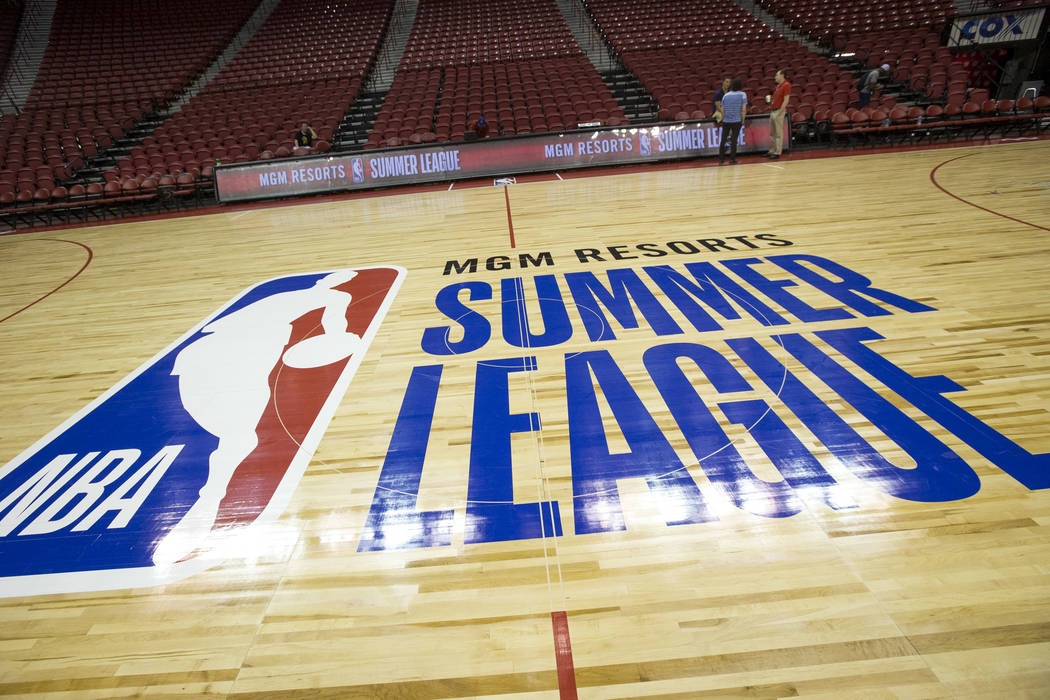 Review-Journal staff report live from the first day of NBA Summer League in Las Vegas. Here's what's been going on:
10:36 — Nunn leads Warriors past Clippers
Kendrick Nunn scored 18 points as the Golden State Warriors defeated the Los Angeles Clippers 77-71 at the Thomas & Mack Center.
Sindarius Thornwell paced the Clippers, also with 18 points.
— Mark Anderson
8:52 — Suns beat Mavericks in top pick Deandre Ayton's debut
No. 1 overall pick from this year's draft, Deandre Ayton, was relatively quiet in his NBA debut. But his Phoenix Suns teammates came through in a 92-85 victory over the Dallas Mavericks at the Thomas & Mack Center.
Ayton finished with 10 points and eight rebounds, one of five Suns in double figures. Davon Reed led Phoenix with 18 points on 7-of-8 shooting that included 4 of 5 from 3-point range.
Jalen Jones topped the Mavericks with 16 points, and teammate Dennis Smith Jr. scored 14.
— Mark Anderson
8:20 — Centennial grad Troy Brown makes pro debut in front of home fans
It feels so good to be back.
For Troy Brown, anyway.
The Centennial graduate and 2018 first-round pick made his professional debut, er, summer league debut with the Washington Wizards on Friday night before a supportive hometown crowd that cheered his every move.
Brown finished with 13 points on 6-of-14 shooting, along with with four rebounds and five turnovers while running the point in a 72-59 loss to the Cleveland Cavaliers. He was proud of the way he attacked the basket — and he attacked, alright.
But he lamented the turnovers and the loss.
"It was up and down. I didn't feel like I had a terrible performance," Brown said. "It was one of those things, first game, where I'm not really worried about it. Just got to move on."
Brown is the second Las Vegas native drafted in as many years. Bishop Gorman graduate Zach Collins was selected in the first round last season, and is playing with the Portland Trail Blazers.
The two are the future of professional basketball in Las Vegas.
Brown is well aware of the implications.
"Being a hometown kid, playing at UNLV is huge for me," Brown said. "Sports aren't really the focal point of Las Vegas, Nevada. For everybody that came out and supported today, I really appreciate it. That means a lot to me. … Hopefully we can keep building on that."
— Sam Gordon
6:52 — Cuban provides update on Luka
Luka Doncic could soon suit up for the Dallas Mavericks, according to his new boss.
Mavericks owner Mark Cuban is optimistic the No. 3 overall pick in last month's draft could play in Sunday's game against the Bucks at Cox Pavilion.
Mark Cuban on hand to watch the Mavericks. @GManzano24 says Cuban hopes Luka Doncic will play Sunday #NBASummer pic.twitter.com/clZAIBioBM

— Justin Emerson (@J15Emerson) July 7, 2018
Doncic, the versatile playmaker from Slovenia, missed Friday's opener against Deandre Ayton and the Phoenix Suns.
"Hopefully by Sunday," Cuban said. "We haven't gotten his paperwork from Real Madrid, that's what is holding us back."
Doncic, 19, led the Spanish professional club Real Madrid to the EuroLeague championship last month and has played for them since 2015.
Dallas needs to complete a buyout with the club, get clearance from FIBA, have Doncic pass a physical and sign his NBA contract. All that seemed unlikely a few days ago, but now signs point to Doncic making his debut in Las Vegas.
Cuban and many NBA fans would be happy to see the overseas mystery player hoop stateside this summer.
"I want to see him just as bad as everybody else," Cuban said.
— Gilbert Manzano
6:46 — John Wall in the building
Washington Wizards perennial all-star point guard John Wall is courtside watching the franchise's summer league team play the Cleveland Cavaliers.
Wall exchanged pleasantries with his former college coach, John Calipari, who is also courtside at Cox Pavilion with Los Angeles Clippers owner Steve Ballmer.
— Sam Gordon
6:35 — Robert Williams hurt, but Celtics beat the Sixers
Boston first-round draft pick Robert Williams III banged his left knee in the first quarter and didn't play the rest of the game, but the Celtics beat the Philadelphia 76ers 95-89 at the Thomas & Mack Center.
Semi Ojeleye and Guerschon Yabusele each scored 16 points for the Celtics, and Jabari Bird added 14 points and eight rebounds.
That combined effort overcame the 40-points put up by Philadelphia's Furkan Korkmaz. He made 10 of 18 shots, including 8 of 14 3-pointers.
— Mark Anderson
4:55 — Malik Monk learns Hornets signed Tony Parker
Charlotte guard Malik Monk had not heard the news that the Hornets had signed former San Antonio Spurs great Tony Parker to a reported two-year, $10 million deal. He learned live in one-on-one interview with the Review-Journal.
— Justin Emerson
Malik Monk hadn't heard the @hornets signed Tony Parker. The @reviewjournal caught his reaction live #NBASummer pic.twitter.com/BJm1Dh1htn

— Justin Emerson (@J15Emerson) July 7, 2018
4:40 — Hornets hold off Thunder
Willy Hernangomez made a free throw with 3 seconds left and teammate Malik Monk then stole the ball to preserve the Charlotte Hornets' 88-87 victory over the Oklahoma City Thunder.
Monk led the Hornets with 23 points on 9-of-16 shooting. He also made 4 of 9 3-pointers. Hernangomez added 16 points.
Rashawn Thomas scored 23 points for Oklahoma City, and Dakari Johnson had 20.
— Mark Anderson
4:18 — Lottery picks Isaac, Bamba lead Magic past Nets
Orlando Magic second-year forward and 2017 lottery pick Jonathan Isaac had 20 points and seven rebounds, and 2018 first-round pick Mohamed Bamba had 11 points in seven rebounds in an 86-80 win over the Brooklyn Nets.
Shawn Dawson scored 20 points for Brooklyn, which drafted Dzanan Musa with the No. 29 pick this year.
He did not play against the Magic.
— Sam Gordon
4:05 — Last year's No. 1 pick prepped to watch Sixers
2017 No. 1 overall pick Markelle Fultz was courtside before the 76ers met the Celtics.
— Justin Emerson
Last year's No. 1 overall pick Markelle Fultz here rocking Gucci. Sixers on deck at 4:30 #NBASummer pic.twitter.com/1RXdTUIYCf

— Justin Emerson (@J15Emerson) July 6, 2018
3:10 — House brings down the house
The 2018 NBA Summer League didn't start until the third quarter of the Rockets-Pacers game when Danuel House delivered a monster fastbreak windmill dunk to get the crowd at Cox Pavilion on its feet.
House's highlight dunk quickly blew up on social media.
Danuel House with the monster jam at Cox Pavilion #NBASummer https://t.co/2L3FJV9q7g

— Gilbert Manzano (@GManzano24) July 6, 2018
"I was just making a basketball play," said House, a wing player for the Rockets. "I was just using my athletic ability and it sort of just happened."
House wants to be more than just a dunker for the Rockets. He's a versatile 6-foot-7-inch forward who can shoot and defend.
The Rockets have an opening with Trevor Ariza's departure to the Phoenix Suns.
"It's a dream to be playing for my hometown," said House, who played at Texas A&M. "I was born and raised here and it's a great honor to represent my family name in the great state of Texas.
"I'm going to stay hungry and do everything I can for my team."
— Gilbert Manzano
2:26 — Bluiett shines in Pelicans win
Trevon Bluiett scored a game-high 24 points to power the Pelicans over the Raptors, 88-75 at Thomas & Mack. He was 7-for-10 from the floor and made his four free throws. Rawle Alkins and Alfonzo McKinnie led the Raptors with 12 points each.
— Justin Emerson
2:07 p.m. — Opener goes to Rockets
The opening game of the 2018 NBA Summer League went down to the wire with the Houston Rockets edging out the Indiana Pacers 92-89 at Cox Pavilion.
Danuel House and Trevon Duval each scored 20 points to pace the Rockets. Pacers' first-round pick Aaron Holiday scored a game-high 23 points.
Holiday had a shot to tie the game in the closing seconds but instead passed it to his former UCLA teammate T.J. Leaf as time expired.
— Gilbert Manzano
Rockets defeat the Pacers 92-89 at Cox Pavilion. Indiana had a shot to tie the game but didn't get a shot off #NBASummer

— Gilbert Manzano (@GManzano24) July 6, 2018
1:35 p.m. — DeRozan in the house
Toronto star DeMar DeRozan sat courtside watching the Raptors play the Pelicans in the opening game at Thomas & Mack Center.
— Justin Emerson
Raptors-Pelicans starting us off at @ThomasAndMack for #NBASummer, and Raps guard DeMar DeRozan here watching courtside #NBASummer pic.twitter.com/GZwmlyQXx5

— Justin Emerson (@J15Emerson) July 6, 2018
More NBA Summer League: Follow all of our NBA Summer League coverage online at reviewjournal.com/summerleague and @RJ_Sports on Twitter.