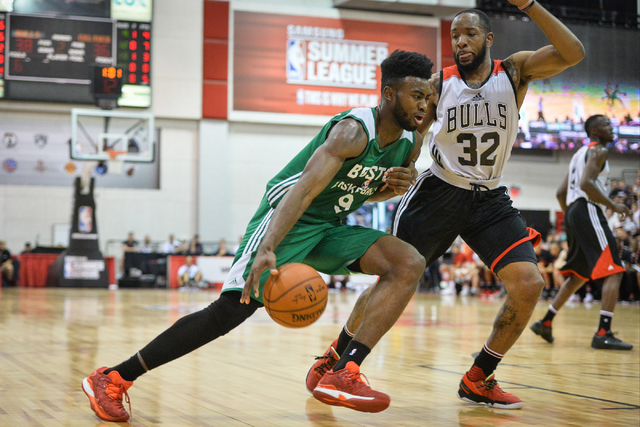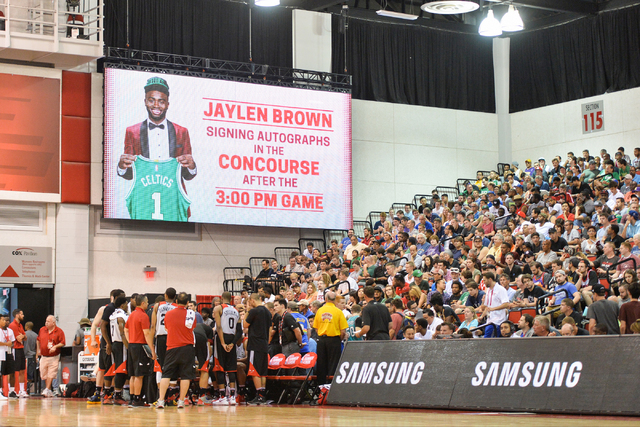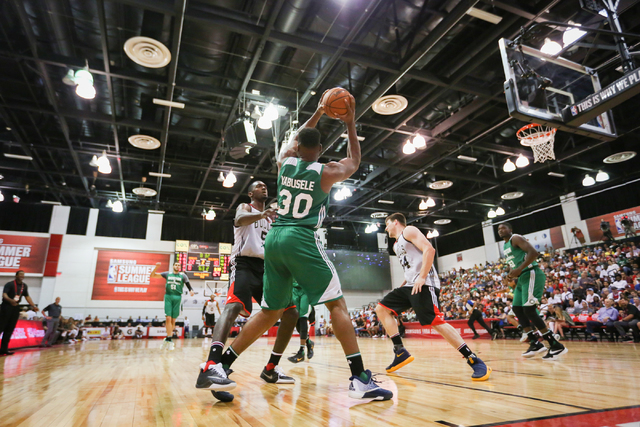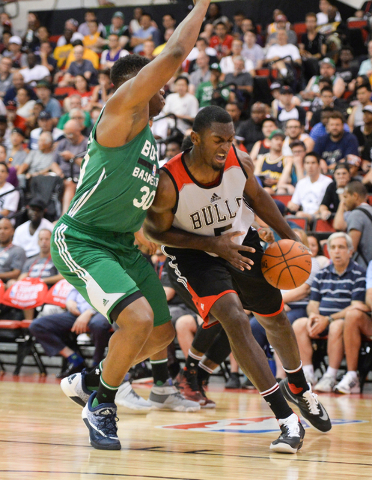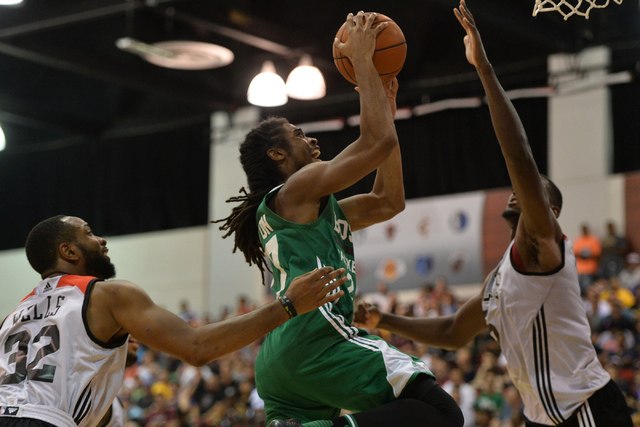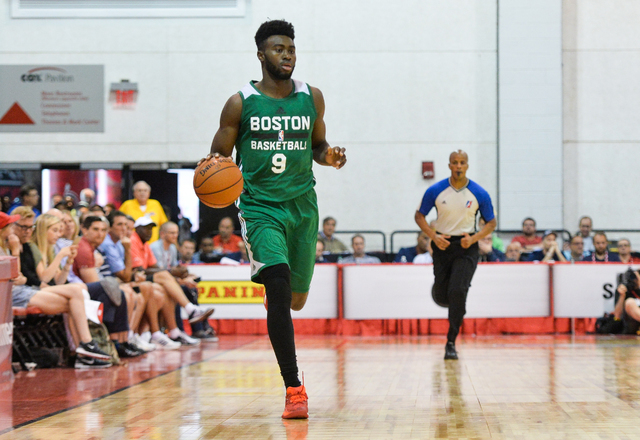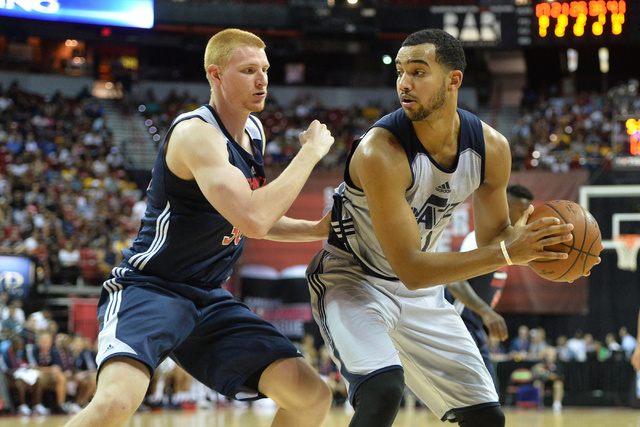 Saturday's games
• Suns 86, Trail Blazers 73 — Devin Booker scored 20 of his 28 points in the second half as Phoenix handled Portland. The Suns held the Trail Blazers to 37 percent shooting from the floor, and Portland made only 6 of 26 3-point attempts. Pat Connaughton led Portland with 14 points, and Noah Vonleh had 12 points and 11 rebounds.
• Nets 79, Cavaliers 73 — Swan Kilpatrick scored 19 points, and Brooklyn overcame 26 turnovers to defeat Cleveland. The Nets, who led by as many as 12 in the fourth quarter, got 10 points apiece by Beau Beech and Isaiah Whitehead. Jordan McRae led Cleveland in scoring for the second straight game, finishing with 27 after having scored 23 in Friday's loss to Milwaukee.
• Bulls 71, Celtics 62 — Chicago got 17 points by Bobby Portis and 14 by Jerian Grant and held Boston to 33 percent shooting (22 of 67). Celtics rookie Jaylen Brown had a tough debut, shooting 3 of 13 from the floor and finishing with nine points in 25 minutes.
• Wizards 88, Jazz 73 — Washington led by 26 late in the third quarter, as Utah struggled offensively beyond Trey Lyles, who led all scorers with 28 points. The Jazz shot 37 percent from the field and committed 20 turnovers. Washington was led by Kelly Oubre Jr.'s 20 points and got 14 off the bench by Danuel House.
• Nuggets 106, Grizzlies 62 — Denver took full advantage of Memphis' icy shooting, holding the Grizzlies to eight fourth-quarter points. Jimmer Fredette led Denver with 26 points, and JaKarr Sampson scored 16. The Grizzlies, who shot 31 percent from the floor, 61 percent on free throws and 2 of 26 on 3-pointers, were led by Wade Baldwin IV with 10 points.
• Lakers 70, 76ers 69 — D'Angelo Russell's 3-pointer as time expired completed Los Angeles' comeback after they trailed by 16 in the third quarter. The Sixers had taken a 69-67 lead on T.J. McConnell's layup with 1.8 seconds to play. But the Lakers ran a play for Russell, the No. 2 overall draft pick in 2015, and he buried the jumper. Russell finished with a game-high 22 points. McConnell led the Sixers with 12.
• Mavericks 83, Heat 64 — Dallas dominated inside, outscoring Miami 36-12 in the paint. The Mavericks, who got 30 points by Jonathan Gibson and 19 by Justin Anderson, led by 20 in the fourth quarter. Miami was led by Rodney McGruder's 18 points.
• Spurs 63, Warriors 61 — Jonathon Simmons six-foot turnaround jumper at the buzzer gave the defending summer league champs the win.The Spurs' Kyle Anderson inbounded with 1.3 seconds left and found Simmons cutting to the basket. Anderson scored 14 to lead San Antonio, and Keifer Sykes led Golden State with 15. Former UNLV guard Patrick McCaw had 14 points, four rebounds and two assists in 33 minutes for the Warriors.
Saturday's attendance
16,208 (a single-day session record). Total through two sessions: 26,815 (13,408 average).
Star of the day
D'Angelo Russell's 3-point field goal that beat the buzzer capped a 22-point performance, as he led the Lakers to a 70-69 win over Philadelphia.
Local spotlight
He played only one year at Findlay Prep, in 2013, but Kelly Oubre Jr. was back in Las Vegas on Saturday and had a strong game for Washington, scoring 20 points in the Wizards' 88-73 win over Utah at the Thomas & Mack Center. Oubre played last year in the summer league and averaged 16.8 points. He appeared in 63 games with the Wizards last season, averaging 10.7 minutes, 3.7 points and 2.1 rebounds.
Quotable
"We want him to get comfortable, get to know his teammates and learn how to drive in L.A., which can be a challenge for anyone." — Los Angeles Lakers general manager Mitch Kupchak, on rookie forward Brandon Ingram, who got his driver's license only two weeks ago.
On the scene
Longtime NBA referee Joey Crawford hung out at Cox Pavilion after recently retiring after a 39-year career. Crawford, 64, worked 2,561 regular-season games, second all time to Dick Bavetta (2,635). Crawford holds the record for most playoff games officiated (374), and his 50 NBA Finals appearances rank second behind Mendy Rudolph.
Sunday's schedule
At Cox Pavilion
Atlanta vs. Washington, 1 p.m.
Minnesota vs. Toronto, 3 p.m.
Utah vs. New Orleans, 5 p.m.
San Antonio vs. Portland, 7 p.m.
At Thomas & Mack
Milwaukee vs. D-League Select, 1:30 p.m.
Houston vs. Sacramento, 3:30 p.m.
Chicago vs. Philadelphia, 5:30 p.m.
Phoenix vs. Boston, 7:30 p.m.
RELATED
NBA Summer League Blog Day 2: Jimmer Fredette makes strong case for NBA deal