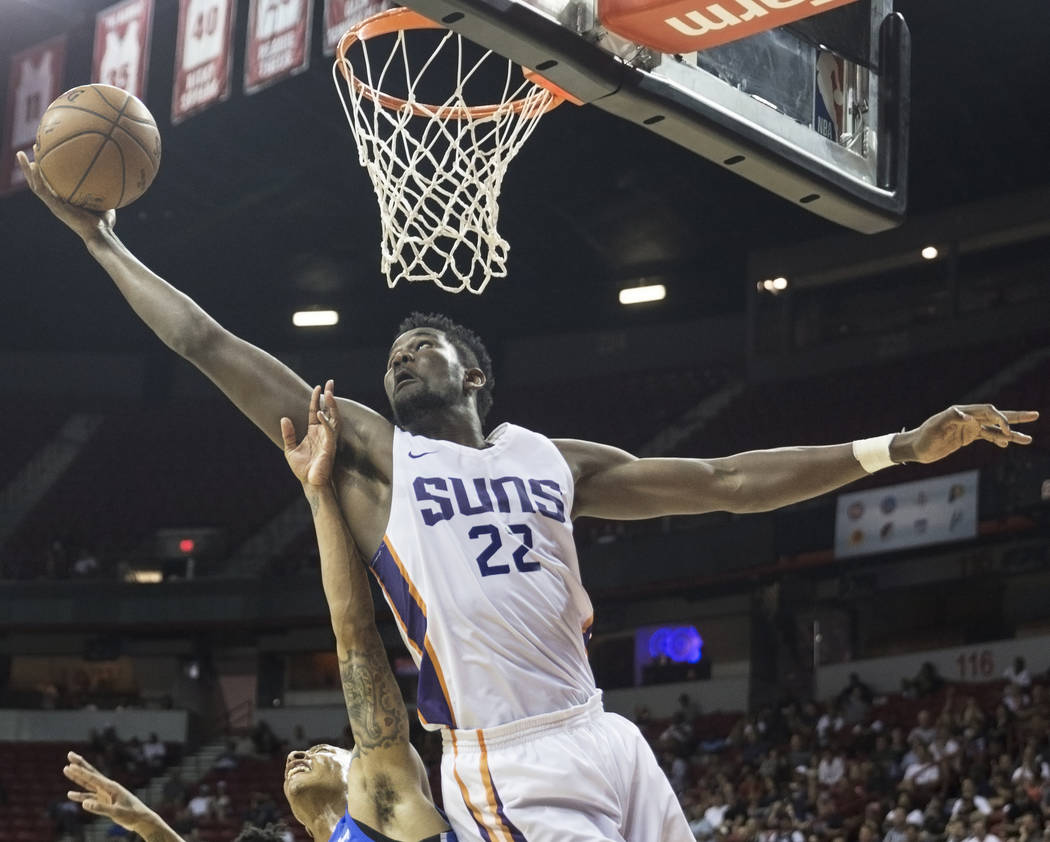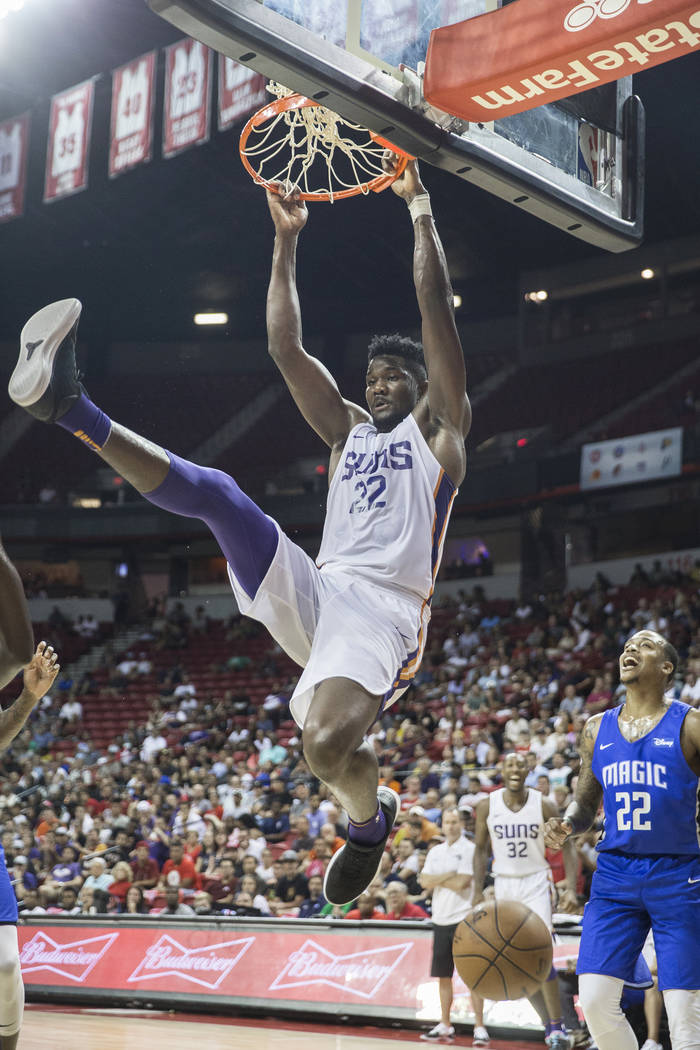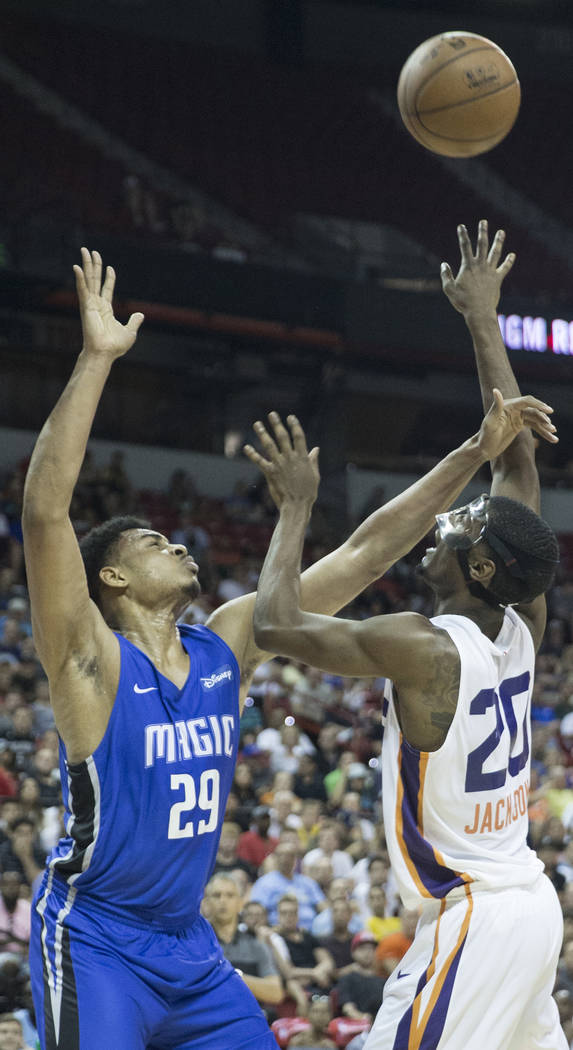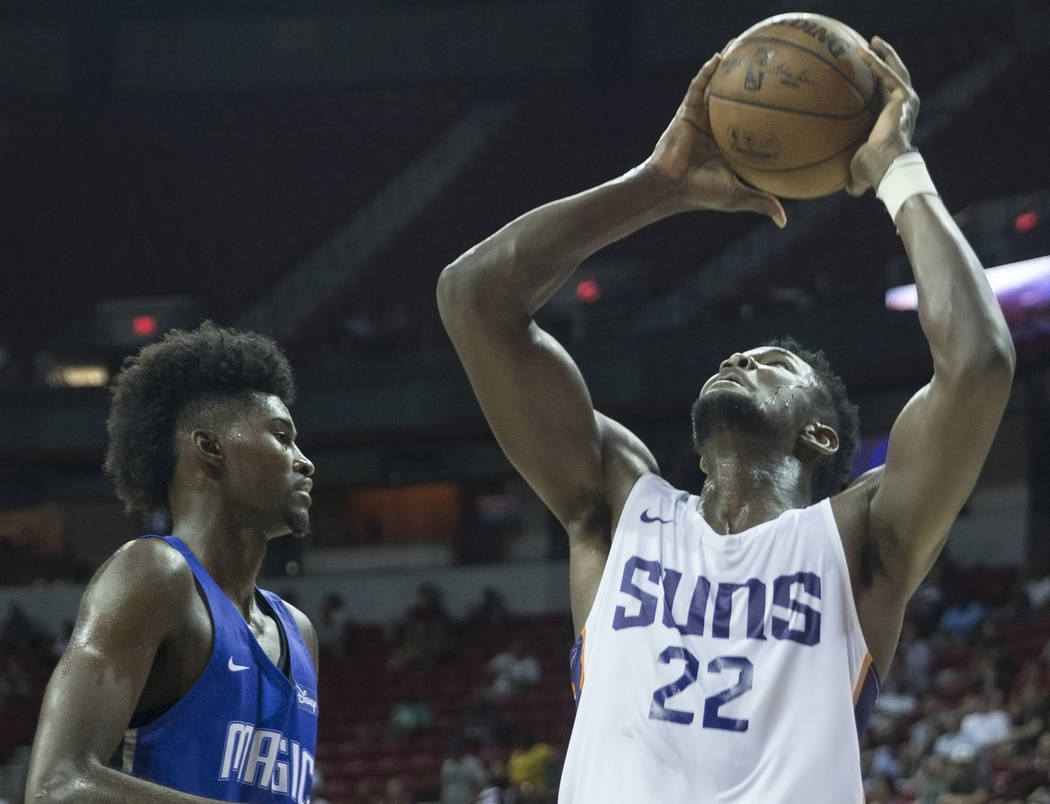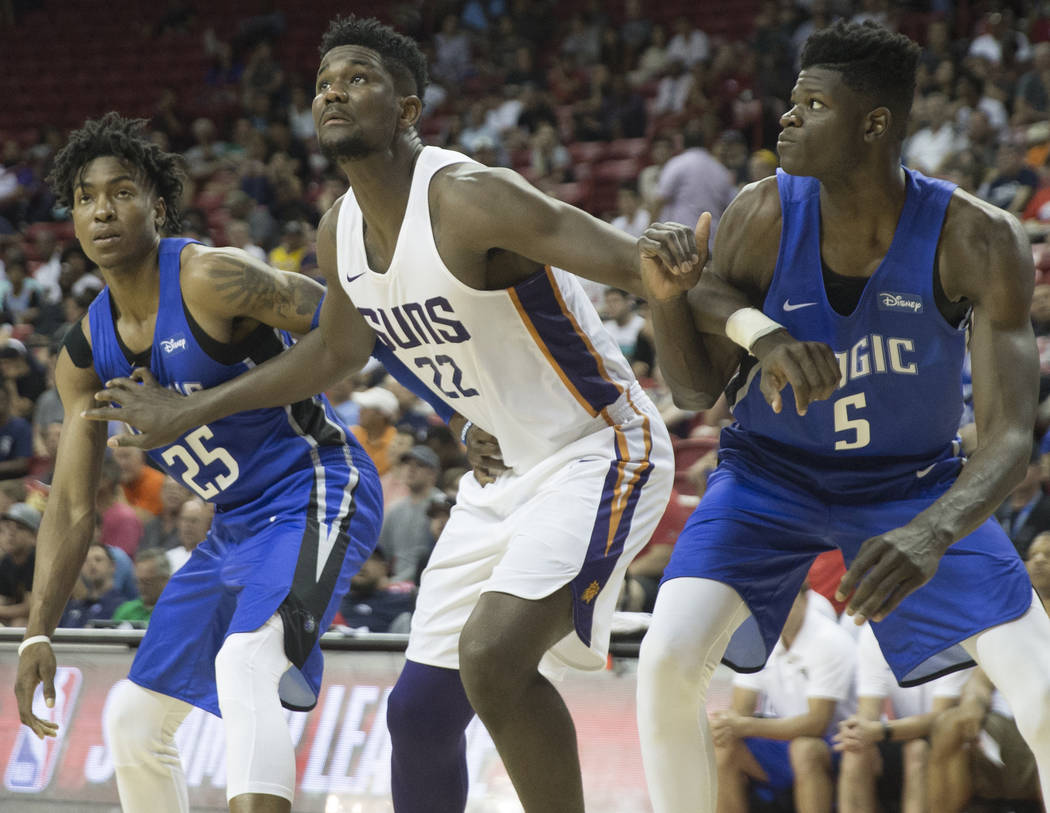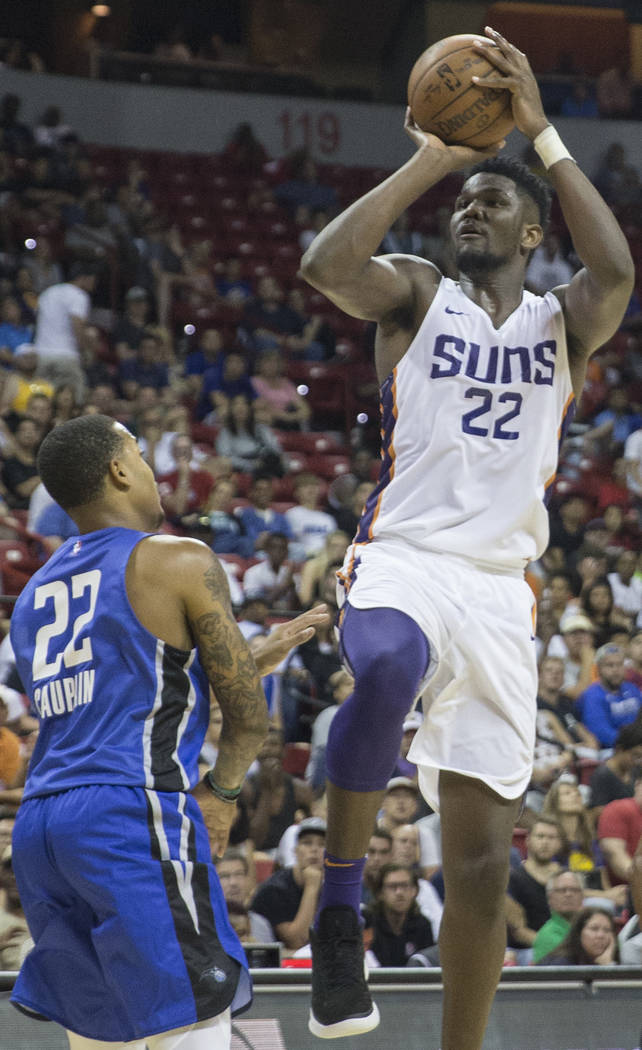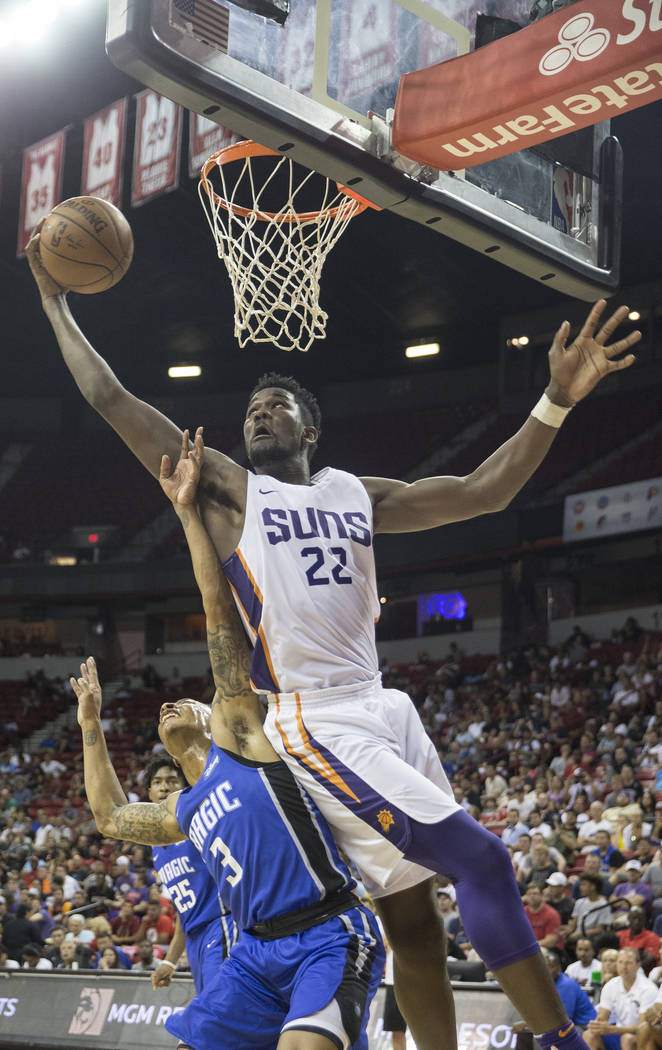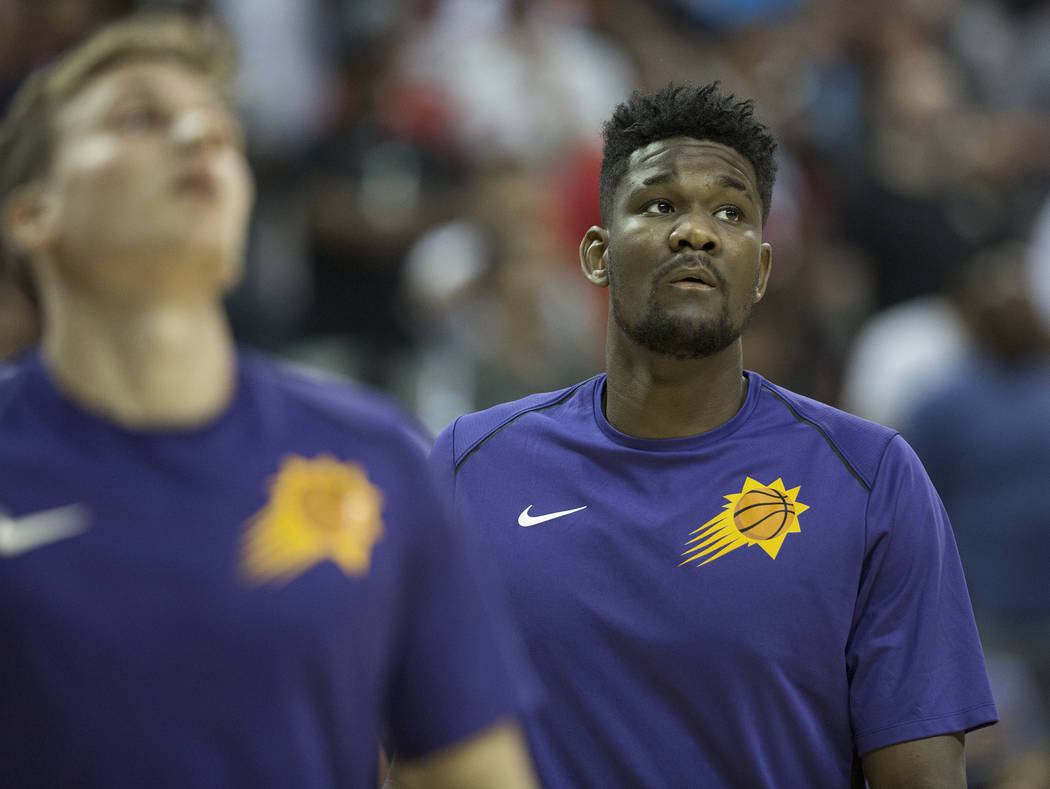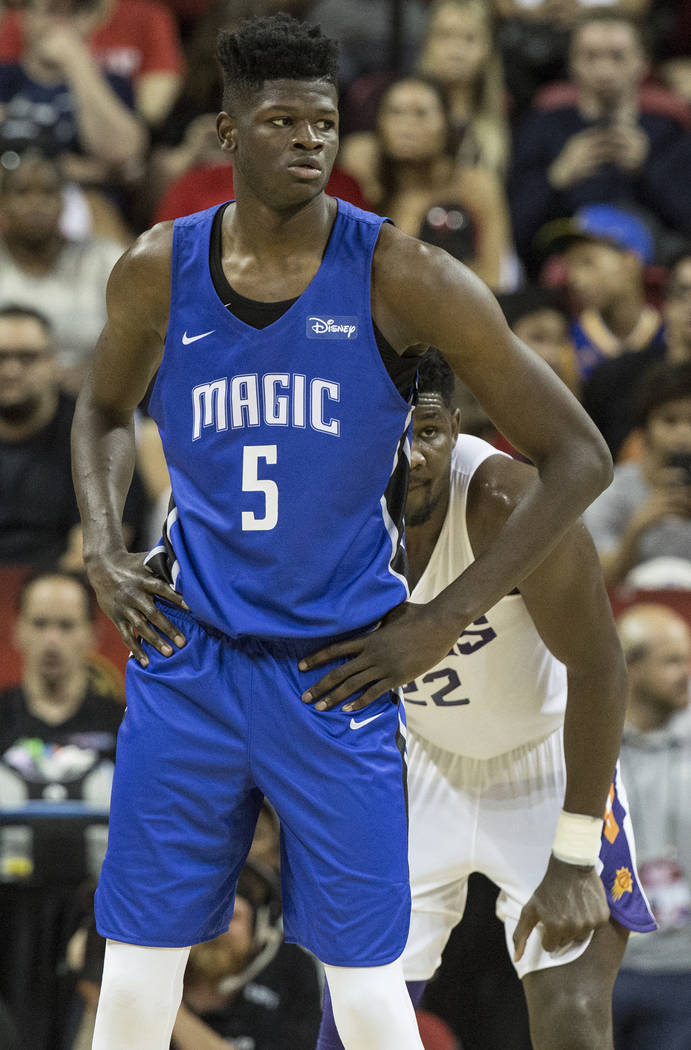 Wrapping up Day 4 of the NBA Summer League at the Thomas & Mack Center and Cox Pavilion:
Monday's results
■ Pistons 105, Pelicans 97 — Henry Ellenson recorded a double-double with 13 points and 10 rebounds to lead Detroit. Ellenson also had seven assists and two steals. Cheick Diallo scored a game-high 25 points for New Orleans. Pistons stars Blake Griffin and Andre Drummond were in attendance.
■ Thunder 92, Raptors 82 — Rashawn Thomas had 17 points and 12 rebounds in Oklahoma City's victory. PJ Dozier also scored 17 for the Thunder. OG Anunoby led all scorers with 19 points for Toronto, and teammate Malachi Richardson had 17 points. Toronto's Codi Miller McIntyre had eight points and a game-high eight assists.
■ Cavaliers 93, Pacers 88 — No. 8 overall pick Collin Sexton put up 21 points and dished out four assists in Cleveland's victory. Cedi Osman totaled a game-high 25 points for the Cavaliers and recorded six rebounds and six assists. Indianapolis' T.J. Leaf scored a team-high 20 points.
■ Wizards 87, 76ers 75 — Centennial High grad Troy Brown Jr. continued his strong summer with a game-high 23 points and added eight rebounds to lift Washington. Teammate Devin Robinson scored 22 points, Thomas Bryant had 16 points and 12 rebounds and Chris Chiozza had 11 assists. Chris McCullough had 20 points to lead Philadelphia.
■ Celtics 100, Hornets 80 — Jabari Bird and Jarrod Uthoff each scored 16 points to lead Boston. The Celtics had seven players score in double figures. Miles Bridges recorded 20 points and seven rebounds for Charlotte.
■ Mavericks 91, Warriors 71 — Phill Greene scored 16 points to help Dallas pull away from Golden State. Mitchell Creek had 13 points for the Mavericks, which got 12 points form Jacob Wiley. Ray Spalding had eight points and nine rebounds for Dallas. The Warriors' Kendrick Nunn and Josh Magette each had 10 points.
■ Nuggets 90, Bucks 83 — Monte Morris contributed 20 points, six rebounds and eight assists to lead Denver. D.J. Wilson had 14 points for Milwaukee. Former UNLV player Brandon McCoy didn't see the court for the Bucks.
■ Suns 71, Magic 53 — No. 1 overall pick Deandre Ayton had 17 points and 13 rebounds as Phoenix took down Orlando. Shaquille Harrison had 11 points, six assists and five steals for the Suns. Jonathan Isaac was the only Orlando player to score in double figures, finishing with 10 points.
■ Timberwolves 78, Nets 69 — Four Minnesota players scored in double figures with Jared Terrell's 13 points leading the charge. Amile Jefferson recorded 12 rebounds for the Timberwolves. Yuta Watanabe contributed 14 points and four rebounds for the Nets.
■ Rockets 104, Clippers 90 — De'Anthony Melton had 26 points 10 rebounds and five assists as Houston beat Los Angeles in a shootout. Vincent Edwards had 20 points and eight rebounds for the Rockets. No. 11 overall pick Shai Gilgeous-Alexander had 25 points for the Clippers, and Vincent Hunter had 20 points and eight rebounds.
Monday's attendance
13,392 (both venues). Total: 62,045.
Star of the day
Bucks guard Sterling Brown had a game-high 27 points and shot 11 of 18 from the field with seven rebounds as Milwaukee fell to the Nuggets 90-83.
Local spotlight
Former UNLV standout Christian Wood had 16 points and six rebounds for the Bucks in their 90-83 loss to Denver at Cox Pavilion.
On scene
New Thunder signee Nerlens Noel was at the Thomas & Mack Center watching Oklahoma City play Toronto. Rockets guard Chris Paul took in the Cleveland-Indiana game at Cox Pavilion. NBA Comissioner Adam Silver strolled through the Thomas & Mack. Milwaukee Bucks star Giannis Antetokounmpo sat courtside to watch his borther Kostas play for the Mavericks against the Warriors at the Thomas & Mack.
Tuesday's games
At Cox Pavilion
■ San Antonio vs. Portland, 1 p.m.
■ Atlanta vs. Chicago, 3 p.m.
At Thomas & Mack Center
■ Utah vs. Miami, 1:30 p.m.
■ Sacramento vs. Memphis, 3:30 p.m.
■ Los Angeles Lakers vs. New York, 5:30 p.m.
More NBA Summer League: Follow all of our NBA Summer League coverage online at reviewjournal.com/summerleague and @RJ_Sports on Twitter.