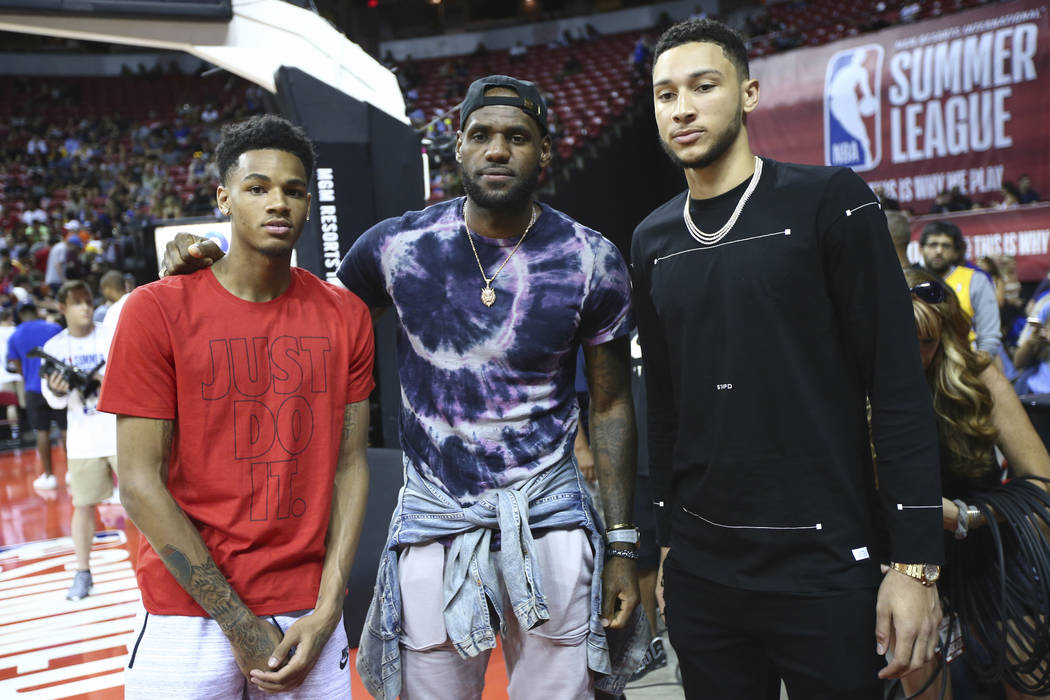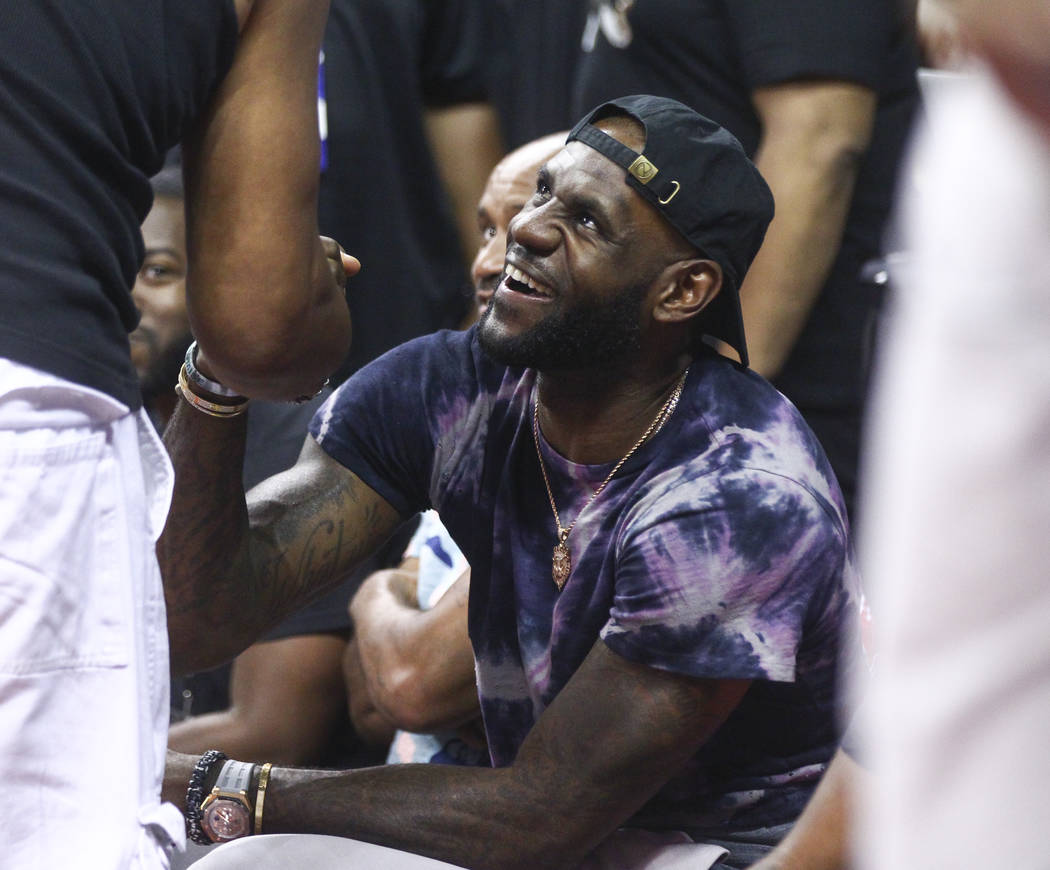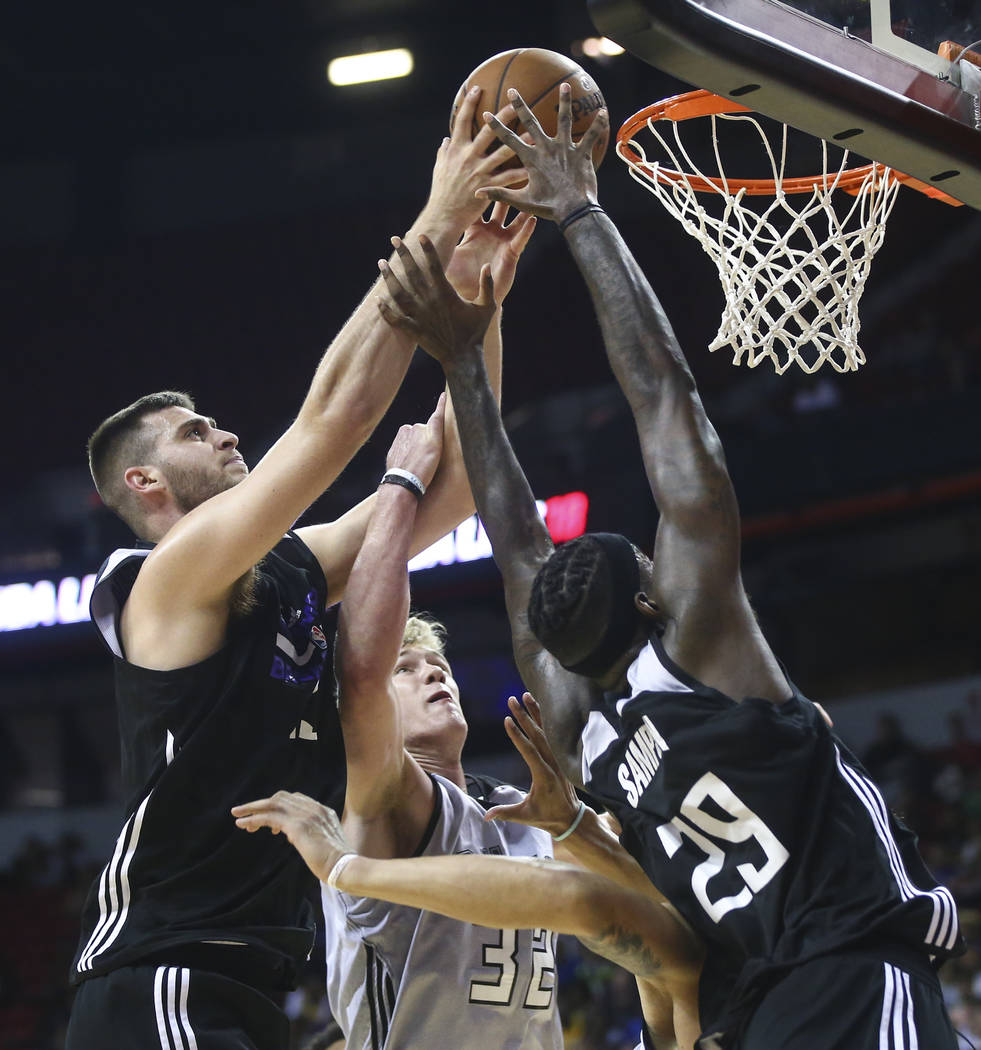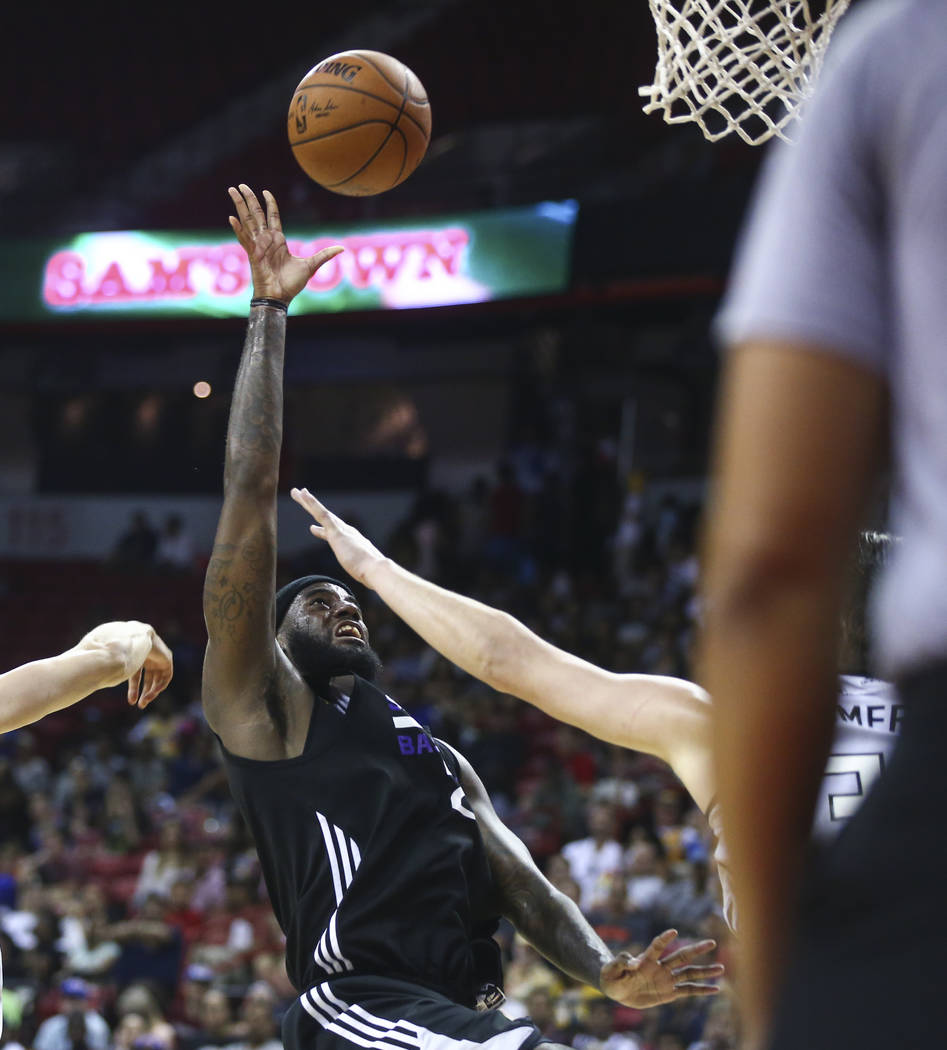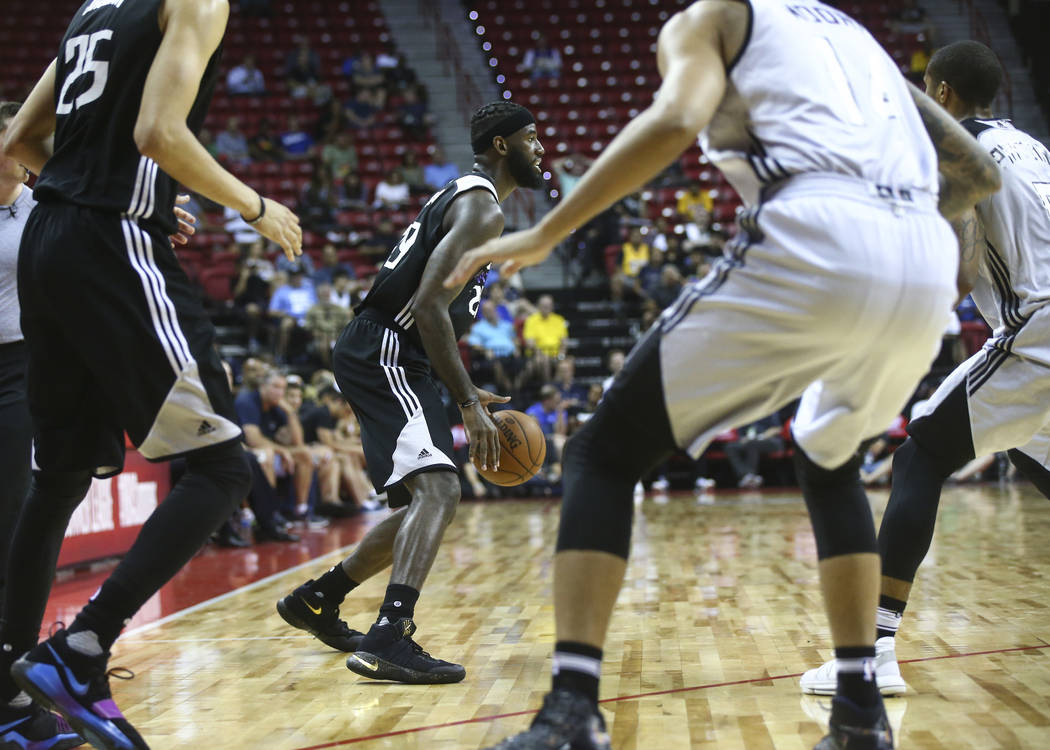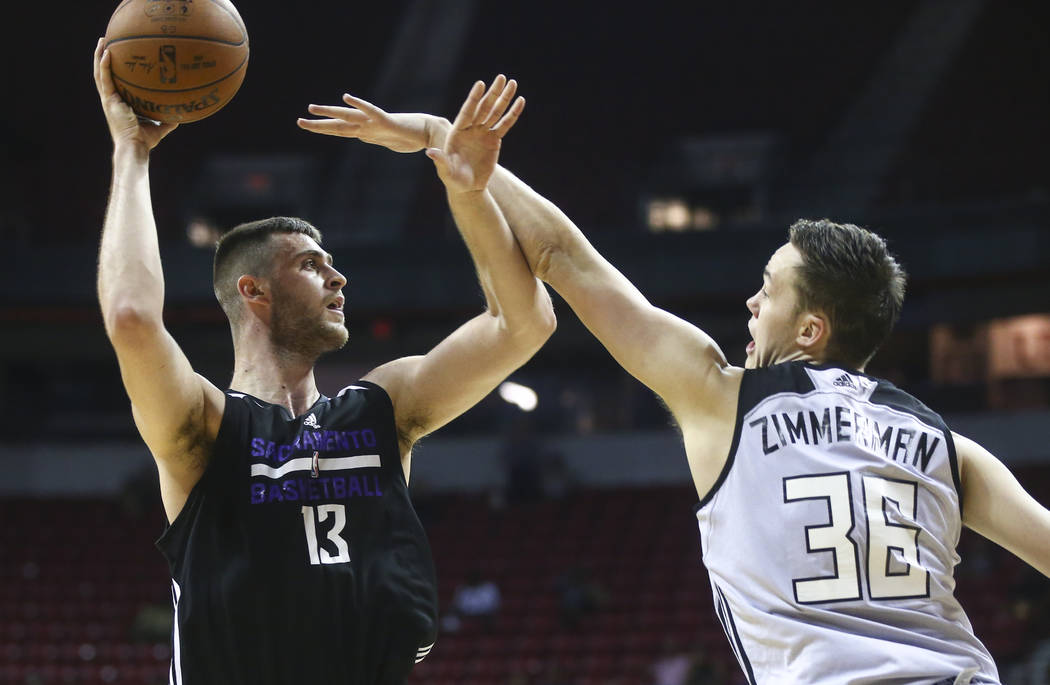 7:50 p.m.: Fox, Hield take a seat
De'Aaron Fox, the No. 5 overall draft pick, played only seven minutes in the Sacramento Kings' 83-76 loss to the Dallas Mavericks at the Thomas & Mack Center.
His availability was uncertain after suffering an ankle injury on Monday.
"Fox wanted to play, and so we let him go," Kings summer league coach Jason March said. "He didn't feel right as he got going. We took him out, and he took his shoe off. He then said he was ready to and we put him back, and he didn't feel right. It's nothing serious. He didn't feel 100 percent, so we weren't going to put him out there and risk anything."
Buddy Hield took the entire game off.
"Hield was going to play three games coming in, and we stuck with it," March said.
— Mark Anderson
7:15 p.m.: 'Take that for data!'
Las Vegas hasn't forgotten Grizzlies coach David Fizdale's famous line from the 2017 NBA postseason.
Fizdale said he's heard "Take that for data!" mentions often while walking around the Thomas & Mack Center and Cox Pavilion.
The first-year Memphis head coach ended with that saying during a rant criticizing the officials after a Game 2 loss to the San Antonio Spurs in the first round of the playoffs.
"I don't mind," Fizdale said. "I rather them say things I want to hear rather than things I don't want to hear."
Fizdale was frustrated after the playoff loss in April, but he's been all smiles in Las Vegas as his Summer League squad improved to 4-0 Thursday. The Grizzlies defeated the Suns 102-98 to advance to Saturday's quarterfinals matchup against the Heat.
Fizdale said he's been impressed with Grizzlies rookie Dillon Brooks, who played at Findlay Prep. Wayne Selden scored a game-high 33 points for Memphis.
— Gilbert Manzano
6:39 p.m.: Heat's Robinson making a push
At 5 feet 8 inches, Justin Robinson is used to facing doubts about his basketball future.
He's also used to winning people over.
"Everybody that knows me thinks I'm a solid player," Robinson said. "I've just got to go out and prove it. That story doesn't change, and it's never going to change, so I'm going to keep continuing doing what I'm good at and that's play basketball."
Robinson is in Las Vegas playing for the Miami Heat, and he's putting forth a strong argument.
He scored 22 points in the Heat's 91-84 victory over the Los Angeles Clippers on Thursday at the Thomas & Mack Center. That came a day after he scored 19 points and made the game-winning shot against the Washington Wizards.
"Any time you have games like these, it opens up people's eyes for us and anyone watching," Heat summer league coach Chris Quinn said. "He's obviously not the tallest guy, but he plays with a huge heart. You can see he loves playing the game, and he's been huge for us, especially these last few games."
Robinson played the past four seasons at Monmouth, averaging 15.3 points, 3.8 assists, 3.4 rebounds and 1.6 steals. He was named the Metro Atlantic Athletic Conference Player of the Year the past two seasons. Robinson also received the Lou Henson Mid-Major Player of the Year last season.
Even so, he went undrafted, taking the difficult route to an NBA roster. But now Robinson is making his case.
"I've always believed in myself," he said. "Now I just have to go out and prove it to everybody. It's not easy. There are all these top-notch guards out here. You're playing against the best of the best. They're in the same position as me trying to make it, and then you've got the lottery picks that they're trying to solidify themselves. To come out here and have this good experience, it's a blessing."
— Mark Anderson
5:58 p.m.: Forbes mastering the "Spurs way"
Bryn Forbes scored 29 points to keep the San Antonio Spurs alive and advance into the quarterfinal round of the NBA Summer League.
Forbes dished out five assists and collected three rebounds while shooting 8-of-22 from the floor, 4-of-11 from 3-point range.
The former Michigan State player said he was working on all facets of his game, but he also was focused on being a better leader. It fits with the major mission on his mind for the summer
"Play the Spurs way," Forbes said. "I put a lot of work in this summer trying to master the Spurs way."
— Jonathan Saxon
5 p.m.: Tatum hopes to return Saturday
The Boston Celtics had no trouble advancing to the quarterfinals despite not playing Jaylen Brown and Jayson Tatum during their 93-69 victory over the Golden State Warriors at Cox Pavilion.
Tatum was on the injury list with right patellar tendinitis, but the No. 3 overall pick in the draft said it was more about having a rest day, and he hopes to return for Saturday's game against the Brooklyn Nets.
"They're just taking precautionary measures," said Tatum, who averaged 17.7 points in the first three games. "I wanted to be there. It's tough not playing. I'm not sure yet what the team decides."
Boston's No. 3 pick from 2016, Brown, was listed with a bruised right quad. The Celtics remain undefeated at 4-0.
Former UNLV standout Patrick McCaw led the Warriors with a team-high 20 points. McCaw hit a half-court shot to beat the halftime buzzer.
— Gilbert Manzano
4:30 p.m.: Hollis-Jefferson last one remaining
He has played only two seasons, but Rondae Hollis-Jefferson is a veteran by the Brooklyn Nets' standards.
The Nets have gone through so many changes that he's the only remaining player since Sean Marks became general manager in February 2016.
"I definitely feel like they love my energy and they love me being vocal," Hollis-Jefferson said.
Hollis-Jefferson, a 6-foot 7-inch forward, was drafted out of Arizona by the Portland Trail Blazers in the first round (23rd overall) in 2015, then was traded to Brooklyn.
He has started 67 career games and played in 107, averaging 7.9 points and 5.7 rebounds. Last season, he averaged 8.7 and 5.8.
Now the Nets are looking to Hollis-Jefferson to be that stabilizing force among the sea of change.
"I'm trying to show the guys this is what they want and this is how they want it done," Hollis-Jefferson said. "Just being active and just playing my role and stepping up to the challenge."
The many changes haven't been easy. Watching teammate and good friend Brook Lopez get dealt last month to the Los Angeles Lakers was especially difficult.
"The sooner that you understand this is part of a business, the better off you are," Hollis-Jefferson said. "Things happen. Before they traded Brook, Brook was that way. I have 'X' amount of teammates. It's a part of basketball. So understanding that and working through it and (he's) making sure the pieces that they put in are great pieces, great guys, and it's fun to be around those guys."
— Mark Anderson