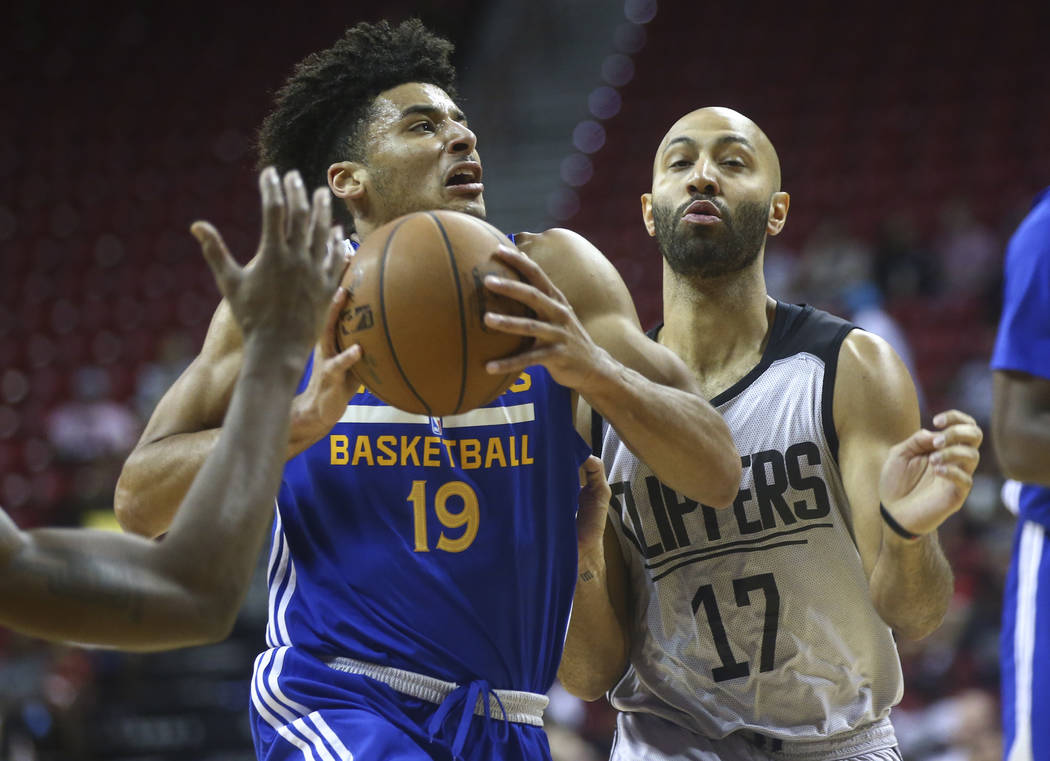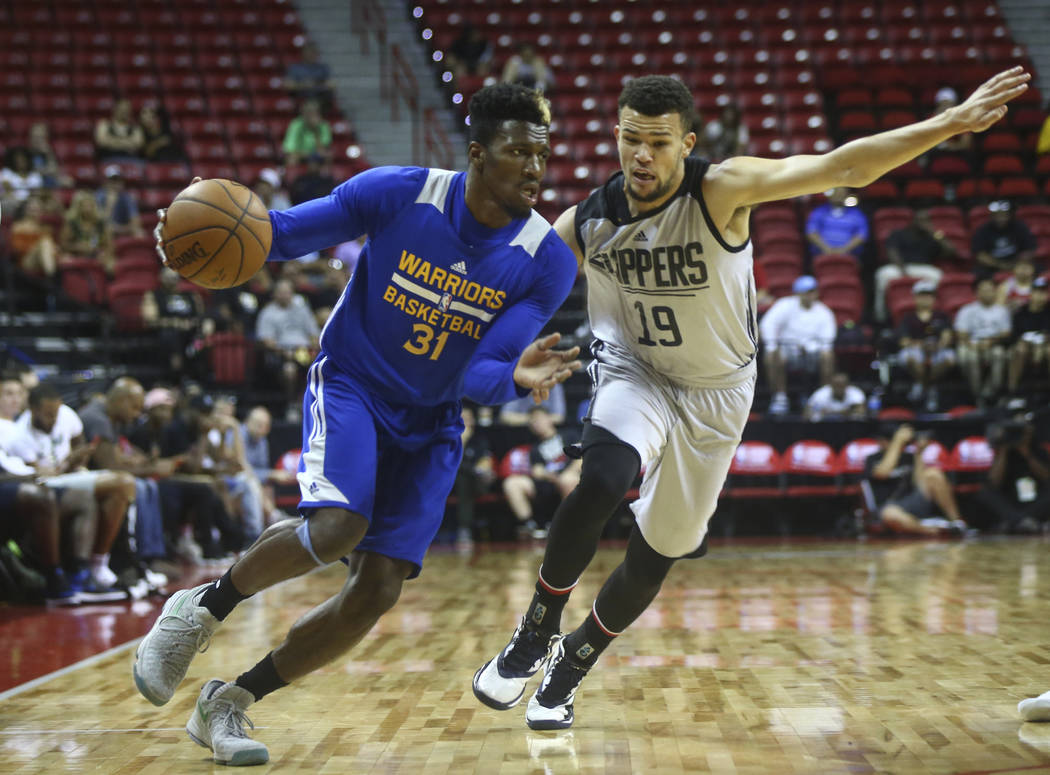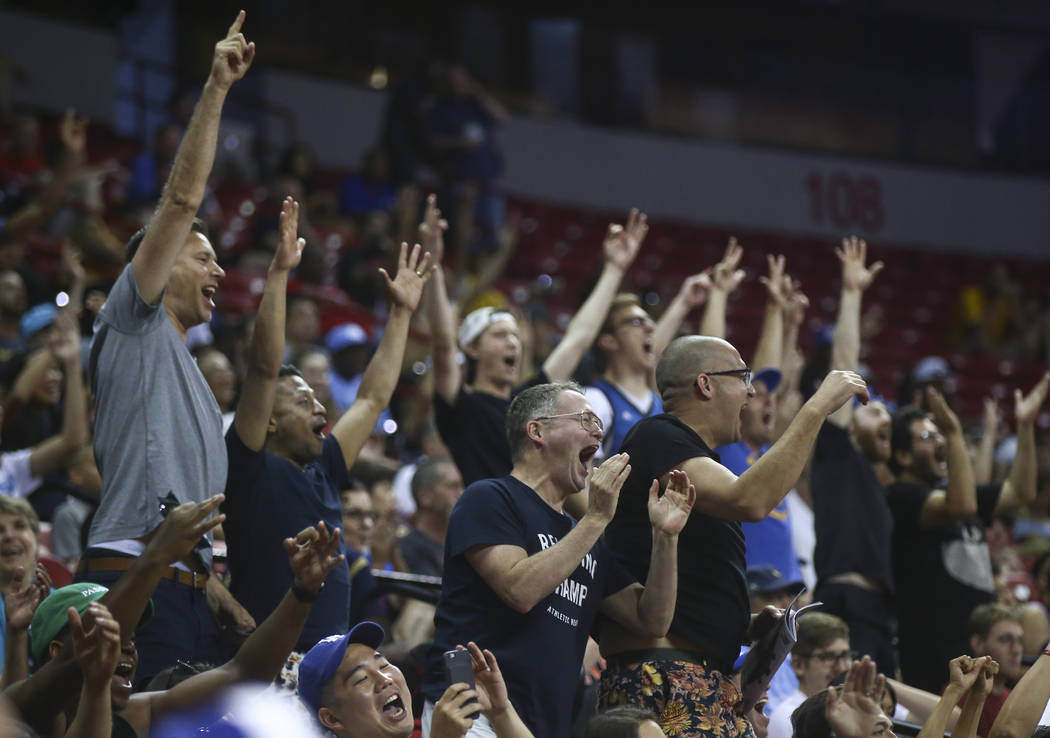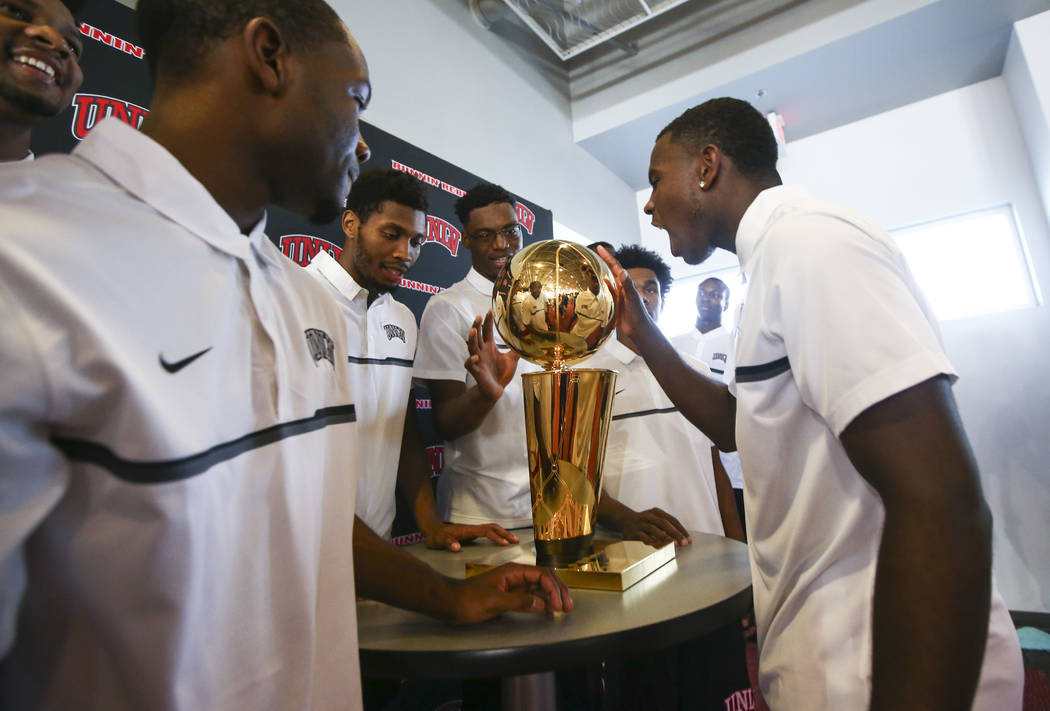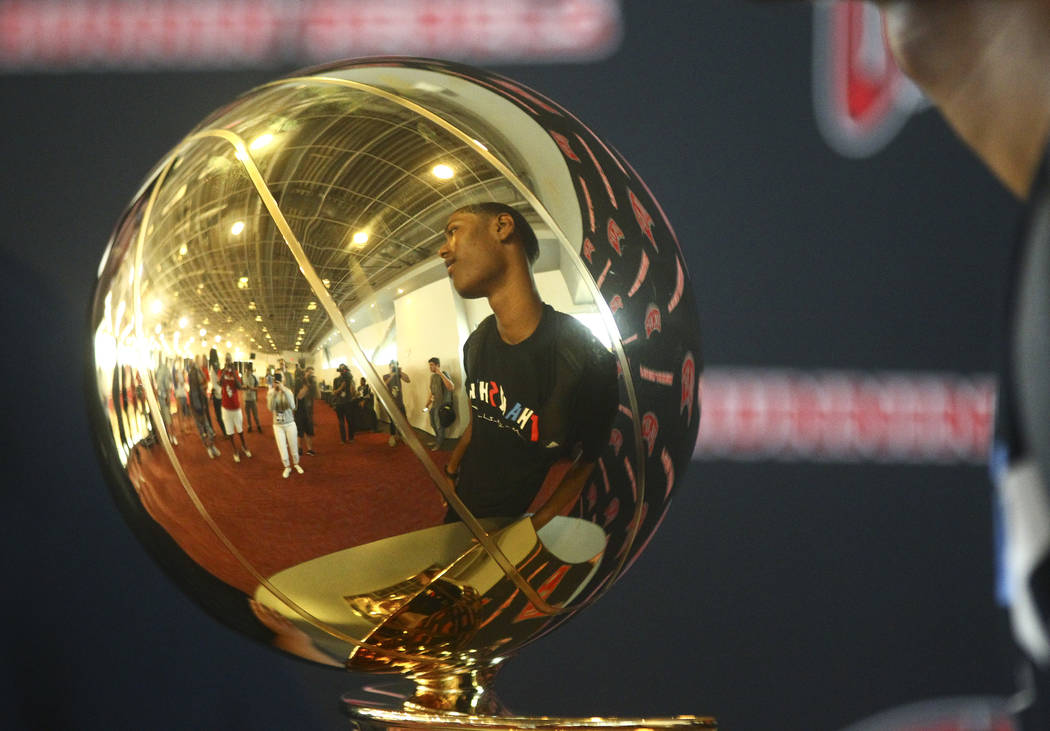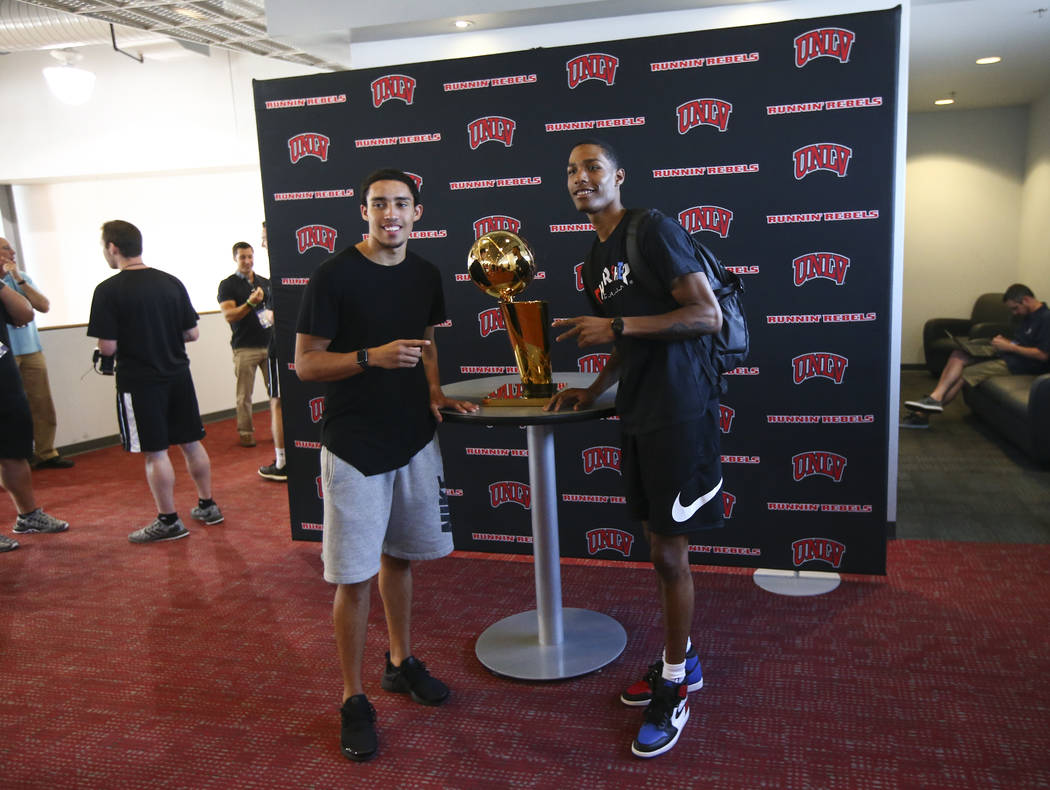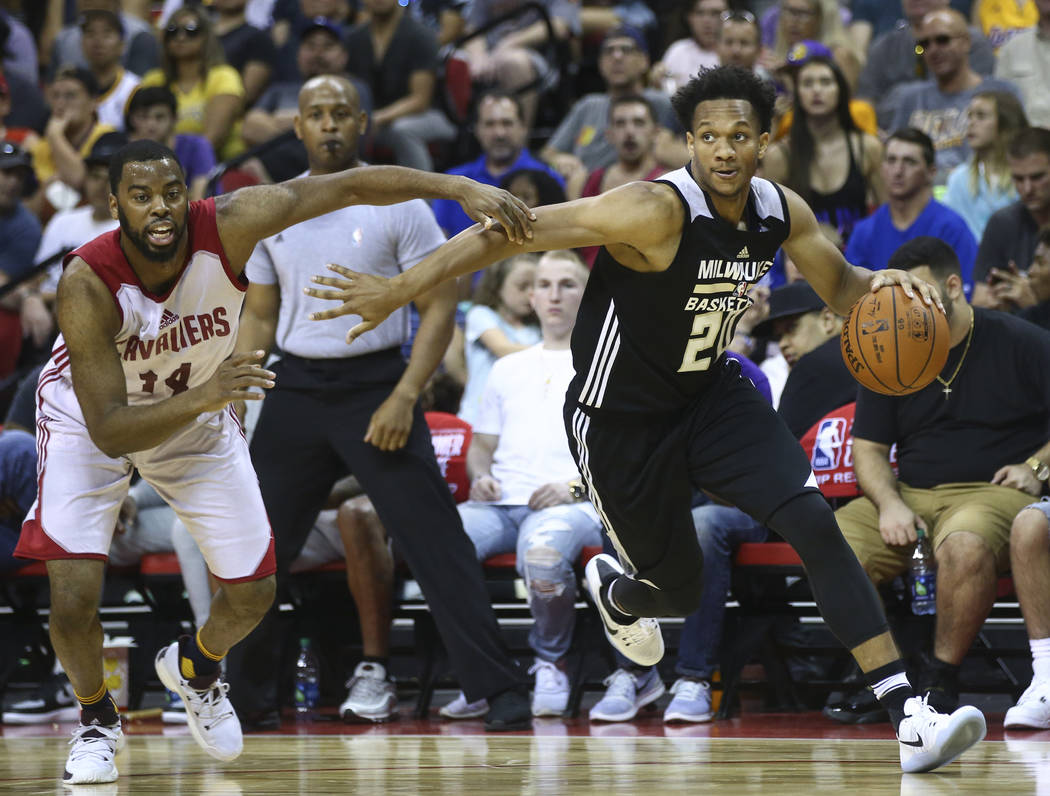 6:30 p.m.: McCaw brings Larry O'Brien trophy to UNLV
Patrick McCaw found a spot to squeeze into UNLV's team photo with the Larry O'Brien NBA championship trophy Friday at the Mendenhall Center.
McCaw could have played with the 2017-18 Rebels for his senior year if he never entered the 2016 NBA draft. But it's safe to say he made the right choice.
McCaw, who captured the NBA championship with the Golden State Warriors during his rookie season, brought the iconic trophy to the summer league for fans to take pictures with.
"It's unreal to see so many people show up to come support and share my success with me," said McCaw, who played two seasons at UNLV. "It's amazing to be back at UNLV, period. I love the city of Las Vegas.
"It has grown on me so much in these last two years. To come back to show them my success, and have guys share it with me, it's truly a blessing."
McCaw said his life has changed since winning the title last month. He's been a fan favorite at the summer league with many Warriors fans sporting McCaw jerseys.
"My life has continued to change over this past year (from) being drafted to having a nice season as a rookie to winning an NBA championship," McCaw said. "To have a lot of people know who I am, it's truly crazy. To see fans and little kids run up to me and scream my name, just a year ago nobody really knew who I was. It's just crazy to me."
The former Rebel didn't play in the Warriors' 109-100 victory over the Clippers on Friday at the Thomas & Mack. McCaw is averaging 20.0 points in the league.
McCaw went from playing with the best players in the world in the NBA Finals to competing against rookies and free agents hoping to make a team in a one-month span.
The St. Louis native doesn't mind the extra work.
"I love basketball, so any time I get a chance to play I'm excited, especially if I'm coming back to Vegas," McCaw said. "To play in the Mack, it's always fun."
— Gilbert Manzano
6:08 p.m.: Warriors' Dylan Ennis torches Clippers for 35
Golden State rookie Dylan Ennis did his best Steph Curry impression, scoring 35 point while shooting 8 of 11 on 3-pointers.
"I felt good, " he said. "Once you get in that zone, you just keep shooting it and the basket looks like the ocean. My teammates were findng me in the right spots, and it was just going in for me."
Ennis shot 12 of 20 from the field in a 109-100 win over the Los Angeles Clippers.
The former Oregon guard joins some pretty good company in terms of hitting the high mark this summer.
The highest single-game point total belongs to the Utah Jazz's Donovan Mitchell, who scored 37 in a losing effort against the Memphis Grizzlies.
Los Angeles Lakers guard Lonzo Ball scored 36 points against the Philadelphia 76ers, and Bryn Forbes of the San Antonio Spurs has scored 35 twice.
But Ennis was not worried about chasing stats down the stretch
"I just wanted to win," he said. "When it got to two minutes, I really didn't think about how much I scored."
— Jonathan Saxon
3:56 p.m.: Four locals start, share the court in Bucks-Jazz finale
Some of the best prep talent Las Vegas has produced in recent years shared the floor on Friday afternoon.
At the NBA level.
Former Findlay Prep and UNLV standout Rashad Vaughn started for the Milwaukee Bucks alongside Bishop Gorman High graduate and former Rebel Stephen Zimmerman against the Utah Jazz.
Spring Valley High graduate Gary Payton II joined Vaughn in the backcourt for the Bucks, and Nigel Williams-Goss, formerly of Findlay Prep, started for Utah.
All of them had played in other NBA Summer League games. But not all on the same court at the same time.
Vaughn, Zimmerman and Williams-Goss combined for two points in the first half. Payton and scored 12 in the first 20 minutes.
— Sam Gordon
3:45 p.m.: Wizards' McClellan pleased with work
Even though the Washington Wizards went winless in the summer league, second-year guard Sheldon McClellan was happy with his progress.
"I played with a lot more confidence," he said. "Last year was new to me. I was still trying to feel out the NBA."
McClellan said he wanted to work on his range.
"I've been trying to work on my 3-point range a lot," he said. "I think I shot the ball well, even though I didn't shoot that many 3s. The ones I took, I made most of them."
McClellan made both of the 3-pointers he attempted in Friday's game and has shot 50 percent from behind the arc. He averaged 13.2 points.
— Jonathan Saxon