NBA Summer League rewind: LeBron shows up (with a kiss)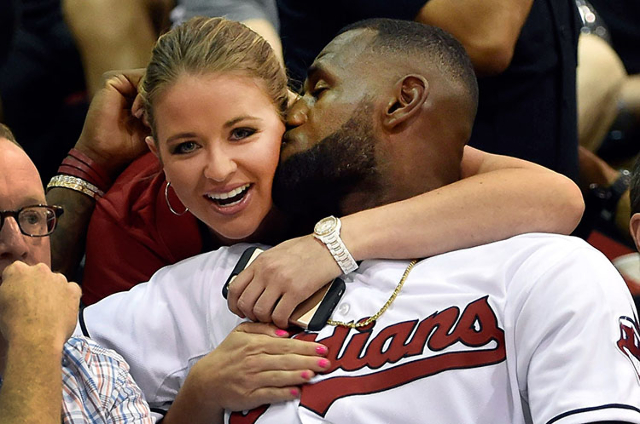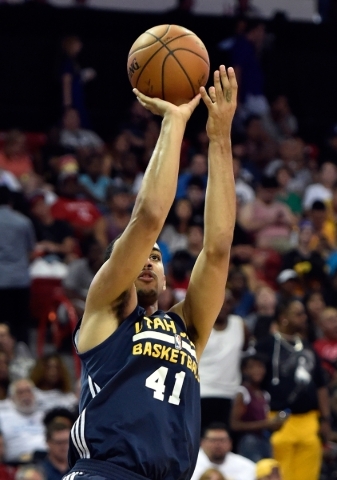 FRIDAY'S CONSOLATION GAMES
76ers 100, Rockets 96 –€" JaKarr Sampson scored 24 points for Philadelphia (1-4). The Rockets (2-3) were 0-for-13 from 3-point range.
Kings 73, Heat 68 (OT) –€" Sacramento (2-3) trailed by 27 in the second quarter but outscored Miami 27-4 in the third quarter and 5-0 in overtime. Former Findlay Prep star DeAndre Liggins led the Kings with 14 points. Josh Richardson had 23 points for Miami (1-4).
Cavaliers 78, Timberwolves 73 —€" John Shurna had 14 points off the bench for Cleveland (2-3). Lorenzo Brown had 19 points for Minnesota (1-4), which was 3 of 17 on 3-point attempts.
Jazz 84, Lakers 78 — Trey Lyles hit 4 of 7 3-point attempts and scored 20 points for Utah (2-3). D'€™Angelo Russell, the No. 2 overall selection in the NBA Draft, scored 20 points for Los Angeles (1-4).
D-League Select 85, Nets 64 –€" Justin Dentmon and Matt Bouldin scored 16 points apiece for the Select (3-2). The Nets (3-3) trailed by 30 points in the second quarter.
Knicks 83, Bucks 76 — Thanasis Antetokounmpo scored 17 points for New York (4-1). Former UNLV star Rashad Vaughn led the Bucks (1-5) with 20 points.
Wizards 97, Nuggets 89 –€" Former Findlay Prep standout Kelly Oubre Jr. hit five 3-pointers and scored 30 points to lead Washington (3-3). The Nuggets, who came into the playoffs seeded third among the 24 teams, lost their second straight game after a 3-0 start. Oleskiy Pecherov scored 21 for Denver, which squandered a 12-point halftime lead.
Trail Blazers 72, Raptors 64 — Andre Dawkins scored 24 points for Portland (3-3). The Raptors (3-2), the top seed in the tournament, hit 3 of 23 3-pointers.
Friday'€™s attendance
9,088. Total for eight sessions: 78.154 (9,769 avg.)
Three stars
1. Kelly Oubre Jr., Washington. The former Findlay Prep star hit five 3-pointers and scored 30 points to lead the Wizards' comeback victory.
2. Alan Williams, Houston. The former UC Santa Barbara star center nicknamed "Big Sauce" scored 22 points and grabbed 21 rebounds, one shy of the summer league record, in the Rockets'€™ loss to Philadelphia.
3. Trey Lyles, Utah. He scored 20 points and grabbed nine rebounds in the Jazz's victory over the Lakers.
Local spotlight
Pierre Jackson had seven points, seven assists and six rebounds in 23 minutes for the 76ers. Jackson, a former Desert Pines High School standout, signed a contract this week with Philadelphia.
Hustle stat of the day
Philadelphia'€™s Arsalan Kazemi had four deflections, took two charges, had three contested 2-point field-goal attempts and one 3-point contested shot in a win over Houston.
Quotable
"I was just trying to put on a little show and leave it all out there on the court. It'€™s the last game. Just wanted to give the fans something to remember me by." –€" Houston Rockets forward Montrezl Harrell, after scoring 24 points, with eight dunks, and grabbing 12 rebounds in a loss to Philadelphia.
On the scene
LeBron James was in Las Vegas for the NBA Players Association meetings and showed up Friday at Cox Pavilion to watch the Cavaliers' game against Minnesota. James watched the first three quarters with Cavs general manager David Griffin and coach David Blatt before leaving early in the fourth quarter. He did not do any interviews.
Today'€™s schedule
Quarterfinals
At Thomas & Mack Center
No. 7 San Antonio vs. No. 2 Boston, 1 p.m.
No. 22 Dallas vs. No. 14 Atlanta, 3 p.m.
No. 17 Chicago vs. No. 8 Phoenix, 5 p.m.
No. 12 Golden State vs. No. 4 New Orleans, 7 p.m.
Compiled by Steve Carp/Las Vegas Review-Journal