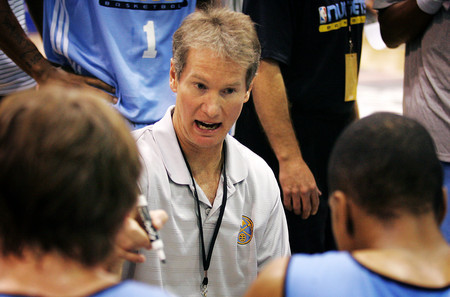 John Welch believes he's had a blessed life in basketball.
When your career has been touched by Jerry Tarkanian, Jerry West, Hubie Brown and Tim Grgurich among others, that is indeed a blessing.
Welch, a former Rancho High School star who played first at UNR, then UNLV, is enjoying coaching at the highest level on George Karl's staff with the Denver Nuggets.
"Honestly, being in the gym in the NBA is no different from being in the gym at Chaparral High School," said Welch, coach of Denver's entry in the NBA Summer League. "To me it's equally rewarding, whether it's a high school kid getting better or Melo (Carmelo Anthony)."
Entering his fifth season on the Nuggets' staff, the 46-year-old Welch said he's content as an assistant. But he appreciates the opportunity to run a sideline during the summer.
"It all starts with Coach Karl and Coach (Grgurich). They are trying to help us have the opportunity to develop as coaches," Welch said. "But coaching the summer league is the best. The guys are trying so hard. They'll do anything you ask. It's not a win-at-all-costs situation. It's a chance for your guys to get better and for you to get better as a team."
Wells fondly recalls his playing days at Rancho, where coach Jim Allen taught him the importance of structure and organization. At UNR, he learned from Sonny Allen how to play fast-break basketball and not overcoach. But it was at UNLV where Welch's life was influenced the most and shaped his future in coaching.
Tarkanian helped him understand the importance of defense and technique. Grgurich became his mentor, and Welch was a willing student.
"There's nobody better. It's that simple," he said of Grgurich. "First, he cares about the players as people. Second, he's passionate about teaching the game the right way. And finally, there's the commitment. He's committed to the players to help them get better."
Karl said Welch is proving to be a valuable staff member.
"He's got great passion, and he's trying to get better every day," Karl said. "John tries to find something every day that we can get better at."
Welch said he has taken something from everyone to form his coaching style. But Denver general manager Mark Warkentien, one of Welch's coaches at UNLV, said the last two years in particular have seen a spurt in Welch's development.
"When John started, he very much emulated (Grgurich)," Warkentien said. "He'd worry about working his guys out and getting them better. But the last two years, he has grown so much. He's more global in his approach to coaching.
"He's looking at the game 360 degrees. It's managing the game, the timeouts, breaking down film, scouting, getting the matchups, all the things a head coach gets involved with. It's like the blinders have come off and the scope has been broadened."
Warkentien said he is convinced Welch is a rising star in the NBA coaching ranks.
"One of the things you try to do in the summer, in addition to developing your players, is to develop your staff," Warkentien said. "You want to see how they handle situations and how they work with the players during the game.
"This is like student teaching for John. We're trying to get him ready to teach in the classroom by himself, and we don't want his first experience to be in the Pepsi Center. We want him to have it in Cox Pavilion."
Welch said he is conscious of growing in his profession.
"Coaches are no different than players," he said. "You're always trying to learn. You're always trying to get better.
"How much better a coach am I now than two years ago? I have no idea. But that's very kind of Mark to say."
Welch said the Nuggets' impressive playoff run this spring was a great learning experience. They took the Los Angeles Lakers to six games before losing in the Western Conference finals.
"It's so intense," he said. "The days go by so quickly. The margin of error is so slim. You're preparing so much. And in the end, it's about getting what you know to the players and them being able to execute it."
Welch said he thinks the Nuggets have put themselves in a position to compete for the NBA championship. And he's happy to be part of the chase.
"I enjoy what I do," he said. "To me, every day is a challenge on the court. I'm so thankful to be in this position. That's why when you ask me if I want to be a head coach (in the NBA), I don't know how to respond because I never think about it.
"If it happens, great. If not, I love what I'm doing and I'm very happy with the way things have worked out for me and my family."
Contact reporter Steve Carp at scarp@reviewjournal.com or (702) 387-2913.