Rookie hoping for role with rebuilding Lakers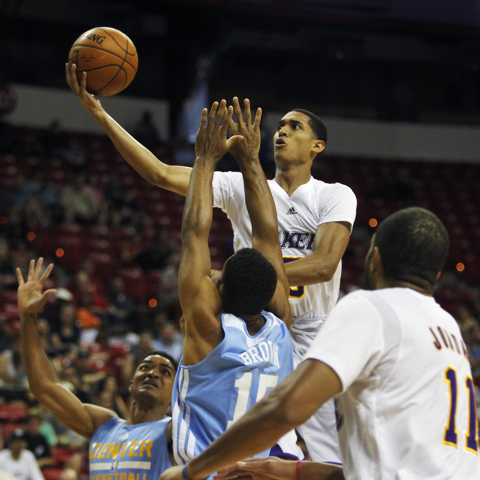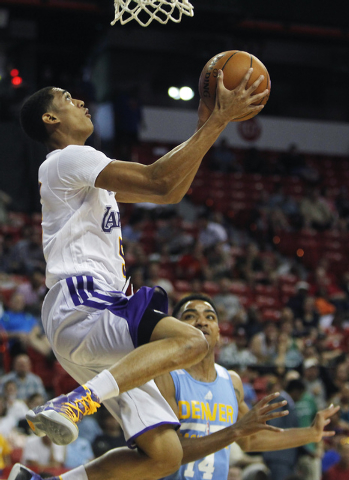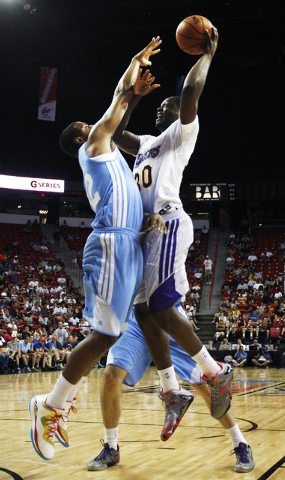 It was midway through the third quarter, and Jordan Clarkson had a clear path to the basket for what was going to be an easy layup.
But the Los Angeles Lakers rookie guard wound up missing. And as he headed back up the floor at the Thomas &Mack Center, a fan yelled at him, "That's going to be on NBA Bloopers!"
In the fourth quarter, Clarkson had a similar opportunity. This time, he didn't miss, putting the Lakers ahead of the Denver Nuggets in what had emerged into a seesaw game during Friday's consolation round of the NBA Summer League.
As for the heckler? Silence.
Clarkson finished with 12 points, and the Lakers finished the summer league with an 83-77 win over the Nuggets and a 2-3 record.
Clarkson, a 6-foot-5-inch guard from Missouri, was taken in the second round of the NBA Draft at No. 46 overall. He led the Lakers in scoring with a 15.8 average.
But as a second-round pick, he isn't guaranteed anything. Not even an invitation to the Lakers' fall training camp.
"I wanted to come out here and compete and show I can play at this level," Clarkson said. "I thought I got a little more comfortable out there each day, getting to know my teammates better."
It has been an interesting summer for Los Angeles.
The Lakers still don't have a coach. They lost veteran center Pau Gasol to free agency. They've made several moves to build around Kobe Bryant, including trading for Jeremy Lin, signing Carlos Boozer off waivers and re-signing forward Jordan Hill and guard Xavier Henry.
They also signed first-round draft pick Julius Randle, and the 6-9 forward helped in the win over Denver with 12 of his team-high 14 points in the fourth quarter.
But Clarkson is an intriguing option for general manager Mitch Kupchak. Along with being able to score and get to the basket, he's long and lanky and can rebound and get deflections and steals. He could be an energy guy off the bench for the Lakers, playing spot minutes most nights or getting extended time occasionally.
"I just hope they give me the opportunity," said Clarkson, adding he has not heard from Kupchak on his status for the fall. "I thought I competed and tried to play within the system. I know what they're looking for from me."
Clarkson didn't look at his situation as pressure-filled, even though it probably was. He seemed to play relaxed, and even though he didn't shoot the ball particularly well Friday (4 of 11 from the floor) and committed four turnovers, he did rebound (six) and guarded well.
"Jordan Clarkson had a phenomenal week in the summer league," said Mark Madsen, the Lakers' summer league co-coach. "He was one of the top rookies in the entire summer league, and not only did he score, he made his teammates better."
When asked if Clarkson had done enough to earn a spot in fall training camp, Madsen said: "I don't get to make that call. But I loved his energy and enthusiasm. He's a quick learner. He picked up all our sets, and he knew multiple positions.
"All I can say was I loved coaching him this week."
Clarkson started his college career at Tulsa before transferring to Missouri. As a junior, he averaged 17.5 points and was a second-team All-Southeastern Conference pick. He then declared for the draft and was taken by the Washington Wizards, who traded him to the Lakers for cash considerations.
"Playing at Missouri definitely helped make it easier for me to transition (to the NBA)," Clarkson said. "The SEC was really good. But this is entirely different. It's faster. It's more physical. The refereeing is different. It's still a big adjustment."
Clarkson did well in the first phase of his pro basketball life. Now, he's hoping for a chance to make it back to Las Vegas when the Lakers play the Sacramento Kings on Oct. 24 at the MGM Grand Garden.
He might get heckled again if he misses a layup, but that's a chance he's willing to take.
"We'll see," he said. "I hope I'm back. But it's all in God's hands."
Contact reporter Steve Carp at scarp@reviewjournal.com or 702-387-2913. Follow him on Twitter: @stevecarprj.