Seth Curry hoping to join big brother in NBA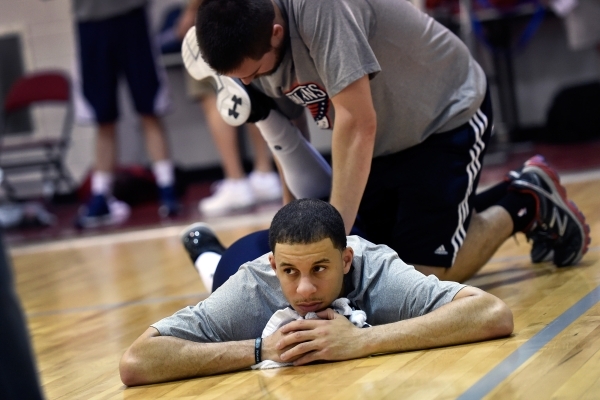 It would be easy to dismiss Seth Curry as a summer league wonder, someone who lights it up against competition that isn'€™t the caliber of what his brother Steph goes against every night.
Then again, he is a Curry. Which means basketball is in his DNA.
It also means people may have loftier expectations for the NBA'€™s Most Valuable Player's younger brother, who has tried and failed to stick with four NBA teams since leaving Duke in 2013. But Seth Curry is used to comparisons. So he never worries what other people think.
He does worry about what the management of the New Orleans Pelicans think. He's hoping to land a full-time job with the team come fall and he has made the most of his opportunity in Las Vegas this week, leading the NBA Summer League in scoring with a 25.3 average and guiding New Orleans to Saturday's tournament quarterfinals against Golden State at 7 p.m. in the Thomas & Mack Center.
"Obviously I'm not shooting the 3 like I usually do," said Curry, 25, who is just 5 of 27 from long distance. "But I think I'€™m doing a good job of scoring different ways all over the floor. But more importantly, I'm playing good defense and getting steals and showing all the parts of my game."
But it's going to be more than being able to score that will ultimately determine whether Riley Curry'€™s uncle joins her daddy in the NBA. The Pelicans are watching closely to see how Curry plays without the ball, how he sees the floor and passes and, most important, how he defends.
So far, so good.
"Obviously, he's a great shooter," said Pelicans coach Alvin Gentry. "He's got good pedigree, good DNA in that area. He's capable of making a shot, but I think you've got to do a few more things, and I think he's showing everybody out here in the summer league that he can do other things other than just score the basketball.
"I think he's shown on this level right here he's a pretty elite player."
Notice Gentry said "on this level." There's a huge difference between the summer league and the real world of the NBA. And that'€™s what the Pelicans are going to have to decide: Does Curry have what it takes to be a contributing factor on a nightly basis during the regular NBA season?
Curry has said he really hasn'€™t had a fair opportunity to prove that he can play. He has been on 10-day deals with Cleveland and Phoenix and has had brief stints with Memphis and the Warriors.
"I'€™ve tried to play hard and show what I can do, whether it was in the NBA or in the D-League," said Curry, who spent last season with Erie and Santa Cruz and averaged 21.9 points and 4.9 assists in 81 D-League games. "I haven'€™t really had the opportunity to stick in the league."
The son of former NBAer Dell Curry said his father has been a source of support as he chases his own NBA dream.
"He understands what I'€™m going through and he's been there for me the entire time," Curry said. "We talk and he stays positive and supportive of what I'€™m doing. He tells me to keep working hard and not to lose focus on what I'€™m doing."
Darren Erman, the Pelicans'€™ associate head coach and the team'€™s head coach in Las Vegas this week, believes Curry can play in the NBA if given the chance.
"I think he'€™s an NBA player," Erman said after the Pelicans wrapped up practice Friday at Cox Pavilion. "His stock has risen around the league with his play here in Vegas. We know he'€™s good enough."
But will the Pelicans sign Curry, bring him into fall camp in New Orleans and give him a legitimate chance to make the team?
"I hope something works out for me," Curry said. "So far, we haven'€™t been offered anything. We've talked to the Pelicans but we haven'€™t talked contract."
Erman said: "I think it'€™s going to come down to numbers. I think he has earned the opportunity."
In the meantime, Curry and the Pelicans hope their solid play carries through the weekend and into Monday night'€™s championship game. New Orleans (4-0) is one of only two teams that remain undefeated in the summer league (Boston is also 4-0).
"Our goal from the first time we came to practice was we wanted to win," Curry said. "Coach Erm said the more games we win, the more people are going to watch and the better it's going to be for everybody.
"I was a little surprised to see us playing so well together so quickly. We'€™re playing a wide-open system and playing fast and it'€™s a fun way to play."
But not as fun as watching his 3-year-old niece steal the show from his brother at the Warriors'€™ postgame news conferences.
"Obviously, I was laughing with everybody else," he said. "But I just knew when she was on the podium she was going to act like that. That'€™s how she is every day at home. She'€™s got a good personality and everybody got to see it."
Maybe if he makes the NBA and gets to do a postgame, Seth can call Steph and see if he can borrow Riley for his time at the podium, if nothing else than to keep things in the family.
Contact reporter Steve Carp at scarp@reviewjournal.com or 702-387-2913. Follow @stevecarprj on Twitter.