Summer League Rewind: League has first ejection with Hasheem Thabeet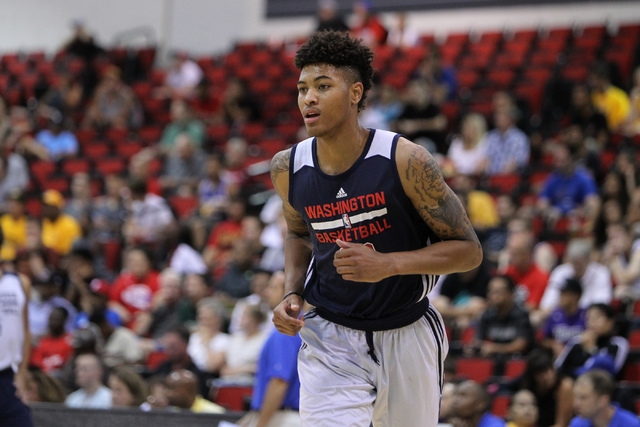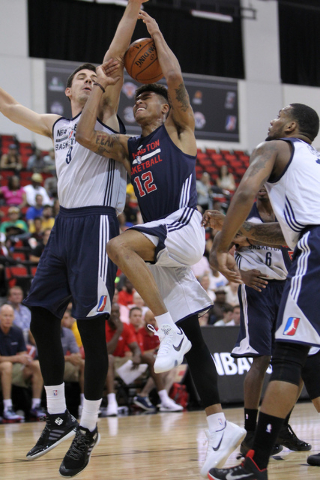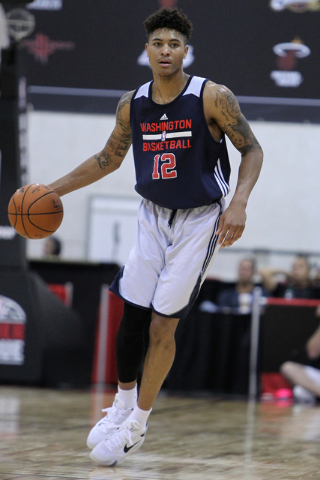 SUNDAY'S GAMES
D-League Select 94, Wizards 74 — Scotty Hopson scored 20 points and Romero Osby added 18 for the D-Leaguers (1-1) who limited Washington to just 1 of 17 on 3-pointers. Jarrid Famous led the Wizards with 21 points and 10 rebounds.
Rockets 108, Suns 89 — The Rockets sprinted out to an early 15-2 lead and never looked back as Houston (2-0) scored in triple-figures for the second consecutive game. DJ Kennedy and Glen Rice Jr. led the Rockets with 21 and 20 points, respectively, while Phoenix (1-1) was led by T.J. Warren with 22 points and Archie Goodwin with 20. The Suns committed 22 turnovers.
Raptors 81, Bulls 66 — Toronto (2-0) built a 42-28 halftime lead and never let Chicago make a run to get close. Rookie Norman Powell led the Raptors with 19 points and Lucas Nogueira grabbed 12 rebounds. The Bulls, who were just 3-for-24 on 3-pointers, were led by Doug McDermott and Cameron Bairstow with 11 points apiece.
Spurs 89, Bucks 74 — San Antonio (1-1) survived a sloppy contest that saw the two teams combine for 40 turnovers and give Becky Hammon her first win as a head coach. The Bucks (0-2), who had a slight rebounding edge (38-37), had four players finish with 11 points, including former UNLV guard Rashad Vaughn.
Nuggets 98, Kings 76 — The Kings made just 2 of 23 3-point attempts and were outscored 57-37 over the second and third quarters. Denver rookie guard Emmanuel Mudiay scored 19 points and Ian Clark also had 19 for the Nuggets (2-0). Former UNLV forward Roscoe Smith scored 11 points and grabbed five rebounds in 22 minutes off the bench for Denver. David Wear led Sacramento (0-2) with 19 points and Willie Cauley-Stein had 15 points for the Kings.
Hawks 71, Warriors 70 — Glenn Robinson III's free throw with 25.3 seconds to go proved to be the difference for Atlanta (1-1) as Golden State's LaDontae Henton's 3-point attempt to win it rimmed out just before the final buzzer. Robinson and Stephen Holt led the Hawks with 13 points apiece. James Michael McAdoo scored 17 points for the Warriors (1-1).
Trail Blazers 93, Mavericks 80 — Allen Crabbe scored 24 points and Tim Frazier added 14 as Portland improved to 1-1. The Blazers shot 51 percent from the floor while limiting Dallas to just 41 percent shooting. Dwight Powell scored 25 points to lead the Mavericks (0-2).
Celtics 85, 76ers 76 — Terry Rozier scored 22 points and R.J. Hunter added 21 as Boston (2-0) held off a late Philadelphia rally. The Celtics had led by as many as 15 points in the third quarter but a Pierre Jackson 3-point field goal with four minutes remaining pulled the 76ers within 70-68. But Boston answered with an 11-2 spurt to lead 81-70 with 28.9 seconds to go. Scotty Wilbekin led the Sixers (0-2) with 19 points. Jackson, who starred at Desert Pines High School, finished with nine points.
THREE STARS
1. Norman Powell, Toronto. Rookie from UCLA scored 19 points to lead the Raptors over the Bulls.
2. Scotty Hopson, D-League Select. Was 7 of 10 from the field and finished with 20 points and six rebounds to lead the D-Leaguers past Washington.
3. Kyle Anderson, San Antonio. Scored 22 points, half of them from the free-throw line, to give the Spurs their win over Milwaukee.
BOOTED — It took three days but the summer league finally had its first ejection as Hasheem Thabeet of the D-League Select was sent packing after picking up a pair of technical fouls in the second quarter Sunday against Washington. The 7-foot-2-inch Thabeet argued a call with 4:04 remaining and got his first T. When he persisted in expressing his displeasure, he was ejected.
QUOTABLE
"I wanted to play it safe. I didn't want to have a miscue and wind up on ESPN." — Toronto Raptors guard Norman Powell on his fourth-quarter slam dunk against Chicago.
HUSTLE STAT OF THE DAY
Houston's Pierria Henry and DJ Kennedy had five deflections each in the Rockets' win over Phoenix.
LOCAL SPOTLIGHT
Washington forward Kelly Oubre Jr., who played at Findlay Prep, scored 18 points and and grabbed eight rebounds in Washington's 20-point loss to the D-League Select. Oubre needed 17 shots to get his 18 points, going 5-for-17 from the floor but was 8-for-10 from the free-throw line.
ON THE SCENE — NBA commissioner Adam Silver arrived late Sunday afternoon to the Thomas &Mack to take in some of the summer league action. Silver was on Gucci Row watching the Golden State-Atlanta game. The league's Board of Governors will meet Tuesday at Wynn Las Vegas.
TODAY'S SCHEDULE
At Cox Pavilion
Cleveland vs. Milwaukee, 1 p.m.
D-League Select vs. Atlanta, 3 p.m.
Miami vs. Denver, 5 p.m.
Toronto vs. Houston, 7 p.m.
At Thomas &Mack Center
New Orleans vs. Brooklyn, 1:30 p.m.
Golden State vs. Sacramento, 3:30 p.m.
L.A. Lakers vs. New York, 5:30 p.m.
Utah vs. Minnesota, 7:30 p.m.
COMPILED BY STEVE CARP LAS VEGAS REVIEW-JOURNAL