3 takeaways from North Carolina's win over Oregon in the Final Four semifinals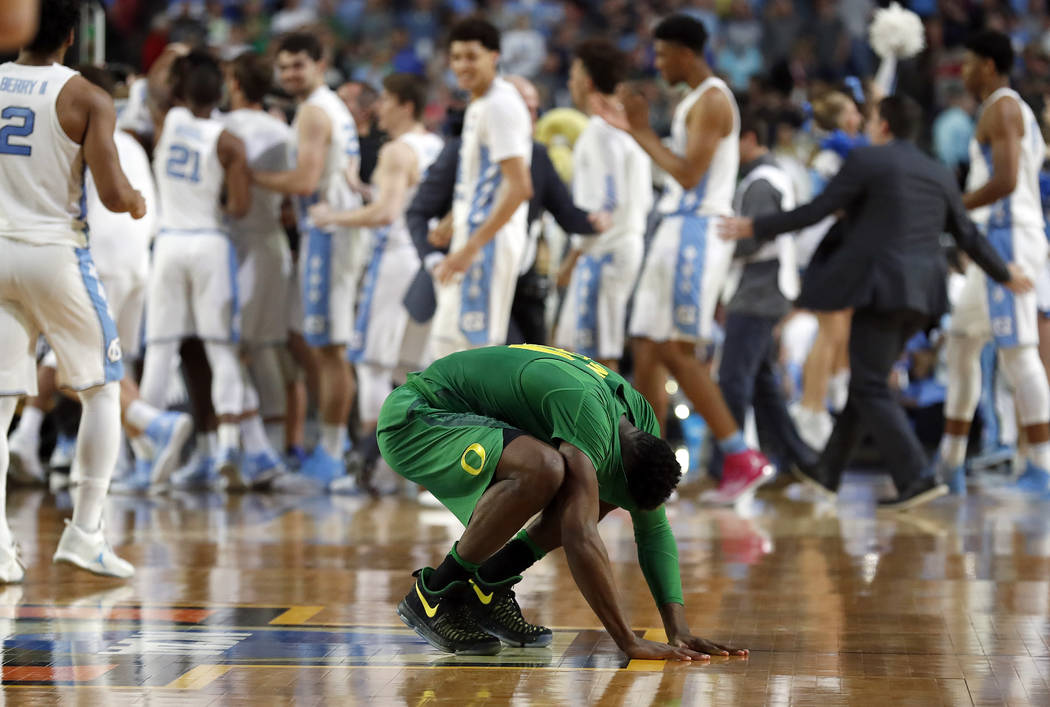 GLENDALE, Ariz. — Three takeaways from North Carolina's 77-76 win over Oregon in Saturday's Final Four semifinals at University of Phoenix Stadium:
1. Seniors are usually reliable
Kennedy Meeks is no kid. He's a 6-foot-10-inch space-eater of a man. And as a senior, he understands what it takes to perform in a big-game atmosphere.
Sure enough, he showed up Saturday and it's a major reason North Carolina gets another shot to win a national title Monday. Meeks was motivated from last year's last-second loss to Villanova in the championship game in Houston, and all he has talked about is the present.
How's this for living in the present? He scored 25 points, grabbed 14 rebounds, set screens and made good passes to keep the offense flowing. That's experience.
2. Shot in the webfoot
Oregon picked the wrong night to misfire. Maybe it was the dome or the elevated floor. Or maybe North Carolina's defense, which is pretty dadgum good in Roy Williams-speak, had something to do with the miserable shooting performance by the Ducks.
Look at these numbers:
Dillon Brooks 2 of 11 from the floor.
Tyler Dorsey 3 of 11 from the floor.
Dylan Ennis 7 of 19 from the field, 2 of 9 on 3-pointers.
Oregon shot 38 percent from the field and was 7 of 26 on 3-pointers. That won't get it done most nights in the Pac-12, much less at the Final Four. The Ducks stayed in the game by going 25 of 28 from the free-throw line.
3. Oregon fails rebounding 101
The final stats show Oregon and North Carolina had 43 rebounds apiece. Don't be fooled by the numbers.
The Tar Heels had five more offensive rebounds than the Ducks, and two came in the final six seconds. Twice Oregon sent North Carolina to the line, and both times the Tar Heels missed two free throws. But both times they swatted the ball to a teammate and maintained possession, with Theo Pinson and Meeks making the big plays.
"We always preach offensive rebounding, always tap out," North Carolina forward Luke Maye said. "We almost blew it there at the end, but luckily we pulled it out."
Pounding the glass has been a Tar Heels strength all season, and the Ducks have struggled getting rebounds in key situations despite being fourth in the Pac-12 in rebounding margin.
Saturday was another of those nights. Had Oregon managed to get just one of those missed free throws at the end, who knows what might have happened?
Contact Steve Carp at scarp@reviewjournal.com or 702-387-2913. Follow @stevecarprj on Twitter.